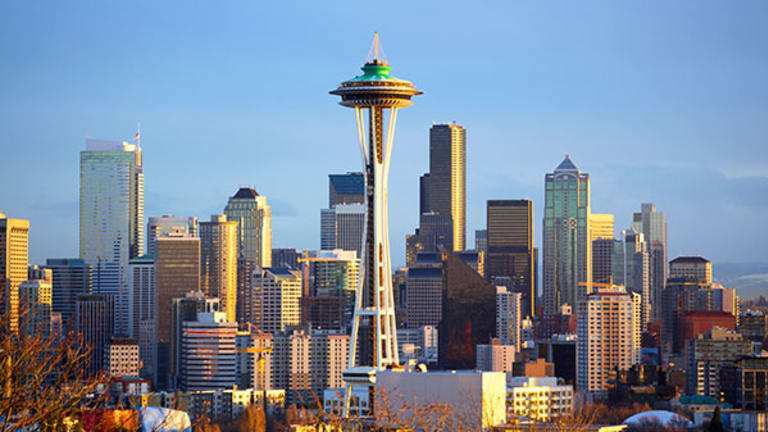 Alaska Air Gets Quarterback, Ratings Upgrade and New Delta Intrusions
Shares of Alaska Airlines have declined since the carrier was downgraded this month by an analyst due to competition with Delta, but last week the carrier got a bond rating upgrade.
SEATTLE(TheStreet) - Alaska Airlines  (ALK) - Get Alaska Air Group, Inc. Report, locked in an escalating David vs. Goliath battle with Delta (DAL) - Get Delta Air Lines, Inc. Report, got some good news last week when Standard & Poor's raised its bond rating.
Nevertheless, Alaska shares have been declining in the two-and-a-half weeks since a leading airline analyst cut his rating to sell from hold, based on the mounting competition with the world's third-largest carrier. Shares gained $2.93 on Friday to close at $73.50, apparently due to speculation that Delta or someone else might seek to acquire Alaska.
For the present, Delta is on the offensive in Seattle, and Alaska -- which said regularly that it wants to remain independent -- is battling back. Delta on Tuesday announced new Seattle destinations that include Juneau, which will become its third destination in Alaska, complimenting Anchorage and Fairbanks. Alaska responded quickly, adding service in Salt Lake City.
Alaska also said last week that it has signed a deal with Russell Wilson, the Seattle Seahawks quarterback. who will take part in marketing activities, appear at events and work with the carrier to support youth and education programs. The airline termed Wilson's job CFO, or chief football officer.
The Wilson deal shows just how tough it is to compete with Delta. Wilson plays for a team that signed a deal in September to make Delta its official sponsor, to rename the club seating level the Delta Sky360Club and to provide various Delta signs and branding throughout CenturyLink Field.
The field, incidentally, is named for the third-largest U.S. telecommunications company, which is based in Monroe, La., which was Delta's headquarters from 1925 to 1941.
In the best news of the week for Alaska, S&P raised the carrier's credit rating to BB-plus from BB on Tuesday. The rating service said it assesses Alaska's business risk profile as fair and its financial risk profile as minimal.
The upgrade reflects "our expectation of continued strong operating performance, due to the industry's generally favorable revenue environment and relatively stable fuel prices, and with continued debt reduction," said credit analyst Betsy Snyder in a prepared statement.
Snyder wrote that Alaska "faces significant competition in its West Coast markets, principally from Southwest (LUV) - Get Southwest Airlines Co. Reportand United (UAL) - Get United Airlines Holdings, Inc. Report, but also from JetBlue (JBLU) - Get JetBlue Airways Corporation Report, Virgin America, Allegiant (ALGT) - Get Allegiant Travel Company Report and, more recently, Delta. However, it has substantial market share on many of the routes it serves along the West Coast, and it dominates traffic between the West Coast and Alaska. It also benefits from alliances with many airlines, including American, Delta, and various non-U.S. airlines."
Snyder said she anticipates that Alaska revenue will grow around 4% in 2014 and 3% in 2015 "based on increased traffic, but with lower pricing due to added competition." The carrier, she noted, dedicates about 33% of its capacity to West Coast markets; 15% to Alaska and Alaska-mainland markets; 22% to midcontinent and transcontinental markets; 20% to and from Hawaii; and 10% to Mexico and Canada.
On the equity side, Deutsche Bank analyst Mike Linenberg wrote in a Dec. 6 report that the skirmishing is negative for both Alaska and Delta. However, he said, "The fact that Delta is roughly eight times the size of Alaska (i.e. $38 billion of revenue estimated for 2013 vs. Alaska's $5 billion) leads us to believe that Alaska will be disproportionately impacted." Since then, shares had fallen 4% to $70.81, before Friday's sudden gain.
In developments last week, Delta announced on Monday that it will add non-stop service from Seattle to Juneau, a third daily non-stop to Anchorage and four daily non-stops to San Jose. Delta currently operates 35 peak-day Seattle departures to 15 destinations; by summer it will operate 79 peak-day Seattle departures to 25 destinations.
On Tuesday, Alaska announced its deal with Wilson, and on Friday it said it will continue to build service in Salt Lake City, adding three destinations -- Boise, Las Vegas, and San Francisco -- by mid-June. The build-up has been rapid. Two weeks ago, Alaska said it will begin service from Salt Lake to Portland, Ore.; San Diego and San Jose; and would add a third daily Salt Lake-Seattle flight.
Written by Ted Reed in Charlotte, N.C.
To contact this writer, click here.