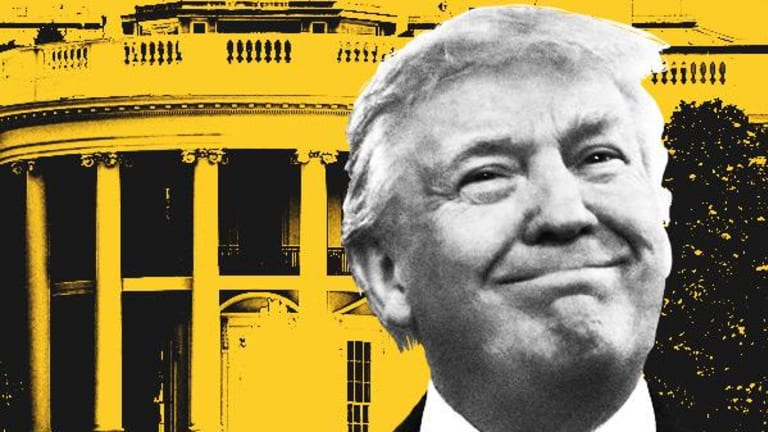 Publish date:
AK Steel Is Breaking Out Thanks to Trump's After-Hours Tweet
This steel giant is triggering a buy signal after Trump's latest Twitter post.
This steel giant is triggering a buy signal after Trump's latest Twitter post.
The steel market has needed a hero to come to its rescue in 2017.
That's because, since peaking back in February, steel stocks have been selling off. The big Market Vectors Steel ETF (SLX) - Get VanEck Vectors Steel ETF Report is down almost 16% over that stretch, with no end in sight.
That's changing today, thanks to Donald Trump's Twitter (TWTR) - Get Twitter, Inc. Report account.
In other words, the new "man of steel" for the steel industry might just be President Trump. And investors should be paying very close attention here: Many steel stocks are either breaking out or on the verge of upward moves thanks to the president's latest tweets.
But one looks better than the rest.
The president took to Twitter on Friday night, touting American steel, as part of a stream of tweets about Infrastructure Week:
The tweet was a follow-up to a speech Trump made in Cincinnati, Ohio last week where he said, "Wait till you see what I'm going to do for steel and for your steel companies."
Market watchers are expecting a U.S. crackdown on foreign steel dumping, after the Commerce Department began an investigation into the national security impact of steel imports. That, coupled with a massive infrastructure initiative from the Trump administration, and a lower U.S. dollar, could provide a triple-whammy for U.S. steelmakers' bottom lines.
And we're already starting to see it play out in the price action.
Case in point: Ohio-based AK Steel Holding Corp. (AKS) - Get AK Steel Holding Corporation Report.
Shares of AK Steel are up more than 5% this afternoon, boosted out the gate Monday morning following Friday's after-hours tweet from President Trump.
While other steel producers are also seeing some upward momentum, AK Steel is seeing the largest price move in the industry, and it's also showing off one of the strongest charts from a technical standpoint right now.
Over on Real Money, Cramer gives advice to investors looking at how to play the Trump Trade. Get his insights and analysis with a free trial subscription to Real Money.
While shares had been selling off since they peaked ahead of the rest of the steel industry back in January, all trends eventually come to an end. That's what we're seeing here, and it's a very good thing, if you own AKS right now.
The selling in this stock actually hit the brakes in mid-May, and buyers have been exerting more control over shares. That change in control of the price action officially got confirmed with Monday morning's open above the top of the prior trend.
Now, with shares materially breaking out above the top of their downtrending channel Monday, we're witnessing what looks like a major trend reversal in AK Steel.
If you decide to pull the trigger on the AK Steel trade, consider parking a protective stop on the other side of prior support at $5.50. If the $5.50 level gets violated, the new uptrend has been broken, and it makes sense to exit. Otherwise, the new upward trajectory in this stock could be long-lived. Since the downtrend in this stock lasted nearly five months, the new uptrend in AK Steel could easily see the same kind of trading timeframe.
That means the path is clear for a retest of prior highs up around $11.40. There aren't any conspicuous gluts of supply of AKS shares on the way up.
AK Steel has been in a leadership position for a while now, first leading the rest of the steel industry in the selloff at the start of this year, and now leading in the bullish reversal higher. That means, as AK Steel rallies here, it's going to start making sense to look for similar moves in its peers in the next week or two.
Keep a close eye on steel stocks this summer.
At the time of publication, author had no positions in the stocks mentioned.