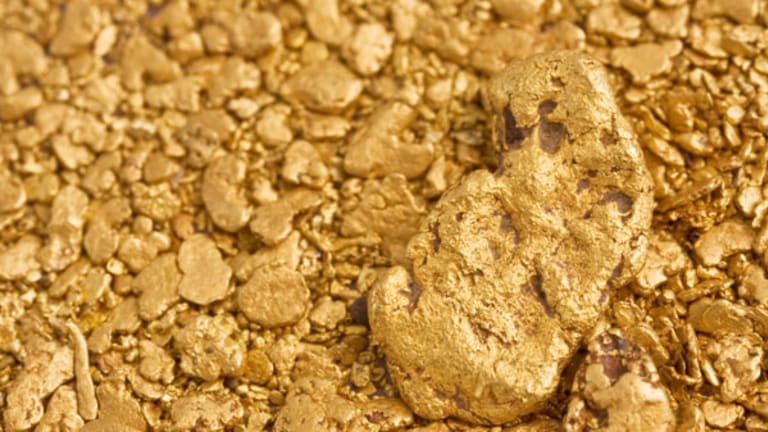 AK Steel: Iron Ore Costs May Hurt Results
AK Steel meets expectations with its first quarter, but says the rising cost of iron ore has cast a cloud over its outlook.
(AK Steel earnings story updated to reflect the closing stock price and to add analyst commentary.)
WEST CHESTER, Ohio (
) -- The rocketing price of iron ore has worried
AK Steel
(AKS) - Get AK Steel Holding Corporation Report
.
The company reported first-quarter earnings Tuesday that matched Wall Street expectations and maintained that it's "firmly on the road to recovery," in the words of AK's CEO, James Wainscott, in a written statement.
But because of a continued rise in the cost of iron ore, and
drastic changes in the way the raw material is priced on the global market
, AK Steel said that its financial outlook is murky and that its second-quarter results could disappoint investors.
Earlier this year, the world's three biggest iron ore miners -- Australia's
BHP Billiton
(BHP) - Get BHP Group Ltd. Report
,
Rio Tinto
( RTP) and Brazil's
Vale
-- declared an end to the annual benchmark system that had locked in iron ore prices a year at a time. The miners said they would now settle ore prices with steelmaking customers every quarter under contracts tied to the spot market.
Even more significantly, the miners said they were able to hike the price of iron ore by as much as 100% from the 2009 contract settlement.
If that comes to pass -- the changes to the global pricing system have yet to shake out fully -- AK Steel's margins will almost certainly come under pressure.
In its earnings release Tuesday, the company warned as much. Should the price AK pays for iron ore increase by more than 30% -- a rise it had already assumed for the first quarter -- "it will have a negative impact on
AK's second quarter financial performance," the company said.
AK depends to a much greater extent than other U.S. steel producers on outside sources for its raw materials feedstocks.
The company buys most of its iron ore from the U.S. miner
Cliffs Natural Resources
(CLF) - Get Cleveland-Cliffs Inc Report
, which uses a formula to arrive at its iron ore pricing. Part of the formula is the global benchmark price of iron ore. The last time the benchmark price jumped to the degree it has this year -- an 86% year-over-year rise in 2008 -- Cliffs' was able to increase its prices by about 25%, close to the 30% threshold noted by AK Steel.
AK is currently negotiating its supply agreements with Cliffs and several others.
"Because iron ore pricing for 2010 has not yet been determined, the company is unable at this time to reliably estimate its quarterly operating results for the second quarter of 2010," AK Steel said.
As for its first quarter results, the company posted adjusted earnings of 25 cents a share on revenue of $1.4 billion, in line with analysts' estimates, according to a
Thomson Reuters
poll. Including an accounting charge "related to federal healthcare legislation" of 23 cents a share, AK said its bottom line came to $1.9 million, or 2 cents a share.
A year ago, the company lost 67 cents a share on revenue of $922 million.
In some good news, AK said it expects sales volumes in the second quarter to rise 5% sequentially to 1.45 million tons, better than some analysts had been anticipating. In the first quarter, AK shipped about 1.39 million tons, up 1% from the prior period.
AK said the average price per ton it fetched in the first period amounted to $1,014, up 5% sequentially, an increase that came partly from surcharges AK has started to push onto customers in an attempt to make up for higher raw materials costs. But because domestic demand isn't booming, AK hasn't been able to pass along those costs as much as it would have liked. The hikes, for instance, haven't kept pace with increases in Chinese steel prices, which have become the de facto world reference point.
Investors chose to focus on the iron ore profit drag, however. In hectic trading Tuesday, shares of AK Steel dropped by more than 7%, or $1.48, to close at $19.35. Volume exceeded 30 million shares, more than triple the daily average over the last three months.
"To some degree, it shouldn't have surprised people that much," said
Morgan Stanley
(MS) - Get Morgan Stanley Report
analyst Mark Liinamaa of AK's iron-ore revelations Tuesday. Concerns about the rising cost of raw materials for steelmakers has been a hot topic since last year.
Late Monday,
Steel Dynamics
(STLD) - Get Steel Dynamics, Inc. Report
, a scrap recycler whose business isn't as tightly linked to the global iron ore price,
sounded encouraging notes in its first-quarter earnings release
. Its shares were slipping Monday as well, down 1.7% to $17.21.
Shares of
U.S. Steel
(X) - Get United States Steel Corporation Report
, which, conversely, benefits from a rising iron ore price, rose 2.7% to $59.45. U.S. Steel is scheduled to report before the bell on April 27.
-- Written by Scott Eden in New York
>>Steel Dynamics Sees Brighter 2010
>>Steel Rebound: Four Stocks to Watch
>>U.S. Steel, Nucor, AK Steel: Steel Winners
>>Iron Ore Upheaval Reaches U.S.
>>BHP, Vale Blow Up Iron Ore Pricing
>>China Steel Group Urges Iron Ore Boycott
Follow TheStreet.com on
and become a fan on
Scott Eden has covered business -- both large and small -- for more than a decade. Prior to joining TheStreet.com, he worked as a features reporter for Dealmaker and Trader Monthly magazines. Before that, he wrote for the Chicago Reader, that city's weekly paper. Early in his career, he was a staff reporter at the Dow Jones News Service. His reporting has appeared in The Wall Street Journal, Men's Journal, the St. Petersburg (Fla.) Times, and the Believer magazine, among other publications. He's also the author of Touchdown Jesus (Simon & Schuster, 2005), a nonfiction book about Notre Dame football fans and the business and politics of big-time college sports. He has degrees from Notre Dame and Washington University in St. Louis.