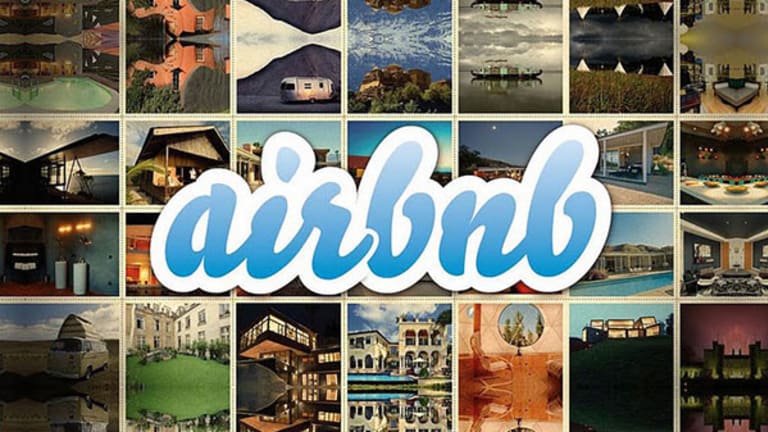 Airbnb's Stellar Growth Threatens Traditional Hoteliers Despite the Occasional Creepy Host
Accommodation website Airbnb poses huge disruptive potential to the traditional hotel sector provided that travelers become accustomed to a sometimes offbeat experience.
NEW YORK (TheStreet) -- Accommodation website Airbnb could become a major problem for the traditional hotel sector though it may still need to win over customers skeptical about staying in a stranger's apartment.
While investors salivate over an eventual IPO for the San Francisco-based company, its founders are downplaying such a possibility -- at least for the near-term.
It's not hard to understand the impatience: Airbnb has been valued at $2.5 billion, according to a source close to the company. It's various online properties have hosted more than 8.5 million guests in the five years since its inception. More critically, it's poised to gain momentum as the traditional hotel sector faces the prospect of sluggish global growth.
Airbnb's charm is found in fulfilling the desire among younger, more urbane travelers for cheaper and more interesting, neighborhood-based accommodations. The site matches hosts willing to offer their homes with travelers who pay a fee to access the listings. At present, Airbnb encompasses more than 500,000 property listings in 192 countries, according to the website. 
Such broad listings trumps luxury hotel group Starwood Hotels (HOT) , which offers 343,800 rooms in 100 countries under brands that include the Westin, Sheraton, Le Meridien, St Regis, W Hotels and The Luxury Collection. Starwood shares have jumped 26% over the past 12 months.
Another rival, InterContinental Hotel Group (IHG)  operates 678,000 rooms in nearly 100 countries. For the six months ended June 30, InterContinental posted a 7% rise in revenue to $936 million on profit of $338 million. InterContinental has added 19% in the past year to $30.20.
While Airbnb poses a threat to the traditional hotel sector, analysts say its model is similar to listed rivals such as HomeAway (AWAY) , a Texas-based company which represents over 775,000 paid listings of vacation rental homes in 171 countries. Home Away posted revenue of $237.9 million for calendar 2012 with net income of $14.9 million, according to its financial reports. Its stock is up 16% over the past year. 
More broadly, Airbnb's business model may be unique because it offers a personalized accommodation experience - staying with local hosts - and doesn't require millions of dollars in capital expenditures to expand. 
At its best, Airbnb can save travelers alot of money normally spent on cookie-cutter hotels that are uniformly overpriced. At its worst, the service involves dealing with an odd host of housemate who can dictate terms in a property and steal your deposit check, or subject you to strange behavior in an unfamiliar country. Having said that, feedback from friends of mine who regularly use the service is overwhelmingly positive.
When I moved to the US this year I used Airbnb while trying to find an apartment in New York. Its main selling point was price - allowing me to stay in a place far longer than I could afford to bleed money on one of NYC's many sub-par hotels, (thank you Sheraton Chelsea, Hotel Eurostars). 
If you're using the service, you have to be organized well in advance: potential hosts can knock you back as they have the ultimate say in who stays with them. The first Air BnB place I used was advertised by a guy in Brooklyn with no website photograph. 
I'd been warned not to see places by myself but could only cross my fingers and hope. "Come by Bar X at 9pm and the bartender will vouch for my credibility," he said on the phone. I gave hotel reception my parent's contact in Australia in case I was never heard from again. In the dim dive bar, my host stepped forward and led me to the counter where a busty woman leaned over. "Yeah, he's cool," she said. I swallowed, then followed him down dark streets and up several flights of stairs to an apartment where he opened the door. Thankfully, his female flatmate was home and the place was lovely. 
But it gets you thinking: what accountability is there if some sicko advertises his place and decides to have his way with you? There aren't compulsory background checks on new hosts and who dictates fair behavior?
While the website can't provide any guarantees on this, it has a team of 50 investigative agents focused on trust and safety. Reviews from travelers who have stayed at specific places also offer some accountability with a voluntary verified ID feature for hosts. For those willing to offer their homes, the company has a $1 million guarantee program to cover any damage that may occur. In 2012, around 400 cases out of 3 million Airbnb stays resulted in insurance claims for host properties.
There are some kinks the service will probably never iron out (namely, strange hosts). But travelers on a smaller budget will likely tolerate this as one of the risks. For example, at the second Airbnb place I stayed, the woman didn't want anyone in the living area and wasn't keen on letting me use the kitchen. This wasn't advertised on her webpage. The bedroom also had a kooky setup not apparent from photos: you could look straight down into the bedroom from the top floor. On top of this, the host wasn't all quite "there" and tended to tell me lengthy abstract stories anytime she saw me.
All up, despite potential drawbacks, the site offers a great service - with interesting investment potential. And if I thought Air BnB had the odd weirdo I was in for a rude shock: using Craigslist for flat-hunting was a completely new standard for dodgy...
--by Jane Searle in New York