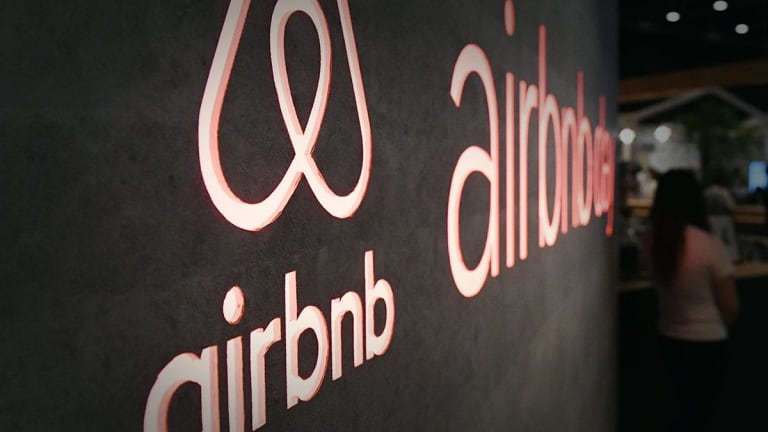 Airbnb COO Johnson to Step Down Before Expected IPO, Will Join Board in 2020
Airbnb is expected to be one of the next Silicon Valley unicorns to go public.
Airbnb Chief Operating Officer Belinda Johnson will be leaving the company on March 1, 2020, according to a copy of an email sent to employees Friday that was viewed by CNBC. 
In the letter, the 52-year-old executive, who has been with Airbnb since 2011, said that she needs to prioritize more time to spend with her family. Johnson will not be leaving the company entirely next year, however, as she will transition into a role on the company's board as its ninth member. 
"The work was all-consuming ... to some this might sound awful, but it wasn't. The work and what we were accomplishing made me a happier person and thus, I decided, a better mom and wife," Johnson's letter said. 
Johnson was Airbnb co-founder and CEO Brian Chesky's first executive hire and reportedly has served as his second-in-command for eight years. Before becoming operating chief, Johnson was the company's chief business affairs and legal officer. 
"Once Belinda transitions out of her role as COO, she will join our Board of Directors. Though we intend for her to serve on our board for a long time to come, I have told Belinda that she can return to Airbnb as an executive if she ever wishes to do so," Chesky said in a statement. 
Airbnb had been expected to debut on public markets in 2019, but the company has expressed that it is in no rush, with Chesky telling CNBC Monday that "We don't need to raise money, and so we haven't been in a rush."
A short statement from the company released in September said that it intends to become a publicly-traded company sometime in 2020. 
This year's disappointing IPOs for tech companies may make the San Francisco based online lodging company hesitant to join the fellow unicorns who have taken the plunge this year. 
Airbnb CEO Chesky told Jim Cramer this week on Mad Money, "Most people that are really rushing to go public, the No. 1 reason they do is because they need the money. We don't need to raise money, and so we haven't been in a rush."