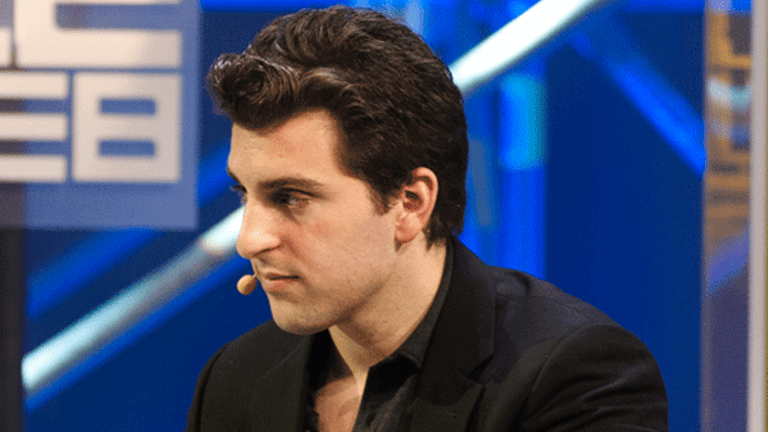 Airbnb CEO Brian Chesky Talks Trump, Uber and Why IPO Isn't Urgent
Snap's recent IPO hasn't done much to move the needle one way or the other for fellow unicorn Airbnb.
Snap's (SNAP) recent IPO hasn't done much to move the needle one way or the other for fellow unicorn Airbnb.
Brian Chesky, CEO of Airbnb, said at a luncheon hosted by the New York Economic Club in downtown Manhattan on Monday that the travel startup has nothing to announce on whether it might go public. He said the firm is about half-way through a two-year process towards an IPO, though the exact timing isn't clear -- he made the same promise two years ago.
"We don't have any announcement to make. We are working to make sure that the company is ready," he said. "We only want to do it when it's the right thing for the business and the community."
He said many companies go public because they need money -- not the case with Airbnb, which last week revealed a new $1 billion round of funding, putting its valuation at $31 billion. Others do it to boost their brand, and others to gain currency for mergers and acquisitions. "We've done some acquisitions, but we beat out public companies in those bids," Chesky said.
He said Airbnb's IPO would hinge on investors' need for immediate liquidity, and at the moment, there's no rush.
"Our investors are very patient, and none of them are anxious for us to go public," he said.
Chesky, 35, spoke for an hour with Fortune's Leigh Gallagher about the company he cofounded in San Francisco in 2008. He discussed its early days raising money by selling presidential candidate-themed cereals, Obama O's and Cap'n McCains, keeping going on the project even when others weren't convinced, and the perils of startup fundraising.
"There are these people called angels, and they give you money," he said, recalling a conversation early on in his encounters with venture capital.
Chesky also weighed in on the recent trials and tribulations of fellow unicorn startup CEO Travis Kalanick of Uber, who has been hit by a number of bad headlines and troublesome developments as of late.
"All of us are on leadership journeys," he said, going on to discuss the importance of mentorship and surrounding oneself with good people. "He seems to have established a step forward."
Chesky said he has not spoken with Kalanick, 40, about his recent troubles.
Looking ahead to Airbnb's IPO and beyond, the company aspires to model itself after giants like Amazon (AMZN) , Disney (DIS) and Apple (AAPL) , which have successfully expanded their products and services beyond a single starting point. He noted BlackBerry undefined as an example of what not to do.
"If you want to be an enduring company, very few companies have a single product," he said.
Airbnb has set its sights on becoming an end-to-end travel company creating a new category of how and where to stay and focusing on experiences as well as booking.
"Most of Airbnb by 2021 or so will probably be new things that were shipping as of 2017 on," Chesky said.
Also on Monday, Airbnb announced the Airbnb Economic Empowerment Agenda, a series of initiatives to support economic opportunities in the communities where it is active. Part of its focus will be on the $15 per hour minimum wage -- it will encourage hosts to pay cleaners that amount and has committed to ensuring all of its contractors and vendors abide by such a wage by 2020.
It also touted a study commissioned with NERA Economic Consulting to determine the economic effect of Airbnb. The study found Airbnb supported about 730,000 jobs globally in 2016, including 130,000 in the United States. It also supported about $14 billion in economic output in the U.S.
The announcement could be read, in part, as outreach to the Trump administration, which has set out an aggressive economic agenda and pledged to create millions of jobs. A number of companies have made or regurgitated investment and jobs initiatives in an effort to appease Trump, including ExxonMobil (XOM) , Intel (INTC) and General Motors (GM) .
Airbnb clashed with the administration over its first immigration ban executive order. Chesky publicly criticized the order and offered free housing to those affected by it. Airbnb aired a Super Bowl ad apparently criticizing the ban.
Chesky on Monday discussed Trump in the context of the economic uncertainty that propelled him to the White House and his promise to bring back jobs, specifically in manufacturing.
"The thing is, and this is a reality, that globalization is nothing compared to automation," he said. "Will manufacturing come back to the United States? Of course, a huge amount of it is. That doesn't mean jobs will come back, because 'Made in America,' the labels, may as well say 'Made (by Robots) in America,' because that's what technology is going to do."