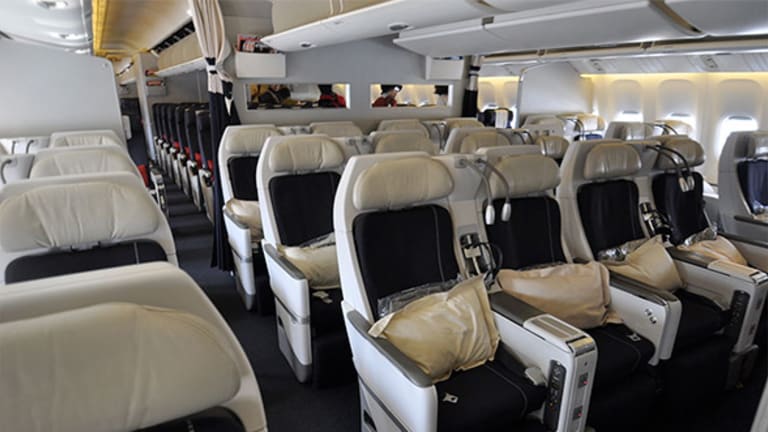 Air France-KLM Shares Fall After Barclays Downgrade
Concern over the Air France-KLM restructuring program prompts a Barclays downgrade and a lower price target.
AirFrance-KLM (AFLYY) shares led markets lower in Paris Tuesday after Barclays downgraded the airline amid concern over restructuring efforts and rising fuel costs.
Shares in the carrier fell €3.2% by 10:00 GMT on the Euronext exchange to change hands at €5.02 each, extending its 52-week loss to 34.33%. 
AirFrance is in the midst of a restructuring aimed at streamlining its business and recapturing market share from its rivals. IAG (IAG) ,  British Airways' parent company, said it carried 100.7 million passengers last year, a 14% increase that allowed it to surpass Air France-KLM -- which notched a rise of just 4%  -- for the first time.
Restructuring efforts, meanwhile, have been hampered by fierce resistance from staff, including a cabin crew strike that the airline said in November would hit operating results by €90 million ($95.4 million). This remains a source of concern for Barclays.
"We fear profits may materially decline amidst challenging restructuring," Barclays said in a note to investors in which it cut its rating to 'underweight' from 'equal weight' and set a price target of €4.5 each.
Air France-KLM posted earnings before interest, tax, depreciation and amortization of €2.1 billion for the first nine months of 2016, on sales of€18.6 billion. The carrier booked EBITDA of €2.4 billion in 2015, on sales of €26.1 billion.
Margins are also likely to be squeezed in this year as Air France-KLM contend with rising fuel costs after oil cartel OPEC made a pact with non-member nations-notably Russia-to curb production.