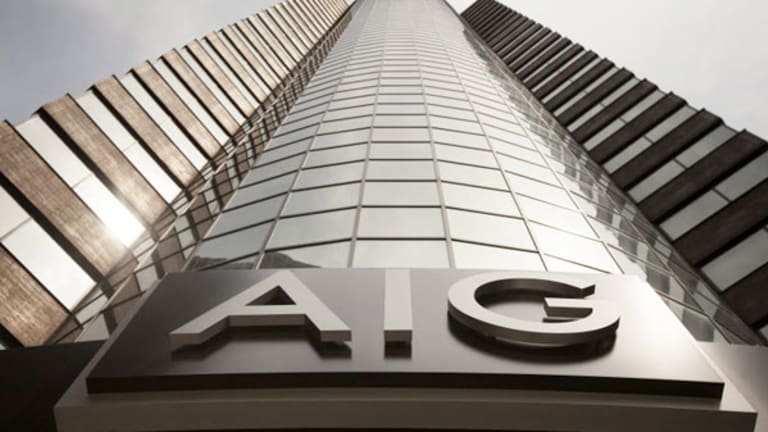 AIG's Duperreault Didn't Take CEO Role to 'Break the Company Up'
Brian Duperreault spent more than 20 years at AIG, working under legendary CEO Hank Greenberg, before leaving in 1994.
Brian Duperreault left AIG (AIG) more than two decades ago. He hasn't returned as its CEO to take it apart.
A former lieutenant of legendary AIG chief Maurice "Hank" Greenberg, Duperreault was appointed following a struggle between his predecessor and activist investors including Carl Icahn, who had urged the company's board to split it into three new businesses.
"I recognize the value of the company's multi-line structure," Duppereault, 70, told consumer insurance investors at a meeting on Monday shortly after his new position was made official. "I didn't come here to break the company up, I came here to grow it."
As CEO, the former lieutenant of legendary chief Maurice "Hank" Greenberg" will lead a firm whose ranks he rose through in the 1970s and '80s at a pivotal moment in its history. Not only is the New York-based insurer navigating pressure from activists, it's continuing to rebuild after a $182 billion bailout during the 2008 financial crisis.
AIG climbed 1.4% to $61.82 after announcing Duperreault's hiring on Monday, boosting its gains over the past year to 11%. That trails a 17% increase on the broader S&P 500.
"Brian is uniquely qualified to lead AIG at this important time," board chairman Douglas Steenland said in a statement. His background in the insurance business, "hands-on" leadership style and keen interest in innovation will enable Duperreault "to help AIG achieve its full potential to be the leading insurance company."
AIG agreed to pay Bermuda-based insurer Hamilton, Duppereault's former employer, $20 million to release him from his contractual obligations and another $20 million upon completion of two years as CEO. He will earn a base salary of $1.6 million a year, with potential bonuses of as much as $14.4 million, according to a regulatory filing.
Duperreault's predecessor at AIG, Peter Hancock, announced his departure in March, citing a lack of support from stockholders. Hancock had resisted Icahn's break-up proposal, intended to avoid more stringent post-crisis regulation, though he eventually offered Icahn and hedge fund manager John Paulson board seats to head off a proxy fight.
While the degree to which Duperreault will embrace the activists remains to be seen, he is nonetheless "one of the few insurance executives with the experience and insight to complete AIG's restructuring,"  Cathy Seifert of CFRA Research said in a recent note to clients.
His comments on a breakup Monday were a "not-so-subtle message to activists on the board," Seifert said in a telephone interview. With most board members pre-dating the arrival of Paulson and a designee named by Icahn, "my sense is that statement will receive support," she said. "It will receive support from the investor community if he's able to outline a specific strategy and achieve that strategy."
Duperreault spent more than 20 years at AIG before leaving in 1994, according to BoardEx, TheStreet's relationship-mapping service. He later served as CEO of competitor ACE Limited, was CEO of Marsh & McLennan for five years, chaired a U.S. Treasury Department advisory panel on insurance and headed Hamilton Insurance Group.
Icahn said on a Twitter post Monday he's "very pleased" the board "is finally making some of the much-needed changes we've been advocating the last 18 months."
The activist, who holds a 4.9% stake in AIG valued at $2.8 billion, had originally urged the company to split itself into property and casualty, mortgages, and life insurance segments. That would allow AIG to escape the intense scrutiny of capital spending that accompanies the firm's designation as a systemically important financial institution, he maintained.
The SIFI label, introduced by the Financial Stability Board in 2011, is applied to finance companies large enough that their failure would threaten the broader U.S. economy. It's a part of the government's effort to avoid a repetition of the 2008 financial crisis, when the failure of Lehman Brothers investment bank froze global credit markets, and taxpayers funneled roughly $182 billion into AIG to keep it afloat.
But while AIG has pared its portfolio over the past year, it hasn't given in to Icahn on the split-up. Hancock argued that doing so wouldn't yield significant benefits for the company, which benefits from its diversity because the effects of cyclical downturns in some businesses are eased by growth in others. 
Instead, the former CEO wooed investors with a January 2016 plan to streamline AIG by shedding its broker-dealer unit and part of its mortgage insurance business while returning $25 billion to stockholders over two years.
While recognizing AIG's progress on the latter goal -- it has already returned $18 billion to investors -- Duperreault promised that "going forward, capital will also be deployed to expand and grow the business with the goal of creating long-term shareholder value."
That may indicate Duperreault is planning to invest more capital in acquisitions as opposed to buybacks, said CFRA's Seifert.
Whatever his strategy, the insurance veteran's hiring "strongly argues that AIG's current challenges are fixable, and we believe that his presence will materially alleviate employee, broker, and insureds' concern," Meyer Shields, an analyst with brokerage Keefe, Bruyette & Woods, said in a note to clients on Monday. "This is a phenomenal choice."
Editors' pick: Originally published May 15.