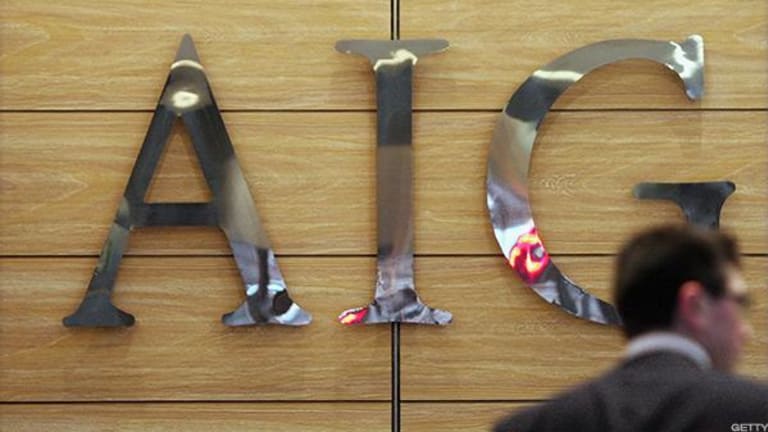 AIG's Hancock Relinquishes CEO Role Amid Pressure From Carl Icahn
'Without wholehearted shareholder support for my continued leadership, a protracted period of uncertainty could undermine the progress we have made,' Hancock said in a statement.
The following article, originally published at 8:19 a.m. on Thursday, March 9, 2017, has been updated with executives' and analysts' comments.
AIG (AIG) - Get American International Group, Inc. Report CEO Peter Hancock, who masterminded a plan to return $25 billion to shareholders while grappling with pressure from activists Carl Icahn and John Paulson, is stepping down amid what he called a lack of support from investors.
Hancock, 58, who succeeded Robert Benmosche in the role in 2014, will remain with AIG until a successor is found, the New York-based company said in a statement. AIG climbed 1.6% in early trading in New York, paring a previous decline of 2.9% this year.
"This is the right decision to make for the company and all its stakeholders," Hancock said in the statement. "Without wholehearted shareholder support for my continued leadership, a protracted period of uncertainty could undermine the progress we have made and damage the interests of our policyholders, employees, regulators, debtholders, and shareholders."
Icahn, who -- along with Paulson -- was offered a seat on the company's board in early 2016 to prevent a proxy fight over his proposal for splitting up AIG to escape stricter federal oversight, applauded the move on Twitter.
"We fully support the actions taken today by the board," said Icahn, who appointed a designee to serve as director in his stead.
Keefe, Bruyette & Woods analysts, who have an outperform rating on the stock with a price target of $71, said the resignation is a "significant positive." 
"We agree with several elements of the current strategy, but Mr. Hancock's past (as head of Property & Casualty) and current underperformance makes it difficult to see how AIG could demand employee accountability," Keefe Bruyette analyst Meyer Shields said in a note to clients. 
As CEO, Hancock returned $13.1 billion to shareholders last year while AIG pared underpriced businesses and focused on technology improvements. That moved the CEO past the halfway point of his capital-payout goal, but Hancock nonetheless faced questions after the company lost $2.96 a share in the fourth quarter.
The negative number was mostly because of a $5.6 billion increase in reserves for future insurance claims, a move that was part of the CEO's push to mop up much of the risk that had hung over the company. Earlier this year, the New York-based insurer agreed to pay $9.8 billion for reinsurance coverage from Warren Buffett's Berkshire Hathaway (BRK.A) - Get Berkshire Hathaway Inc. Class A Report .
Hancock "tackled the company's most complex issues, including the repayment of AIG's obligations to the U.S. Treasury in full and with a profit, and is leaving AIG as a strong, focused and profitable insurance company," board chairman Douglas Steenland said in the statement.
While Hancock's resignation isn't surprising, uncertainty over leadership comes with its own risk, said Cathy Seifert, an analyst with CFRA Research. 
"Executive purgatory doesn't help anybody," she said in a phone interview. "There really is kind of a dearth of insurance executives."
Whether the company brings in a CEO with turnaround experience or one with a history in insurance and operational strength "is going to send an important message about the strategy," Seifert said. "Ideally you'd like both." 
Hancock "turned the ship around," Seifert added. "I would probably give him a solid B. He did a lot of positive steps and he did meet a number of his commitments, but I think this board was not going to be happy with anything less than an A."
Icahn, who holds a 4.6% stake in AIG valued at $2.9 billion, previously urged the company to split itself into three leaner segments: property and casualty, mortgages, and life insurance. That would allow AIG to escape the heightened scrutiny of capital spending that accompanies the firm's designation as a systemically important financial institution, he maintained. 
The SIFI label, introduced by the Financial Stability Board in 2011, is applied to finance companies large enough that their failure would threaten the broader U.S. economy. It's a part of the government's effort to avoid a repetition of the 2008 financial crisis, when the failure of Lehman Brothers investment bank froze global credit markets, and taxpayers funneled roughly $182 billion into AIG to keep it afloat.
But Seifert isn't so sure that breaking-up the company would be a positive move for AIG. Reducing costs, particularly on the property & casualty side, to better compete with peers might be a wiser focus.
"At this point AIG needs to present a cleaner story to investors," Seifert said. "Investors are going to want to hear what the business-as-usual plan is. They've streamlined a fair amount. The next item on the agenda is a cost-cutting initiative."
WATCH MORE:AIG CEO Peter Hancock Will Resign
With assistance from Tony Owusu in New York.