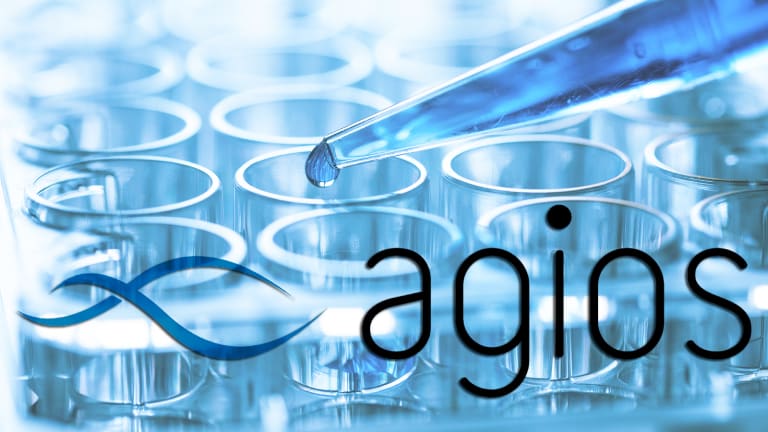 Agios Shelves Rare Anemia Disorder Drug Due to Liver Toxicity, Switches to Backup
Agios owns the full rights to both drugs in the PKD development program, which makes them particularly important to the company.
Agios Pharmaceuticals (AGIO) - Get Report has suffered a setback with efforts to develop drugs to treat a rare, inherited form of anemia.
Agios is discontinuing the development AG-519 due to liver toxicity reported in a healthy volunteer, the company said Thursday. The U.S. Food and Drug Administration placed a clinical hold on further testing of the drug.
The demise of AG-519 leaves Agios with a single compound, AG-348, to move forward as a potential treatment for pyruvate kinase deficiency (PKD), a rare inherited disease which can lead to severe anemia due to the rapid destruction of oxygen-carrying red blood cells.
Agios owns the full rights to both drugs in the PKD development program, which makes them particularly important to the company. [Agios' cancer drugs are partnered with Celgene (CELG) - Get Report .]
"Our commitment is to make a difference in the lives of patients with PKD deficiency. It's fortunate that we have two assets and we're looking forward to moving AG-348 forward. Obviously, we would have preferred not to have this happen but that's part of drug development," said Agios CEO David Schenkein.
To date, AG-519 had only been studied in a phase I study of healthy volunteers. One of these volunteer experienced a serious form of liver toxicity, cholestatic hepatitis, related to a 300 mg dose of AG-519.
Agios disclosed the AG-519 serious liver adverse event during a presentation of the phase I study data at the American Society of Hematology (ASH) annual meeting on Dec. 4. The company considered moving forward with the drug at a lower, potentially safer dose, but backed off after continuing to follow the volunteer with the liver injury and consulting with the FDA.
"Patient safety is very important... and we realized that the risk-benefit ratio for AG-519 was very challenging," said Schenkein.
AG-348 and AG-519 are pills designed to activate pyruvate kinase and boost the cellular energy and life span of red blood cells. There are no approved drugs to treat the underlying cause of PKD. Patients can suffer from mild or severe anemia depending on different genetic mutations and other factors. Today, they are typically treated with supportive care like blood transfusions. Some patients have their spleens removed to slow down the destruction of red blood cells.
Agios is conducting a phase II study of AG-348 in transfusion-independent PKD patients. To date, 15 of 47 patients, or 47%, treated with AG-348 saw their hemoglobin rise by at least 1 gram per deciliter, which Agios counted as a positive treatment response. None of the PKD patients treated with AG-348 reported liver toxicity.
Agios presented these latest AG-348 data at the same ASH meeting where the AG-519 results were also presented.
Elevated testosterone and reduced levels of estradiol (a female sex hormone) were measured in male and female PKD patients treated with AG-348 in the phase II study. The effect of AG-348 on sex hormones is a potential safety question mark because PKD is diagnosed early when children have not yet reached puberty.
AG-348 is designed to be a chronic therapy, meaning PKD patients might take the drug for the rest of their lives. No ill effects from changing levels of sex hormone in PKD patients has been observed so far but the company is also exploring the use of lower doses of AG-348.
In its own phase I study, AG-519 caused no changes in the sex hormones of the healthy volunteers, which is one reason why Agios was considering pushing it forward into a pivotal clinical trial instead of AG-348.
But with AG-519 now on the shelf because of liver toxicity, Agios will place its PKD bets entirely on AG-348. The company plans to meet with regulators about the requirements and design of a pivotal study of AG-348 in PKD. There's no guidance from Agios yet on when that study will start.
Agios shares were up 4% to $55.17 heading into Thursday's close but before the discontinuation of AG-519 was announced. The stock has lost 15% of its value this year.
Adam Feuerstein writes regularly for TheStreet. In keeping with company editorial policy, he doesn't own or short individual stocks, although he owns stock in TheStreet. He also doesn't invest in hedge funds or other private investment partnerships. Feuerstein appreciates your feedback; click here to send him an email.