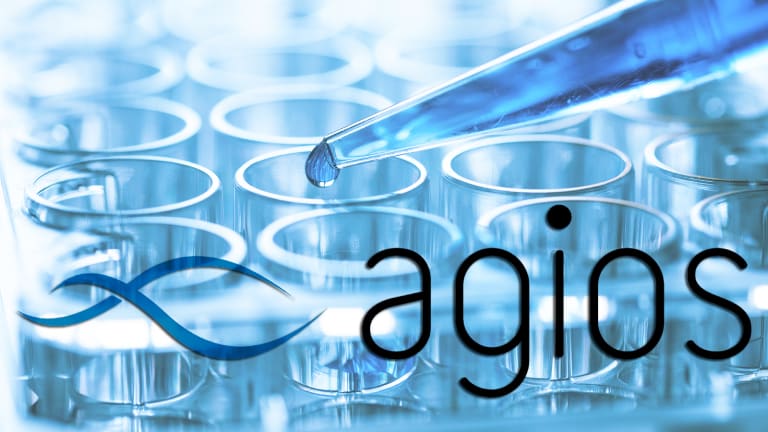 Agios Extends Reach of Cancer Metabolism Drug into Solid Tumors
New results from a study of Agios' AG-120 in patients with solid tumors were presented at a medical meeting Sunday.
New results from a study of Agios' AG-120 in patients with solid tumors were presented at a medical meeting Sunday.
The first presentation of solid tumor results Sunday from Agios Pharmaceuticals' (AGIO) - Get Report cancer metabolism drug AG-120 met expectations -- a lot of arrested tumor growth in patients with advanced cancers that are difficult to treat.
In 55 patients with a variety solid tumors no longer responsive to available therapies, there was a single partial response following treatment with Agios' AG-120. Another 29 patients reported tumors which didn't grow, representing a stable disease rate of 53%.
The signal of activity for AG-120 was durable beyond six months and out to a year in some patients. The drug was well tolerated with no serious adverse events reported.
AG-120 data were presented Sunday at the AACR-NCI-EORTC International Conference on Molecular Targets and Cancer Therapeutics.
Dr. Howard Burris III, chief medical officer at Nashville's Sarah Cannon Research Institute and the lead investigator of the Agios study, called the AG-120 solid tumor results "encouraging" and worthy of continued study.
AG-120 is a pill designed to block a mutated, metabolic enzyme known as IDH1. Normally, cells use the enzyme to help break down nutrients and generate energy. When mutated, the IDH enzyme alters the genetic programming of cells, preventing them from maturing and allowing them to grow uncontrollably.
Agios is furthest along developing AG-120 and a sister drug AG-221 (which blocks a related enzyme IDH2) in types of blood cancers. The response rates attributed to boths drugs in blood cancer studies to date have been impressive and registration studies are underway. Patients with acute myeloid leukemia, for instance, have bone marrow crowded with undifferentiated, rapidly dividing blast cells. In these patients, AG-120 blocks the mutated IDH1 enzyme and allows the leukemic cells in the bone marrow to mature into normal blood cells.
AG-120 works similarly in solid tumors but the observed effect is different, explains Burris in an interview ahead of Sunday's presentation.
"Differentiating" a rapidly-growing solid tumor cell back to a normal cell won't necessarily lead to the shrinkage or disappearance of the tumor mass. For this reason, the large percentage of patients in the study with durable stable disease, meaning their tumor stopped growing for long periods of time while taking AG-120, is promising, said Burris.
"This, then, raises the question, "What do we do to get rid of it," he added. "It" is the stabilized tumor. Burris believes combining AG-120 with another drug could be particularly effective, but the answer will only come from future studies.
The phase I study presentation Sunday was based on the enrollment of 62 patients with advanced solid tumors, all of which contained mutations to the IDH1 enzyme. At study entry, the patients' tumors were no longer responding to a median of three prior treatment regimens. Of the 62 patients, 55 were evaluable for tumor response, divided by the type of solid tumor diagnosed. Multiple, ascending doses of AG-120 were tested.
Twenty patients in the study had glioma, a form of brain tumor. Among these patients, 10 treated with AG-120 reported stable disease, with four maintained beyond six months.
Another 20 patients had intrahepatic cholangiocarcinoma, a type of liver cancer. Here, there was a single partial response durable beyond six months and 11 reports of stable disease.
Eleven patients had chondrosarcoma, a form of cancer which attacks cartilage. Among these patients, there were seven reports of stable disease.
Four additional patients with other solid tumors were also entered into the study, with a single report of stable disease.
Buoyed by these results, Agios plans to enroll additional patients into the phase I study at a single AG-120 dose and start a randomized phase II of AG-120 in cholangiocarcinoma next year.
Agios is also in the early stages of testing a next-generation drug, AG-881, designed to inhibit the IDH1 and IDH2 enzymes, and better penetrate the brain.
Adam Feuerstein writes regularly for TheStreet. In keeping with company editorial policy, he doesn't own or short individual stocks, although he owns stock in TheStreet. He also doesn't invest in hedge funds or other private investment partnerships. Feuerstein appreciates your feedback; click here to send him an email.