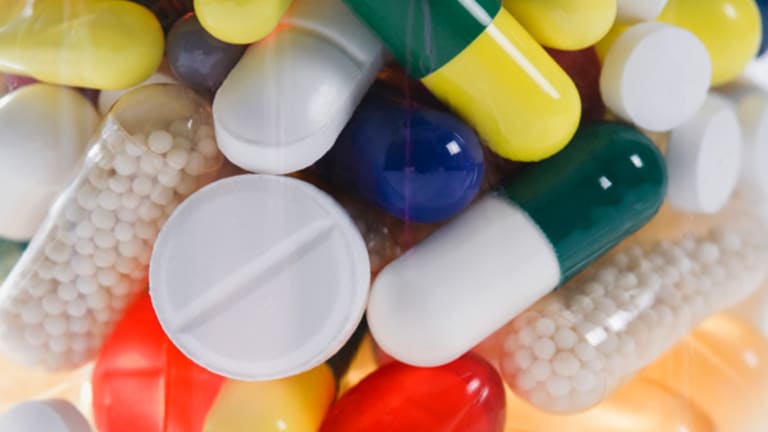 Updated from 9:26 a.m. with Monday's stock price.
CAMBRIDGE, Mass. (TheStreet) -- Shares of Agios Pharmaceuticals (AGIO) - Get Agios Pharmaceuticals, Inc. Report sank Friday -- and 9% more on Monday as of midday -- because investors believed updated clinical trial results showed Agios' experimental leukemia drugs were less effective than previously thought. But that's not exactly true. Agios' drugs performed nearly as well as before. The change was in the method used by Agios to analyze the trial results.
I'm calling Agios' free-fall -- the stock closed down 10% Friday but was off as much as 16% intraday, with further to fall on Monday -- Denominator-gate. Here's what happened.
Let's focus on the phase I study of Agios drug AG-221, because it's larger than the phase I study of AG-120. On Friday, Agios reported that 40% of patients with advanced blood cancers (mostly relapsed/refractory acute myeloid leukemia) responded to treatment with AG-221.
A 40% response rate for a drug treating patients with cancer no longer responding to multiple prior therapies is damn good.
Must Read:
The Biotech Bubble Debate: Solid Science vs. Sky-High Valuations
Except last December, Agios reported a 56% response rate to AG-221 from the same study.
A 56% response rate falling to 40% doesn't make investors happy, so down went Agios.
But what most investors didn't notice was that Agios changed the method by which it calculated the response rate this time around, compared to last December. By taking a traditional, "intent-to-treat" approach to calculating response rate on Friday, Agios included more patients in the denominator than it had last December when it used a "per protocol" analysis to calculate response rate.
When you apply the "intent-to-treat" or ITT analysis to last December's study results, the AG-221 response rate was actually 41%, not 56%. And on Friday, the company reported that the ITT-defined response rate to AG-221 was 40%.
The AG-221 response rates are essentially equivalent. Given that far more patients enrolled in the study now vs. last December, you could even argue that the AG-221 benefit-risk profile improved. Agios confirmed the analysis, at my request.
If you're still confused, it might help to look at how Agios decided which patients to include in (or exclude from) in AG-221 response rate analysis.
For Friday's AG-221 study update, Agios included all patients enrolled except those who had just begun treatment and therefore had not been seen by their doctor for the first follow-up visit at one month. Importantly, if a patient started taking AG-221 but dropped out of the study for any reason within the first month, the patient was included in the response rate denominator.
Per Friday's update, 177 patients with advanced blood cancers were enrolled in the Agios AG-221 study, of which 158 patients were evaluable for response. The 19 patients not deemed evaluable were still on AG-221 and within the one-month window.
Of the 158 evaluable patients, 63 responded to AG-221 for an overall response rate of 40%.
Let's go back to December to look at the previous presentation of the AG-221 study results. At the time of that analysis, 73 patients were enrolled in the study but only 45 were deemed evaluable for response. Agios excluded patients treated with AG-221 but discontinued before the first response assessment at one month.
This is what wrote last December:
As stated, the updated efficacy analysis includes only 45 of the 73 patients enrolled in the phase I study to date. Twelve other patients started treatment too recently to be included in the analysis. Another 16 patients started treatment with AG-221 but discontinued from the study within one month, which prevented them from being assessed for efficacy.

The patients enrolled in phase I study had very advanced cancer without current treatment options, so it was expected that some would be too sick to be helped even by a targeted drug like AG-221. But if the 16 discontinued patients were counted in the efficacy analysis, as they would be in a study designed for approval, the overall response rate to AG-221 would be 41% and not 56%, as stated by Agios and Celgene. [Emphasis added.]
I won't go into the details here, but the same response rate dynamic applies to Agios' other cancer drug AG-120.
The market misinterpreted Friday's AG-221 and AG-120 updates, but this doesn't mean Agios shares will regain lost ground. Not right away, at least. The company needs to shoulder some of the blame here for using a more liberal definition of response in the earlier analyses of the clinical trials. By doing so, Agios created confusion and may have set unrealistic expectations for the performance of its cancer drugs.
Adam Feuerstein writes regularly for TheStreet. In keeping with company editorial policy, he doesn't own or short individual stocks, although he owns stock in TheStreet. He also doesn't invest in hedge funds or other private investment partnerships. Feuerstein appreciates your feedback; click here to send him an email.