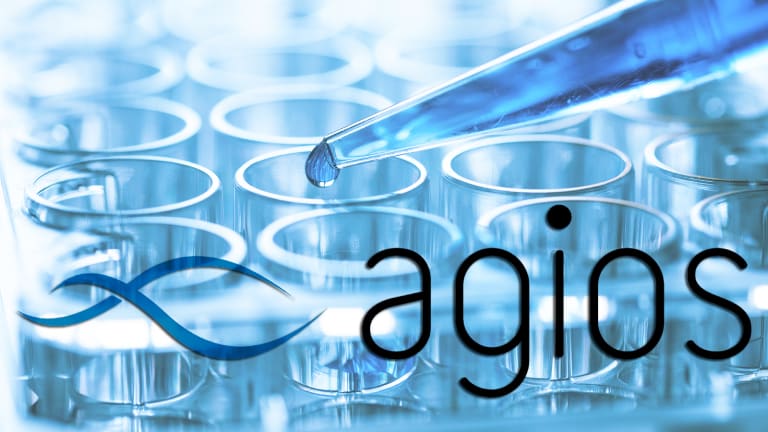 Agios Anemia Drug Data Hits the Mark and Raises Some Questions
Agios Pharmaceuticals said its experimental drug AG-348 increased hemoglobin levels in nine of 18 patients with a rare, inherited form of anemia treated in a clinical trial.
Agios Pharmaceuticals said its experimental drug AG-348 increased hemoglobin levels in nine of 18 patients with a rare, inherited form of anemia treated in a clinical trial.
Agios Pharmaceuticals (AGIO) - Get Report said its experimental drug AG-348 increased hemoglobin levels in nine of 18 patients with a rare, inherited form of anemia treated in a clinical trial.
The AG-348 data presented Saturday at the European Hematology Association annual meeting are preliminary and additional patients will be enrolled in the study, but Agios believes it has a sufficiently strong proof of concept to start planning a pivotal phase III trial for AG-348 or a follow-on drug AG-519.
Agios owns the full rights to both drugs, which makes them particularly important to the company. [The company's cancer drugs are partnered with Celgene (CELG) - Get Report .] But not all the data on AG-348 and AG-519 from this weekend were positive. Key questions about the drugs' efficacy and safety have not been answered, raising concerns that Agios might be moving forward too aggressively.
The 18 adult patients suffer from pyruvate kinase deficiency (PKD), a rare inherited disease which can lead to severe anemia due to the rapid destruction of oxygen-carrying red blood cells. Pyruvate kinase is an enzyme which helps red blood cells store energy. In PKD, genetic mutations prevent pyruvate kinase from functioning properly, leading to weak and easily destroyed red blood cells.
AG-348 is a pill designed to activate pyruvate kinase and boost the cellular energy and life span of red blood cells. There are no approved drugs to treat the underlying cause of PKD. Patients can suffer from mild or severe anemia depending on different genetic mutations and other factors. Today, they are typically treated with supportive care like blood transfusions. Some patients have their spleens removed to slow down the destruction of red blood cells.
The Agios study is treating 50 transfusion-independent PKD patients randomized to one of two doses of AG-348 for six months. The study does not have a placebo comparator arm. The company presented data on 18 patients Saturday, of which only 3 patients had completed six months of treatment.
Nine of the 18 patients treated with AG-348 saw their hemoglobin rise by at least 1 gram per deciliter, which Agios counted as a positive treatment response. In these responding patients, the average maximum hemoglobin increase was 3.4 grams per deciliter. Their response was also rapid, coming within two weeks of taking AG-348.
Agios says an increase in hemoglobin of 1-2 grams per deciliter is clinically meaningful for PKD patients.
However, by presenting results expressed as the maximum hemoglobin increase in patients still undergoing treatment, Agios could be overstating AG-348's actual efficacy. In some patients still being treated, hemoglobin levels peaked early but were later tailing off, according to individual patient data presented Saturday.
AG-348 also seems to have the greatest effect on hemoglobin levels in patients with less severe anemia at baseline. None of the patients entering the study with the worst anemia were able to show an increase of hemoglobin greater than 1 gram per deciliter.
"At this time, given the relatively small number of patients we cannot draw any definitive conclusions," about why some patients respond to AG-348 and others do not, said Agios CEO David Schenkein, in an email response to questions. Baseline hemoglobin could play a role but so, too, could the genetic mutations in each patient, he added.
AG-348 is designed to be a chronic therapy, meaning PKD patients might take the drug for the rest of their lives. Some of the data presented Saturday raise questions about the drug's long-term safety.
Elevated testosterone was measured in four male patients, while in five male patients, levels of estradiol (a female hormone) were reduced. Agios did not present sex hormone data on female patients in the study. The effect of AG-348 on sex hormones is particularly important because PKD is diagnosed early when children have not yet reached puberty. Agios said more data and longer follow up of AG-348's effect on sex hormones is needed.
AG-519 has not yet been studied in PKD patients but in healthy volunteers, no changes in sex hormones have been observed. However, one healthy volunteer did develop a borderline serious case of low platelet counts after taking AG-519 for two weeks. Agios doesn't believe AG-519's mechanism caused the low platelets although more data will be need to rule out a contributory effect.
One patient in the study reported sharply elevated triglyceride levels likely caused by AG-348. Agios said the adverse event did not cause the patient to discontinue from the study. The rest of the side effects in the AG-348 study were mild, consisting mainly of headache and nausea.
Agios shares closed Friday at $50.34, capping a two-day, 24% slide triggered by the disclosure of the case of low platelets in the AG-519 volunteer on Thursday.
Adam Feuerstein writes regularly for TheStreet. In keeping with company editorial policy, he doesn't own or short individual stocks, although he owns stock in TheStreet. He also doesn't invest in hedge funds or other private investment partnerships. Feuerstein appreciates your feedback; click here to send him an email.