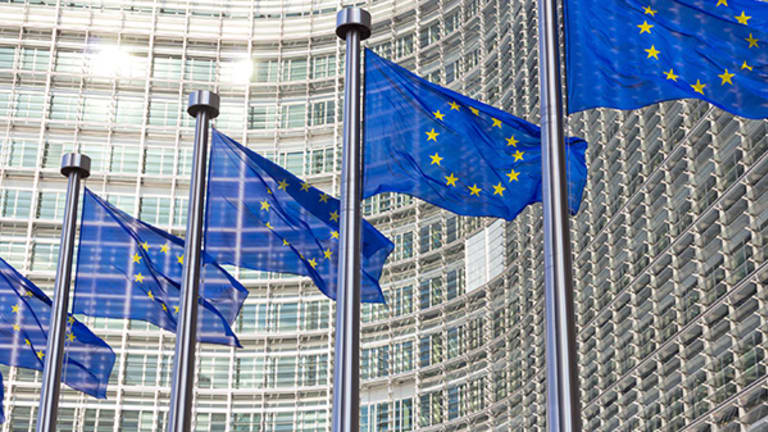 After Penalizing Apple for Billions, Europe May Send More Tax Bills to the U.S.
EC Commissioner for Competition Margrethe Vestager is also investigating Amazon's tax treatment and has raised questions about Alphabet's settlement with the U.K. government
While Apple (AAPL) shareholders got up to $14.5 billion in bad news from the European Commission on Tuesday for an alleged sweetheart tax deal in Ireland, more tech tax bills may be on the way. Amazon (AMZN) or, to a lesser extent, Google-parent Alphabet (GOOGL) could also get an unwelcome attention from Commissioner for Competition Margrethe Vestager.
Apple and Alphabet are holdings in Jim Cramer's Action Alerts PLUS Charitable Trust Portfolio. Want to be alerted before Cramer buys or sells AAPL and GOOGL? Learn more now.
Vestager's declaration that Ireland must collect tax breaks that gave Apple an unfair advantage was not exactly a surprise. The EC antitrust chief had already signaled that the Commission had its eye on Apple, Amazon and others.
The amount of Apple's tax bill, however, was a shocker. The EC recommended that Fiat and Starbucks (SBUX) receive comparatively measly fines of up to 30 million euros ($33.4 million) earlier this year.
While Vestager says that Apple used Ireland as a haven to shield earnings from across Europe, the commissioner is investigating whether officials in Luxembourg gave e-commerce giant Amazon tax breaks that provided it an unfair advantage. Amazon did not respond to a query.
And Vestager isn't only targeting tech. McDonald's is also (MCD) under investigation for its tax treatment in Luxembourg.
Though the EC has not opened a formal investigation into Alphabet's $185 million tax settlement in January with the U.K., which covered back taxes and interest from 2005 to 2015, Vestager has raised questions about the deal. She has not, however, grouped the Google parent in with the sweetheart treatment that Apple and Amazon allegedly received.
The Commission has been in touch with U.K. authorities after receiving comments about the settlement, said an EC spokesperson, adding that the European body cannot "prejudge any further investigations." Alphabet declined to comment for this story.
Already on Silicon Valley's radar because of antitrust investigations into Google's Android operating system and Russian energy group Gazprom's prices, Vestager's decision to penalize Apple has raised her profile and that of her EC antitrust team with U.S. investors.
Apple and the government of Ireland have said they will appeal. But the bill will hardly dent Apple's balance sheet. At the end of June, the company had $215 billion in overseas cash, which, of course, it holds outside the U.S. to avoid tax payments.
And even in the worst-case scenario, Apple and other tech companies might be able to offset tax penalties imposed in Europe.
Under U.S. tax law, Tax Notes International editor Stuart Gibson explained, a U.S. company paying tax on earnings to a  foreign government generally gets a dollar-for-dollar reduction in its U.S. tax bill. Independent tax policy group Tax Analysts publishes Tax Notes International.
"The question is if [Apple has] to pay back $14.5 billion to Ireland, or whatever dollar amount to Ireland, is that a payment that allows them to take a credit against their U.S. income taxes?" Gibson said. The matter is not resolved.
So even if Apple loses, it may not be a net loser.
"At the end of the day it may be the U.S. taxpayers who wind up footing the bill," Gibson said.