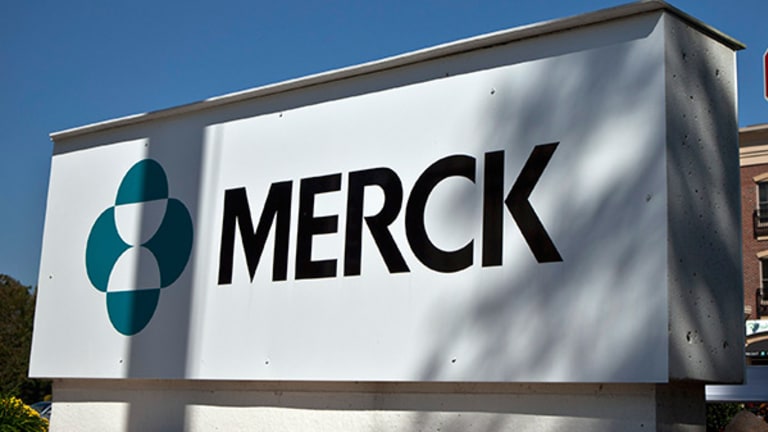 Publish date:
After FDA Approval, Merck Posts Better-Than-Expected Earnings
A day after winning approval for a cancer drug, Merck posts earnings and sales that beat consensus estimates.
A day after winning approval for a cancer drug, Merck posts earnings and sales that beat consensus estimates.
Merck & Co. (MRK) - Get Merck & Co., Inc. (MRK) Report is having quite a good week, and it's only Tuesday.
After announcing a long-expected victory for its lung cancer drug Monday night, the Kenilworth, N.J.-based pharmaceutical giant posted better-than-expected third quarter earnings.
The company earned $1.07 earnings per share, beating consensus estimates of 99 cents per share by 8 cents, on a 5% increase in quarterly sales to $10.5 billion, as compared to $10.17 consensus estimates.
Merck reported earnings of 96 cents per share for the same quarter in 2015.
Merck updated its financial year 2016 guidance to between $3.71 and $3.78 earnings per share. It also updated revenue guidance to a range of $39.7 billion to to $40.2 billion.
Analysts and investors, though, were focused on Merck's lung cancer drug, Keytruda (pembrolizumab). Late Monday the Food and Drug Administration announced approval of the drug for treatment of first-line non-small cell lung cancer.
FDA approval comes two months earlier than expected. 
Seamus Fernandez, an analyst at Leerink, wrote in a note that the healthcare investment firm sees Merck as a leader in the non-small cell lung cancer treatment space for at least the next year, if not longer.
And the company could hold onto that title for longer if its Keytruda trials continue to succeed. The company's CEO, Ken Frazier, noted that Keytruda is in over 360 trials at present, 200 of which are in combination with another drug, which is the way most scientists are approaching cancer treatment nowadays.
Perhaps, then, this is why Merck indicated interest in related M&A activity in the coming months.
Frazier indicated during the company's Tuesday earnings call that it is "actively engaged" in looking at partnerships, collaborations and bolt-ons. Frazier also noted that size would not be a limiting factor on and future deals.
"Our appetite for business development has not changed," he said. "We continue to seek the best opportunities to augment our pipeline & portfolio."
Merck has long been rumored to be a potential buyer for several smaller biotech companies. The Deal, TheStreet's sister publication, reported that Merck could take out Clovis Oncology Inc. (CLVS) - Get Clovis Oncology, Inc. Report which has been rumored to be considering a sale since late August.
Merck was rumored to have made bids for Medviation (MDVN) as well, all those rumors have since been unfounded.
Company officials did not clarify what types of companies Merck would likely acquire, although because the company did indicate an interest in drugs used in combination with Keytruda.
Merck, which has a market cap of $168.79 billion, was climbing Tuesday morning, up 0.8% from market's open. The company was trading at $61.26 per share.