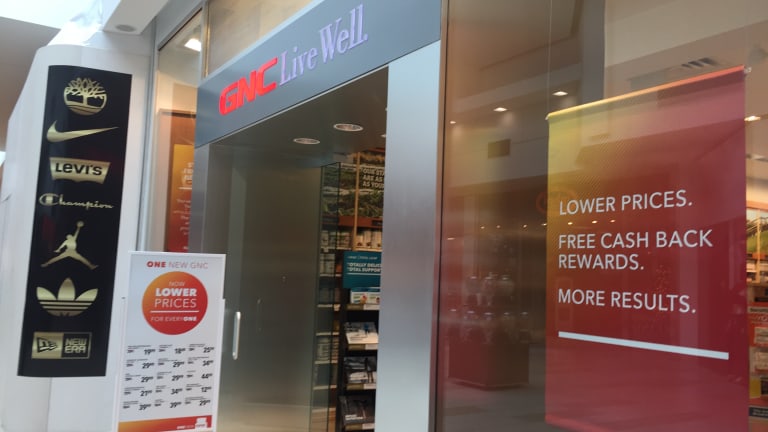 After Closing 4,400 Stores to Avert Disaster, GNC Reopens for Business
Here's what the new GNC looks like.
You can buy vitamins at GNC stores again. 
A day after closing its 4,400 U.S. stores to overhaul its pricing system, GNC Holdings (GNC) - Get GNC Holdings, Inc. Class A Report swung back open its doors on Thursday to consumers. Labels for GNC's protein powders, herbal remedies and nutritional supplements now feature a single price. About 50% of the company's products are being offered at lower prices than before, while a quarter of the prices are higher.
Gone is the company's generally unpopular Gold Card rewards program, replaced by a new simplified one called My GNC Rewards. The company has also launched a sleeker-looking new mobile shopping app.
To be sure, drastic measures such as these needed to be taken at GNC, which for years has lost share to more competitively priced online vitamin sellers and Walmart (WMT) - Get Walmart Inc. Report . Meanwhile, shoppers have become disenchanted by GNC's high-pressure shopping experience and confusing prices. Tepid mall traffic hasn't helped the mostly mall-based retailer, either.
GNC's third-quarter same store sales decreased 8.5% at U.S. company-owned stores (including GNC's online business), and dropped 8.9% at U.S. franchise locations. Net earnings plunged 30% from the prior year to $32.3 million.
GNC's new look
GNC's stock has cratered to the tune of 76% to $11.18 over the past two years, badly under-performing the S&P 500's 9.2% gain. While not pretty, shares of rival Vitamin Shoppe (VSI) - Get Vitamin Shoppe, Inc. Report have only lost 50.2% during a two-year span.
Shares have lost about 3% alone this week on concern GNC's store closure gambit would dent fourth quarter sales. 
"The New GNC leaves the old, broken model behind," said Robert Moran, GNC's Interim CEO. Moran who was brought into GNC in July and was the CEO of PetSmart (PETM) from 2009 to 2013, added, "We're confident it will have a positive impact on the business, but it will take time for the changes to take hold and translate to improved financial results."
The outcome from closing the stores for a day will likely determine whether Moran gets to remove the interim tag from his corner office in early 2017. Judging by the consumer response to GNC's newest gamble, the company faces a long road in regaining some of its once loyal customer base.
"You could beat their prices online," exclaimed Ty Scales on TheStreet's Facebook page. Added Joseph Arseneau, "[Offering] consistent prices would be a great start."
TheStreet visited a GNC store on Long Island, NY on Thursday to see if there were any noticeable changes to the shopping experience. Overall, it still felt like shopping at a GNC (a little expensive) although there were differences. 
The new price tags are much easier to read as they have a single price. But, GNC still suffers from having too many tags on the shelf as seen below, and in the following picture.
That could continue to confuse shoppers. On the other hand, what may turn shoppers off completely is not seeing some form of sale price on the tag. Remember when J.C. Penney (JCP) - Get J. C. Penney Company, Inc. Report tried to do away with sales and transition to one low price? Yeah, that didn't go too well.  
Hey Kraft, time to start selling protein-packed macaroni and cheese
Price tag city. Take note of the confusing "one lower price" tag for the Super Cleanse product alongside several red sale tags.
Again, GNC may be sending mixed messages to its customers about its prices. 
We all need green tea fat burners in our lives
There weren't enough of the "one lower price" signs in the store. Further, the signs are missing one key thing that consumers love to see: the percent off discount vs. the original price.
No clue what Glucocil does
GNC is heavily marketing its new rewards program throughout the store. 
Points, points and more points
The new rewards program is much easier to understand, and more impactful relative to the old school Gold Card. Similar to the program at Vitamin Shoppe, a person accrues points for every dollar spent, which nets them cash back. At GNC, it takes 150 points to get $5 cash back compared 100 points at Vitamin Shoppe for $5 cash back. 
GNC has bested its rival, however, by adding a new premium rewards option called Pro Access. For an annual fee of $39.99, you can partake in the benefits of the regular rewards program but also get perks such as free shipping for online orders. Sounds almost like Amazon.com's (AMZN) - Get Amazon.com Inc. Report Prime service.   
Finally, a good rewards program at GNC