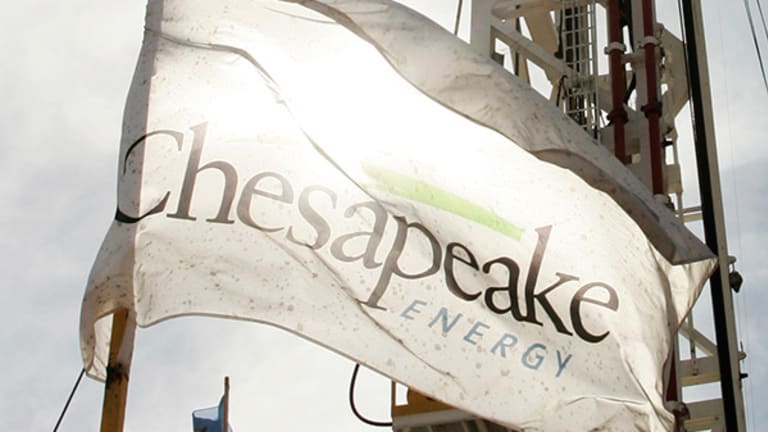 After a Meteoric Rise, Can Owning Chesapeake Stock Get Any Better?
Company followers feel there is still room to grow toward $10 per share in 2017, and in order to get there, Chesapeake need only keep doing what it's doing.
Owners of Chesapeake Energy (CHK) - Get Chesapeake Energy Corporation Report stock have experienced a bumpy ride over the past year, as the company continues to restructure its debt amid one of the worst commodity downturns in the history of the oil and natural gas industry. 
But is there still reason to own this pogo stick of a stock? By some accounts, yes. And if you agree with analysts that Chesapeake's year to shine again is 2017, the stock's recent pullback may represent the perfect time to buy in. 
Prior to Friday, Chesapeake Energy shares were in a bit of a short-term rut, down 5.3% over the past month. But since the Nov. 8 presidential election, those shares have gained more than 35%, versus the S&P 500, which has climbed just 6% in that period. 
Since mid-summer, Chesapeake has been one of the best performing stocks on the S&P 500, and it has by far been the best performing oil and gas producer on the index during that period. Jim Cramer, TheStreet's co-founder and the portfolio manager of the Action Alerts PLUS charitable portfolio, is bullish on the stock moving forward, noting on Jan. 4 on CNBC's "Mad Money" that he is a believer in natural gas and thinks that the company is going to survive.
In the past six and 12 months, the stock is up about 63% and 40%, respectively. Now at around $7 per share, some would say the time to buy was in November during the stock's fourth major trough of the year when shares were just above $5 apiece and upcoming asset sales were sure to provide a near-term bump before the end of 2016. 
There is still room to grow toward $10 per share in 2017, however, Wunderlich Securities analyst Jason Wangler said. In order to get there, Chesapeake need only continue to execute on the efforts it has already initiated. 
"Chesapeake will get there by just continuing to do what they are doing: reducing debt -- without using dilutive measures as so many companies have been doing -- monetizing assets and focusing on core positions," Wangler said. 
Those so-called dilutive measures include equity raises, along with Chapter 11 bankruptcy proceedings that see large chunks of the company's ownership transferred to bond holders in debt-to-equity swaps -- and are measures that hundreds of U.S. oil and natural gas companies have initiated to stave off high leverage multiples during this downturn. 
Instead, to get to Wangler's $10 price target, Chesapeake needs to begin paying off the debt it has now largely restructured, and the analyst is confident the company is beginning to do so. 
What will help is if natural prices, which have climbed more than 80% since hitting five-year lows last March, can remain above $3 per million British thermal units. At those prices, Chesapeake can make really solid returns, he said.
Better oil prices are good, as well. But keep in mind, about 70% of Chesapeake's production is natural gas, and the second quarter of 2017 is when company followers expect its production to shift from flat-to-down to up for the first time since the downturn. 
In the meantime, Chesapeake needs to continue to examine its portfolio for assets it can shake loose. It has managed to restructure large swaths of debt, but still faces the daunting task of paying down that debt. 
To be sure, there are likely more than a few attractive and disposable properties in the company's enormous asset base. And with industry sources predicting range-bound commodity prices for much of 2017, asset sales continue to be the best option for Chesapeake to deleverage.
Luckily, the equity markets' floodgates have seemingly opened up for oil and gas companies since OPEC's Nov. 30 agreement to cut production. 
Diluting its shares through equity raises of its own won't be looked upon favorably by current investors, but if Chesapeake hopes to sell further assets to pay down debt, it helps if buyers are able to tap the equity markets for assistance. 
Witness Gulfport Energy's (GPOR) - Get Gulfport Energy Corp Report $1.85 billion acquisition of Oklahoma natural gas properties acres andDiamondback Energy's (FANG) - Get Diamondback Energy, Inc. Report $2.43 billion deal for oil properties in west Texas' prolific Permian Basin. Both deals took place in mid-December, and both were immediately followed by sizable common stock offerings.
The list goes on, and this recent swath of transactions may indicate buyers are willing to pay up for solid assets in this commodity environment if equity markets will support their purchases.
For Chesapeake's sake, let's hope the markets continue to do so.