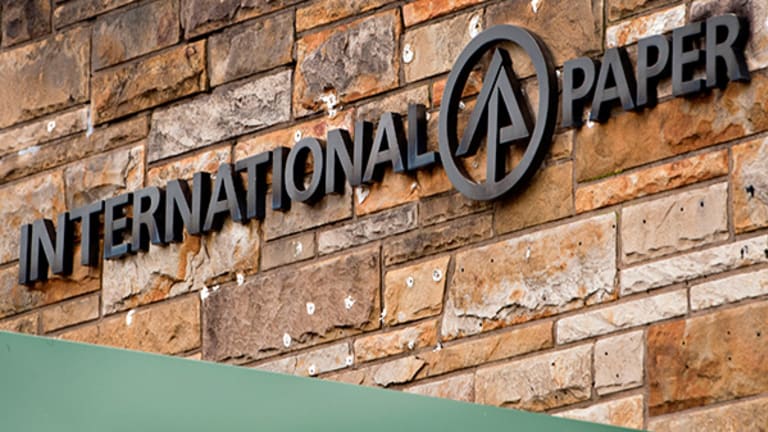 After a Big Year, Paper Stocks Offer Mixed Prospects for Investors
International Paper and other companies in the paper sector have had a good year, but 2017 may not be so good.
The shares of most paper and paper-related companies have racked up big gains in 2016. Leaders in the industry include Veritiv (VRTV) - Get Veritiv Corporation Report  and International Paper (IP) - Get International Paper Company Report .
Those two stocks are up more than 40% this year. 
With healthy growth expected in 2017, it is time to consider whether you should stick to these companies or rotate holdings in favor of beaten-down stocks such as Resolute Forest Products (FRP) , Fibria Celluloseundefined and West Rock Paper (WRK) - Get Westrock Company Report .
1. International Paper
The biggest paper stock, International Paper, has a valuation of nearly $22 billion and is trading at a forward price-to-earnings ratio of 13.2. The company is expected to clock 6.8% revenue growth next year.
International Paper's adjusted earnings per share are expected to rise by 20.6% next year vs. an 8.2% earnings decline this year.
Adjusting for five-year future earnings growth, the company, which operates with a profit margin of about 4%, has a price/earnings-to-growth ratio of about 2.
The 2016 rally means that the stock is trading more than 6% higher than the 12-month median analysts' target price of $50 a share. No wonder that some think it's time to book profits on this stock.
2. Veritiv
Shares of Veritiv, which offers business-to-business (B2B) print, publishing, and packaging solutions, might look pricey after their rally this year. But when you consider the company is expected to see adjusted EPS grow 85% next year, then its forward P/E of only 14.8 doesn't seem too pricey.
Any improvement in profit margins will be a big gain for Veritiv, which has a 0.32% margin for the trailing 12 months.
Veritiv looks attractive in the long term, trading at a PEG ratio of 1.3. However, the company has a relatively large amount of debt -- a debt/equity ratio of 1.7 vs. industry average of 0.3. Investors need to be cautious.
3. WestRock
Shares of WestRock , which is the result of a merger between MeadWestvaco and RockTenn, have gained a handsome 25% in 2016. Expectations are for sluggish sales over the next two years.
However, EPS growth is projected to be near double digits due to operational strategies. The company's declining profit margins in the trailing 12 months have been a cause of concern.
WestRock is taking steps like considering the sale of some of its units and limiting costs. If it gets a hold on pricing and product mix, which were negative factors in the corrugated and consumer-packaging segments during the third quarter, it could be a good stock to own in 2017.
4. Resolute Forest Products
There is not much growth on the EPS front in this stock, and sales are likely to remain under some pressure in the near future, if you trust analyst projections.
While the company's wood products division has done well, its tissue segment, including the pulp and paper divisions, has been facing some challenges. Even after a steep correction, RFP shares are trading higher than analyst price targets. Investors may want to hold off. 
5. Fibria Cellulose
Fibria Cellulose, which is down more than 24% in 2016, doesn't look attractive given its mixed prospects. It is trading at a forward P/E of more than 15. But Fibria Cellulose shares will offer value-priced growth after it pulls back some.
---
How many times have you heard someone on CNBC say, "I actually think the economy is fine here in the United States. Buy stocks!"? If you're like many Americans, you've probably heard it more than once. But just because they're saying it, doesn't make it true. Because I can tell you with absolute certainty it's not. America is in deep trouble. And the crisis looming on the horizon has the potential to make 2008-2009 look like child's play. The window to protect yourself is rapidly closing. I'll show you how here.

This article is commentary by an independent contributor. At the time of publication, the author held no positions in the stocks mentioned.