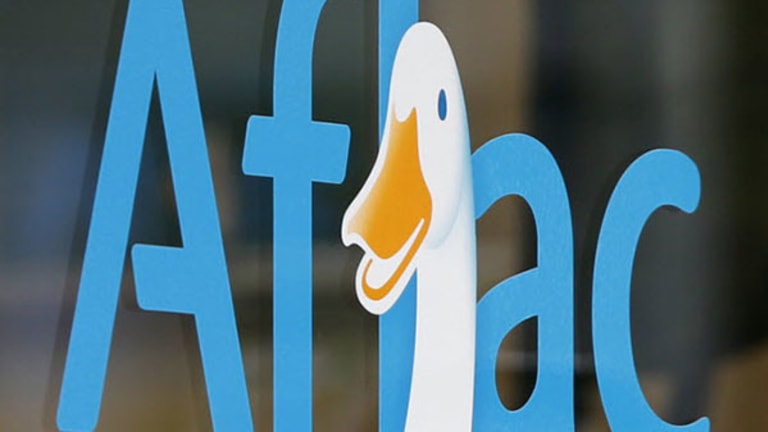 Aflac Stock Has Gained 23% This Year -- Here's Why It Can Go Even Higher
Shares of Aflac (AFL) are up 23% so far this year, but the company has a growth catalyst that could push up its stock even higher.
Shares of supplemental health and life insurer Aflac (AFL) - Get AFLAC Incorporated Report have risen more than 25% since the beginning of the year. It has trounced the S&P 500 in that time, and there may be further gains in store for investors.
Aflac is a highly profitable company with a high dividend yield, and it grows its dividend each year like clockwork.
Aflac is one of 50 Dividend Aristocrats, stocks with 25 or more consecutive years of dividend increases. Aflac has increased its dividends for 33 consecutive years.
In addition, Aflac stands to benefit from a potential rise in interest rate. This could serve as a significant growth catalyst going forward, which is why the stock could continue to outperform the market.
Aflac has a strong brand presence and dominant industry position in the U.S., as well as in Japan, where it actually earns the majority of its revenue.
Aflac has a great business model, because insurance companies make money twice. First, they collect premiums on the policies they underwrite. Second, they earn income on the premiums that have been collected but not paid out as claims, known as the float.
Aflac is not presently earning much on its float, because interest rates are still near historic lows.
Last December, the Federal Reserve raised interest rates for the first time in a decade, but it has not yet raised rates a second time.
If and when the Fed hikes rates again, it will be a boost to all insurance companies because they will earn more in interest on their invested capital.
Aflac has a massive investment portfolio. Last quarter, cash and investments stood at $126 billion, up 22% from the same quarter last year. All this money will earn significantly more income as interest rates climb.
This is already starting to happen. Rumors of an impending rate hike have caused longer-term rates to increase in recent weeks, and Aflac is already feeling the effects. Last quarter, net investment income rose 4.4% in the U.S., twice the growth rate of premium income.
Higher rates will add to Aflac's momentum, which is building. Over the first half of the year, revenue increased 3.6% to $10.9 billion, boosted by higher premium income and a stronger yen/dollar exchange rate. Adjusted earnings per share grew 13% in that time.
In addition, Aflac is doing well in Japan, its core market. Aflac's revenue in Japan increased 7.9% over the first half of the year, to $7.9 billion. Foreign exchange fluctuations played a role in this growth, but the company is also seeing strong results in third-sector sales, which include cancer and other medical products.
Sales of third-sector products rose 6.4% in Japan over the first six months. Going forward, management sees a great deal of long-term potential for this segment, and believes it will grow at a compound annual rate of 4%-6%.
This year should be another one of steady growth for the company. Adjusted EPS is expected to reach $6.17-$6.41 for 2016. At the midpoint of that range, Aflac is on track to increase operating profit by 2% in 2016.
Aflac is highly profitable, and returns billions of dollars to investors each year in cash returns, through dividends and share buybacks. The company intends to repurchase $1.4 billion of its own stock this year, which will be a tailwind for earnings growth.
Buybacks grow earnings per share because fewer remaining shares will each capture a larger portion of a company's earnings. Aflac's buyback this year represents approximately 4.6% of its current market capitalization.
Moreover, Aflac does a great job of raising its dividend at rates that beat inflation. Last year's dividend increase was a healthy 5%.
The stock has a 2.2% current dividend yield, which exceeds the average dividend yield in the S&P 500 index.
Even better, Aflac could continue to provide investors with dividend income and compelling share price gains, because the stock is still cheap. Aflac trades for a price-to-earnings ratio of just 12.2, compared with close to 25 for the S&P 500.
As a result, Aflac could be a rewarding stock for value and income investors alike. The company's reasonable valuation, growth catalyst from interest rates rising and long dividend history make it a long-time favorite of The 8 Rules of Dividend Investing.
This article is commentary by an independent contributor. At the time of publication, the author was long AFL.