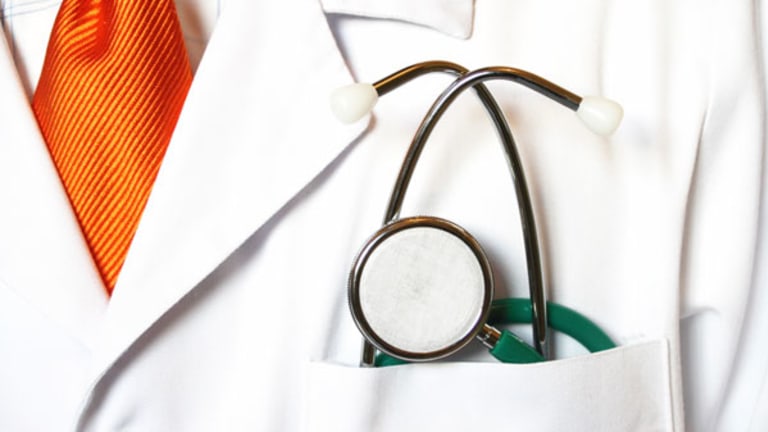 Aetna's Coventry Deal Signals 'Obamacare' Consolidation
The $5.7 billion deal is the second large acquisition since the president's healthcare plan was affirmed by the Supreme Court.
Updated to include analyst comments and added data throughout.
NEW YORK (
) -- Obamacare has another major merger, after health care giant
Aetna
(AET)
buying
Coventry Health Care
(CVH)
$42.08 per share, in a deal that values Coventry at $5.7 billion.
The deal, which comes at a near 20% premium to Coventry's Friday closing share price and was announced Monday, is the second major health care sector merger since President Obama's Affordable Health Care Act was narrowly upheld by the Supreme Court in late June.
For Aetna, a large provider of commercial and individual health care plans, the deal targets Coventry's Medicare and Medicaid customers, which are expected to grow under the expanded coverage of the Act. It also signals that healthcare giants are already planning for drastic change in the sector, even as the Act becomes a key campaign issue and presumptive Republican Presidential candidate Mitt Romney says he would attempt to strike it down.
For Aetna, a large regional healthcare care provider, Coventry will add nearly 4 million medical members and 1.5 million Medicare Part D members to Aetna's membership, substantially increasing its exposure to government sponsored health plans. "
We think that the deal is a good one for
Aetna who has holesto fill in both its Medicare and Medicaid books and is able to do so at multipleswell below what it would have cost to buy pure play operators," wrote Bank of America Merrill Lynch analyst Kevin Fishbeck, in a note to clients.
After the deal, Aetna's share of revenues from government business will increase to over 30% from 23%. Excluding transaction and integration costs, the merger is expected to add slightly to Aetna's operating earnings per share in 2013, and will boost EPS by 45 cents in 2014 and another 90 cents in 2015. When including Coventry's $1.6 billion in debt, the merger values it at $7.3 billion.
"Integrating Coventry into Aetna will complement our strategy to expand our core insurance business, increase our presence in the fast-growing Government sector and expand our relationships with providers in local geographies," Mark T. Bertolini, Aetna's chairman, chief executive said in a statement released on Monday.
In early Monday trading, Aetna shares gained nearly 4% to $39.48, while Coventry Health Care shares surged over 18% to $41.46. Coventry stockholders will receive $27.30 in cash and 0.3885 Aetna common shares for each share, in a cash and stock offer that values the Bethesda, Maryland-based healthcare provider at its highest level since June of 2008.
The deal is expected to have modest synergies relative to its size, with Aetna CFO Joseph M. Zubretsky forecasting $400 million in cost savings through 2015 as a result of the merger. Aetna expects to finance the deal using cash on hand and by issuing approximately $2.5 billion in new debt and commercial paper. The deal is expected to close in mid-2013, Aetna added in a press release.
In July,
WellPoint
(WLP)
said on Monday that it will buy
Amerigroup
(AGP)
, a managed health care company with 4.5 million customers of state sponsored health care programs for $4.9 billion.
After WellPoint announced its deal for Amerigroup, many covering the heathcare sector forecast that it would precipitate a flurry of consolidation within the industry - a notion confirmed by Monday's deal, which is larger in size and scope than the July merger.
Medicaid-focused healthcare providers such as
Centene
(CNC) - Get Centene Corporation Report
,
Molina Healthcare
(MOH) - Get Molina Healthcare, Inc. Report
and
WellCare Health Partners
(WCG) - Get WellCare Health Plans, Inc. Report
have benefitted from the sector overhaul, as some forecast continued consolidation.
"Expect other companies with government exposure to see greater investor interest," wrote Credit Suisse analyst Charles Boorady in a July note to clients, highlighting Centene, Molina Healthcare,
Humana
(HUM) - Get Humana Inc. (HUM) Report
,
Coventry Healthcare
(CVH)
and
Health Net
(HNT)
as other healthcare providers with high Medicaid and Mecidare exposure.
As investors position on the Supreme Court's landmark health care decision, they may be wise to spend their time understanding how consistent M&A trends are already consolidating the health care sector, an industry shake up confirmed by Aetna and WellPoint's multi-billion dollar deals.
Already, some companies have used recent mergers to position themselves for key earnings opportunities, amid the prospect that profit margins fall throughout the healthcare sector.
"There is a very basic level of consolidation that is taking place," said Marc Cabrera, head of the health care investment banking practice at Morgan Joseph TriArtisan, of widespread health care sector M&A efforts, in a late June interview that came before the court's ruling.
Some companies thought to be most impacted by Obamacare and the Supreme Court's decision have already scaled into new business lines. Last October,
Cigna
(CI) - Get Cigna Corporation Report
bought
HealthSpring
(HS)
, a health care provider with a big pharmacy unit, in a near doubling of its PBM unit.
In June the Court confirmed the Act's ability to force Americans to carry health insurance and compel insurers to cover people with pre-existing health conditions. The Supreme Court, however, limited the extension of Medicaid, deeming it unconstitutional for the federal government to withhold money from states that don't comply with the Act.
The Court's maintenance of the Affordable Care Act signals that Medicaid will expanded to some extent -- with the biggest
to Medicaid HMOs like Amerigroup,
Molina
(MOH) - Get Molina Healthcare, Inc. Report
and
Centene
(CNC) - Get Centene Corporation Report
.
Some estimate that between 16 million to 20 million new Americans would be eligible to enroll in Medicaid through the Affordable Care Act.
Regardless of the Supreme Court's ruling, companies will be pressured to figure out a way to grow the bottom-line in a health care market that's likely to become far more cost-competitive. "We do not see that the cost trend today is sustainable, therefore to be a winner in the future you need to be bigger and have economies of scale," added Cabrera in June.
Recent deals like dialysis specialist
DaVita's
(DVA) - Get DaVita Inc. Report
$4.42 billion acquisition of privately held physician practice
HealthCare Partners
and health-insurer
Humana's
(HUM) - Get Humana Inc. (HUM) Report
acquisition of hospital chain
Concentra
in 2010 highlight how health care sector players are scaling their operations, noted Cabrera.
Still there are reasons to believe Monday's deal -- the largest in the healthcare space since the Affordable Care Act was passed into law in 2010 -- may be the peak of M&A in the sector.
"While certainly enhancing we don't see this as a game changer in terms of government focused capabilities for Aetna going forward," wrote JPMorgan analyst Justin Lake in a note to clients. "We do not see Coventry Health Care as bringing to the table market leading positions in either individual Med Adv (such as HealthSpring brought to Cigna) or Medicaid (such as Amerigroup brought to WellPoint)," he added.
Fischbeck of Bank of America, meanwhile, highlights that consolidation may be challenged in the healthcare space after Aetna's acquisition because both companies were the most likely consolidators and larger players like UnitedHealth Group could have faces antitrust scrutiny. "
We see no reason for UnitedHealth Group to pay twice its P/E multiple for business it can win organically, before considering potential antitrust complications," wrote Fischbeck, in a note to clients.
"
Cigna cannot do a transaction accretively given relatively high debt levels and prefers leveraging HealthSpring capabilities or local JVs. Meanwhile,
Humana believes its partnership strategy (where it has had recent success with CareSource) is the most cost effective way to enter markets," added the analyst.
For more on investing in healthcare see why Express Scripts could be
sandbagging synergies
in its mega-deal for Medco Health Solutions and why
sector M&A may trump weak earnings
.
-- Written by Antoine Gara in New York