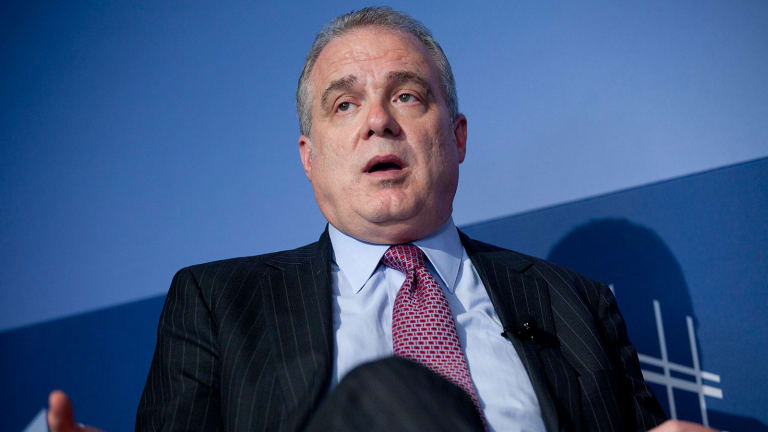 Aetna Stays Mum on Possible Blockbuster CVS Marriage
On the heels of a WSJ report on deal discussions between CVS Health and Aetna, executives at Aetna said on an earnings call Tuesday they are not commenting on rumors.
Officials at Aetna Inc. (AET) have a lot of explaining to do, as rumors continue to swirl that the Hartford, Conn.-based insurance giant is in talks to be acquired by pharmacy chain CVS Health Corp. (CVS) - Get Report  .
But amid the deal chatter, and after a failed deal with Humana Inc. (HUM) - Get Report  in February, executives are focused on earnings, much of which failed to impress investors despite a steep earnings beat.
Aetna on Tuesday reported third-quarter adjusted earnings per share of $2.45, up 18% from the same period last year. Revenue was $14.99 billion, down 5% year-over-year.
Analysts had forecast, on average, adjusted EPS of $2.08 on revenue of $15.12 billion, according to Bloomberg.
"The EPS beat was 37 [cents] at $2.45 on a modest revenue Miss and driven by favorable MLR [medical loss ratio] performance on Commercial, Govt, Group MLR, SGA & tax rate offset by a modest revenue Miss," wrote Leerink Partners LLC analyst Ana Gupte in a note.
Aetna raised its full-year 2017 GAAP EPS outlook to around $5.95 from previous guidance of $5.46 to $5.56. It increased adjusted EPS guidance to around $9.75 from the previously issued range of $9.45 to $9.55.
Shares of Aetna were trading at $169.99 on Tuesday, down nearly 1%, or 74 cents.
Amid chatter on a potential deal between Aetna and CVS, officials at the insurance giant said on an earnings call Tuesday, Oct. 31, they are not commenting on rumors.
"As you are all aware, there has been a lot of speculation in the media about Aetna," said chairman and CEO Mark T. Bertolini. " As [investor relations vice president] Joe [Krocheski] stated in his introduction, it is our policy not to comment on rumors or speculation."
The Wall Street Journal reported on Oct. 26 that CVS has been in talks over the past six months to buy Aetna for more than $200 a share, or about $66 billion.
Aetna and Humana Inc. (HUM) - Get Report in February pulled the plug on their merger agreement after a federal judge in January blocked Aetna's $37 billion bid for Humana at the request of the Department of Justice.
Tuesday's earnings release came after Aetna on Oct. 23 said it has agreed to sell its U.S. group life and disability business to Hartford Financial Services Group Inc. (HIG) - Get Report for $1.45 billion.
More from TheStreet.com's healthcare team: