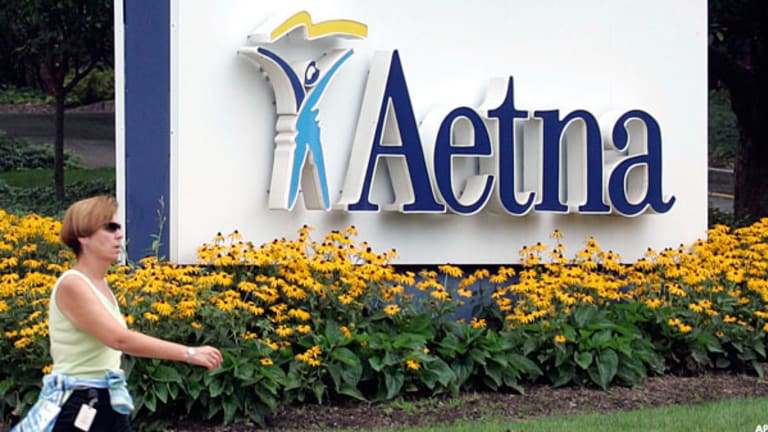 Publish date:
Aetna Earnings Reveal Insurers' Struggles With Obamacare
Aetna reported better-than-expected earnings Thursday, but its share price fell thanks to investor concerns over its participation in the Affordable Care Act.
Aetna reported better-than-expected earnings Thursday, but its share price fell thanks to investor concerns over its participation in the Affordable Care Act.
Aetna's (AET) third-quarter earnings, reported Oct. 27, revealed something crucial about the Affordable Care Act -- that insurance companies are losing out by offering plans through the public exchanges.
The health care insurance giant's Thursday earnings call focused primarily on its participation in public health care exchanges, including those set up by the Affordable Care Act, Medicare and Medicaid.
Though Aetna beat consensus estimates on earnings, reporting earnings of $2.07 per share, compared to estimates of $2.03 per share, its participation in Obamacare had a negative impact on the company's results. In August, Aetna announced that it will no longer offer plans through Obamacare, at least through through 2019 or 2020.
The company recorded a $20 million premium deficiency reserve, on top of the $65 million it reported in the second quarter. These reflect losses on the Obamacare-compliant policies. At the same time, the company's decision to curtail ints participation on the exchanges is likely to hurt revenue.
As a result, Aetna's share prices fell 2.3% Thursday, hitting $108.47 per share.
Meanwhile, Aetna announced earlier in October that it has lost its Medicaid contract in Missouri (with Centene (CNC) - Get Report and UnitedHealth (UNH) - Get Report winning out). This is in addition to a loss of Medicaid in Nebraska, and a fight in Pennsylvania to preserve its contract.
As a result, Credit Suisse analyst Scott Fidel is forecasting revenue for 2017 of approximately $62.5 billion, roughly $3 billion lower than consensus estimates.
Aetna provided little detail on its 2017 outlook Thursday.
The company's CFO, Shawn Guertin, acknowledged this problem during its earnings call, noting that Aetna anticipates several challenges like these in 2017.
"While we are still early in the forecasting process, we see a number of challenges in 2017," Guertin said during the company's call. "These include the reduction in our individual public exchange footprint."
This footprint was necessary, though, to preserve the company's market share, analysts note.
This comes on the heels of announcements from the federal government that Affordable Care Act participants will see premium hikes in the double digits in 2017. In large part, this stems from fewer than needed healthy people seeking coverage through the exchanges.
To offset the resulting profit pressure, the largest insurers, Aetna, Humana, Cigna (CI) - Get Report and Anthem (ANTM) - Get Report have announced plans to merge, with Aetna seeking to acquire Humana and Anthem to buy Cigna.
Part of their justification is that the resulting cost savings would allow the companies to continue or resume participation in the Affordable Care Act health exchanges. In many of the exchanges today, only one insurer offers plans.
"When you're the last one left in a market, you get all the risk and there isn't any risk to share," Aetna CEO Mark Bertolini said during the company's call.
However, the Department of Justice is opposing these mergers, arguing that they will reduce competition. Adding to the would-be merger partners' woes, many states are migrating their Medicare and Medicaid contracts to companies with no plans to merge, such as UnitedHealth or Centene.
Despite the DOJ's opposition, Aetna executives during the company's Thursday call said that they expect their deal to close in 2017.
Aetna has a market cap of $38.01 billion.