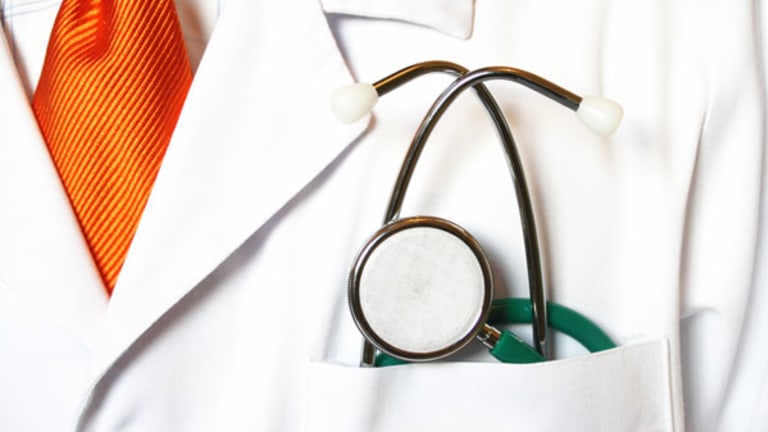 Aetna Back on Its Feet
The health insurer jumps after medical costs moderate.
Aetna
(AET)
said something right for a change.
After scaring investors repeatedly this year, the giant health insurer indicated on Monday that its second-quarter results were not as spooky as they had once seemed. Specifically, analysts noted, Aetna CEO Ronald Williams announced at this week's Bear Stearns conference that the company's recent pricing and cost trends were "not as bad as they appeared" and that the company's second-quarter medical costs could, in fact, be "restated favorably" going forward.
The news soothed investors who feared that Aetna's rising medical costs -- which spiked in the last two quarters -- could signal threats for the industry as a whole.
Shares of Aetna jumped 3.2% to $39.66 on the update. The stock, which bottomed out at $30.94 in early August, has now regained virtually all of the ground it lost on the company's second-quarter bombshell. Other major health insurers, including
WellPoint
(WLP)
and
Humana
(HUM) - Get Humana Inc. Report
, posted gains of more than 1% as well.
Goldman Sachs analyst Matthew Borsch immediately raised his price target on Aetna's stock from $40 to $44 following the positive development. He has an overweight rating on the company's shares, which he has been recommending since the second-quarter plunge.
Quite simply, Borsch has always felt that investors singled Aetna out for more punishment than the company deserved.
"We continue to believe that the price and cost trend pressures experienced by Aetna are more reflective of industry competitive pressures as opposed to 'company-specific' problems," Borsch wrote on Monday. "We therefore believe the market overreacted to the 2Q2006 trends issues at Aetna, specifically, while under-reacting to the potential risks ahead for the higher valuation names in the commercial group."
Borsch urges managed care investors to be selective. In addition to Aetna, he recommends buying
Cigna
(CI) - Get Cigna Corporation Report
-- another company hammered for rising medical costs -- along with Medicare giant Humana. He continues to steer investors clear of
UnitedHealth
(UNH) - Get UnitedHealth Group Incorporated Report
, which he downgraded before a stock option scandal engulfed the company, and smaller players
Sierra
(SIE)
and
Healthways
(HWAY)
.
Goldman Sachs has investment banking relationships with all the companies and shares a director with UnitedHealth.
'Soft Landing'
Borsch remains neutral on the managed care group overall.
In a nutshell, Borsch sees strong evidence of pricing pressures that signal a cyclical downturn for the industry. At the same time, however, he believes those pressures will continue to be offset by moderating medical costs and lead to a "soft landing" for the group in the end.
Borsch reiterated his theory on Monday after reviewing second-quarter reports from not-for-profit Blue Cross players.
With their profits soaring past acceptable levels, Borsch determined, the NFP Blues have started slashing prices and grabbing market share as a result. He points to NFP underwriting profits, which plunged 34% in the second quarter despite enrollment gains, as evidence.
For now, Borsch suggested, those price cuts could be enough to ease the pressure on cash-rich NFP Blues -- who have been swimming in excess profits -- and the publicly traded companies that compete with them in the marketplace. But he doubts that any relief will last very long.
Still, Borsch believes that the industry will escape the sharp corrections that it has endured under similar conditions in the past. But he tosses investor fear in as a possible wildcard.
"We see no identifiable catalyst for an upward move in medical cost trend that might trigger a hard landing to (the) current cycle," Borsch wrote on Monday. "However, the downside risk is that the market, seeing furthers signs of a slowdown, may at some point begin to price in a hard landing and take valuations -- now at their 15-year average -- even lower."