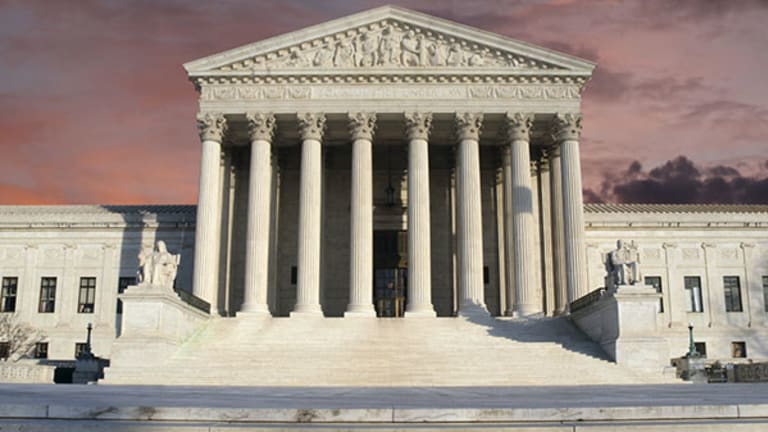 Aereo Loses as Supreme Court Rules Service Violates Copyright Law
Aereo's future was put in doubt as the Supreme Court ruled that the video-streaming service violates U.S. copyright law.
NEW YORK (TheStreet) -- Aereo loses, and the country's broadcasters breathe a sigh of relief.
The country's largest television networks scored a resounding victory on Wednesday as the Supreme Court ruled that Aereo, a video-streaming service, violates U.S. copyright law by selling the broadcaster's free over-the-air signal through its online subscription service. The court, in a 6-3 ruling, said the decision would not adversely affect cloud computing.
CBS (CBS) - Get CBS Corporation Class B Report, Disney's (DIS) - Get Walt Disney Company Report ABC, Comcast's (CMCSA) - Get Comcast Corporation Class A Report NBC and 21st Century Fox (FOXA) - Get Fox Corporation Class A Report had charged that Aereo was reselling its programming for a fee without paying for it. The broadcasters argued that Aereo should be required to pay each television station in each designated market area, known as a DMA. Aereo's business plan is predicated on not having to pay those so-called carriage fees. Throughout its many legal battles, Aereo has countered that it's simply making it easier for consumers to access a service which they already get.
CBS surged on the announcement, rising 6.2% to $62.51. Shares of Disney, Comcast and Fox also rose on the ruling.
The company is the brainchild of Chet Kanojia, an engineer who developed the digital system, which charges between $8 and $12 a month. The service is currently offered in 11 cities including New York, Houston and Miami.
In a statement, Kanojia said " We've said all along that we worked diligently to create a technology that complies with the law, but today's decision clearly states that how the technology works does not matter. This sends a chilling message to the technology industry," adding that the decision "begs the question: Are we moving towards a permission-based system for technology innovation?"
An Aereo spokeswoman, in an e-mail, declined to comment on whether the decision will force the company to shutter its operations and go out of business.
The three-year-old company, which uses thousands of small antennae to redirect satellite signals to individual users, received early backing from Barry Diller, the long-time media entrepreneur and chairman of IAC/InterActive Corp (IACI) . Diller, who sits on Aereo's board, has said the company would likely close if the court rules against it.

WATCH: More market update videos on TheStreet TV | More videos from Brittany Umar

"It's a huge blow for innovators as well as the average consumer," said Alki David, owner of FilmOn, a video-streaming service that filed a brief on behalf of Aereo. "It just means that the pipes now belong to a handful of media companies, and that the pricing is going to be more fixed than it ever was before."
Aereo had been embroiled in lawsuits since March 2012 as networks and local television stations owners sought to shut down the service. The attraction of Aereo has been that it doesn't require an antenna on a house or pointed toward a window, and it is portable, available on all digital platforms.
CBS, owner of the country's most-watched network, arguably had the most to lose in the case because unlike Disney, Comcast and Fox, it doesn't own a film studio or cable-television business that might help buffer the company were the court to have ruled in favor of Aereo.
21st Century Fox, which is controlled by its chairman Rupert Murdoch, said in a statement that the decision is a "win for consumers that affirms important copyright protection and ensures that real innovation in over-the-top video will continue to support what is already a vibrant and growing television landscape." 
Braodcasters had feared that were Aereo to have won the case it could have partnered with a video streaming provider such as Netflix (NFLX) - Get Netflix, Inc. Report to offer an alternative to the pay-TV bundle of hundreds of channels. "Over-the-top" refers to services available through set-top-boxes such as Apple's (AAPL) - Get Apple Inc. Report AppleTV, Amazon's (AMZN) - Get Amazon.com, Inc. Report FireTV or Roku. 
Local television station owners also stood to lose had the court ruled for Aereo. In the past year, Tribune, Gannett (GCI) - Get Gannett Co., Inc. Report and Sinclair Broadcasting (SBGI) - Get Sinclair Broadcast Group, Inc. Class A Report have acquired additional local TV stations on the premise that the fees they charge pay-TV providers to carry their signal would continue to rise. An Aereo victory would have given the networks and television station owners far less clout in negotiations with pay-TV providers. 
Broadcasters had threatened to take popular programming such as sports off its over-the-air signal had they lost the decision. The National Football League and Major League Baseball insisted that Aereo was taking advantage of their copyrighted telecasts.
"It will be more difficult now to create the a la carte environment," Alki said, adding that less than 5% of FilmOn's revenue will be affected by the Supreme court's decision as most of the company's sales comes from advertising around licensed or owned-content. "The bundles will continue to be shoved down the throat of the consumer."
At its court hearing in April, Aereo argued that the essential business of cloud computing, whereby data is stored on remote servers, would be imperiled were the court to rule against the company. In its majority opinion, written by Justice Stephen Breyer, the court said the decision was isolated on one case and one company, Aereo.
Justices Antonin Scalia, Samuel Alito and Clarence Thomas dissented.
Kanojia, in Aereo's statement, added that "we will continue to fight for our consumers and fight to create innovative technologies that have a meaningful and positive impact on our world."
-- Written by Leon Lazaroff in New York.
>Contact by Email.
Leon Lazaroff is TheStreet's deputy managing editor.