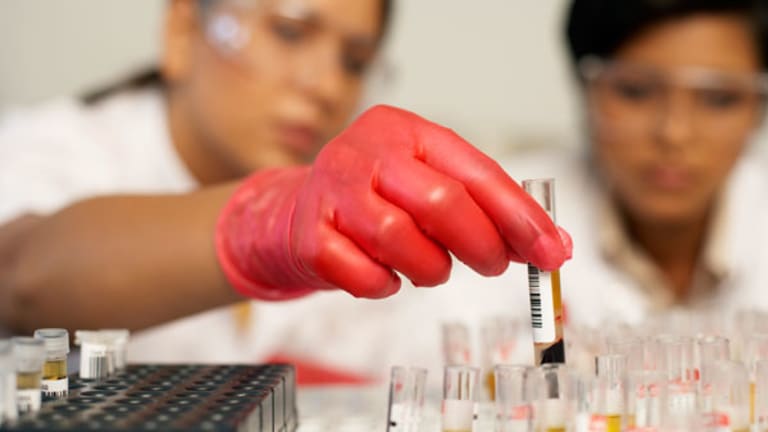 Aegerion CEO Speaks On Juxtapid Launch, Orphan Drug Pricing And Competition
Aegerion CEO Marc Beer says the Juxtapid launch is started strong.
CAMBRIDGE, Mass. (
) -- Following U.S. approval in December,
Aegerion Pharmaceuticals
(AEGR)
is now in the early days of the commercial launch of Juxtapid for the treatment of homozygous familial hypercholesterolemia (HoFH), a rare genetic disease that prevents cholesterol from being cleared from the body. As a result, HoFH patients suffer from the buildup of fatty deposit in their tissues and blood and are at severe risk for fatal heart attacks.
On Tuesday, I spoke with Aegerion CEO Marc Beer for an update on the Juxtapid launch and future plans for the company. We also discussed orphan drug pricing and insurance reimbursement -- an issue of increasing focus and concern for drug companies and investors.
Isis Pharmaceuticals
(ISIS)
, a competitor, also came up in our conversation, which took place hours before FDA approved Isis' HoFH drug Kynamro.
One year of Juxtapid therapy costs $250,000, on a blended basis. Aegerion expects to have 250-300 HoFH patients on drug by the end of 2013, with revenue in the range of $15-25 million. The company has 1,500 HoFH patients in the U.S. in its Juxtapid patient tracker database and believes there may be as many as 3,000 HoFH patients in the U.S.
I began the conversation with Beer asking about the steps Aegerion is taking to get Juxtapid's launch off to a strong start.
First, we're focused on training physicians in our REMS risk management program. We're watching the number of physicians trained closely and we're right on track where we want to be. In the first two or three days, 50 physicians asked for training, which means they have patients who can benefit from Juxtapid. We have to make sure that doctors know how to put the right patients on this drug. Second, we're working on moving patients through the pre-authorization phase. We have forecasted that it will take 4-5 months to do that, on average. We're watching the first quarter closely to see how long it will take to get patients through the insurance coverage process. Lastly, we're looking at the patients who have prescriptions, looking at the severity of the patients in order to forecast the clinical utility of Juxtapid when it's in the hands of treaters versus patients in our patient tracker database.
Describe the feedback you're getting from insurance companies regarding Juxtapid reimbursement.
Juxtapid is a true orphan drug in that the morbidity and mortality of HoFH is severe and our drug is disease modifying, so we always believed that insurers would respect our price point and reimburse...But we had to price the product right and communicate with insurers. This is work that we did in the last six months of 2012. The early indications are very positive. We visited 85% of the U.S. population's insurance carriers prior to the launch and we continue to have those meetings. In the early days of processing pre-authorizations, we are getting no sense of pushback or restrictions from insurance companies. If we were, we'd be seeing demands for patients to try certain medicines first or to undergo apheresis, but we haven't seen anything like that yet.
Many people define orphan and ultra orphan drugs just by the small number of patients diagnosed with the disease, but you believe the drug's ability to modify the disease needs to be taken into account. Is this being driven by FDA or the insurance companies who must ultimately pay for these drugs?
It's coming from the insurance companies... If you have a marginal drug, even if it's in an orphan disease, insurance companies are pushing back.
Note: I interviewed Beer on Tuesday afternoon so FDA hadn't yet announced the FDA approval of Kynamro, a competing HoFH drug from Isis Pharmaceuticals that will be marketed by the Genzyme unit of
Sanofi
(SNY) - Get Sanofi Sponsored ADR Report
.
Care to make a prediction about whether or not FDA will approve Kynamro?
I expecting a press release any hour that it Kynamro is approved. I always thought that both products would be approved. Both are needed but Juxtapid is much more commercially viable. I was surprised Kynamro was not approved in Europe. I believe Juxtapid will be the first line treatment for HoFH. These patients are in dire straits, they live in fear of a cardiovascular event, but we are not going to get every patient to goal so to have another tool for patients and physicians is important.
Sanofi hasn't announced Kynamro pricing yet but consensus seems to be that it will be priced at a significant discount to Juxtapid. Does this worry you? Will a cheaper competitor change your strategy or affect the Juxtapid launch?
Aegerion does not anticipate any changes to its launch strategy for Juxtapid as FDA approval of Kynamro was expected. We believe physicians will prescribe the medicine that they determine has the best benefit/risk profile for their HoFH patients.
You say Aegerion has 1,500 U.S. HoFH patients in your patient-tracker database and that there are as many as 3,000 HoFH patients overall in the U.S., yet the FDA and other experts put the number of patients at several hundred. What accounts for this difference?
Prevalence in most genetic diseases is an evolution... We've conducted primary market research. We've asked a lot of KOLs who've performed different analyses on large patient populations which shows the prevalence may be four or five times what was previously published. The FDA has cited some publications that are respected but dated. We don't claim to know for sure but we'll be smarter in 12-24 months as we look at the patients put on Juxtapid compared to the patients in our database. Right now, we feel comfortable with our data sources that there are approximately 3,000 patients. I don't think the real number will be a lot more or a lot less but we'll definitely be smarter about it in 12-24 months.
What about patient numbers in Europe?
In Europe, our ability to identify patients depends on the country. In Germany, for instance, there are 1,500 patients on lipid apheresis, which is significantly more patients than in the U.S on apheresis. Germany also tracks the LDL-C levels of patients so we have a very defined patient pool there. It's a well-characterized market. In other countries, we don't the same tracking data so we're going KOL by KOL key opinion leader and polling physician practices. In total, we believe there are approximately 3,000 HoFH patients in Europe but we don't have them well defined yet.
When will Juxtapid receive European approval?
I believe we will get EMA European approval mid year but as you know, it will take another three to 12 months to get reimbursement approved. We've cautioned investors that our European business will not build as quickly or as efficiently as the U.S. because reimbursement in Europe will be slower.
Can you give an update on the work being done to expand Juxtapid approval into the pediatric HoFH population?
Pediatric is one of the more important things to me. I would have liked to have already started the pediatric study but U.S. and European regulators asked us to do a preclinical toxicity study first. That study is already started and will take about 12 months, so we expect to start the pediatric clinical trial early in 2014.
Do you expect to see significant pediatric off-label sales of Juxtapid?
Physicians have told us that they are anxious to get their pediatric patients on Juxtapid. We cannot market it there but insurance carriers will likely allow patients under 18 to go on drug, our research indicates. I don't know how many pediatric patients will use Juxtapid.
To this point, you've focused on developing Juxtapid for the small HoFH population, but do you see a place for the drug in the larger hypercholesterolemia market? Is this a growth opportunity for Aegerion?
I came into Aegerion two and half years ago after the prior CEO was trying to take Juxtapid to a broader patient population. The board and investors, however, had lost faith in that strategy. It was clear to me after doing research that Juxtapid was perfectly positioned for the HoFH patient population, so that's the direction I took the company.With that said, we do need to look carefully at a clinical development program for the broader, severe HeFH patient population. I think we will pursue that area because the drug deserves to go there and patients deserve the drug to go there. The big unanswered question will be coming into alignment with the FDA over what they want to see. We need to have a discussion with FDA about whether there is a reasonable clinical program to expand the drug's label. We will have that conversation with FDA in the next 12-18 months.
Are you concerned about competition from PCSK9 drugs?
PCKS9 is a promising platform and will help a lot of patients, especially those who are statin intolerant. In patients with no receptors, PCKS9s may work some but they won't get anywhere near the efficacy of Juxtapid. Certain HeFH patients, where there is a lot of receptor defects, PCKS9s will not work, so we believe Juxtapid is a protectable franchise.
Right now, Aegerion is a single drug, single indication company. What will Aegerion look like in five years?
Our first goal is to make sure we get the infrastructure in place and the Juxtapid launch right. That will take a couple of years. In five years, I'd like to see us leverage our regulatory and commercial expertise, our people, to bring in another compound that is like Juxtapid -- one that is addressing a needy patient population. I'd like to stick with the ultra orphan indications. But not for a couple of years, right now, we really need to focus on Juxtapid. We have plans to take this drug into 40 countries, so we need to stay focused on the launch.
-- Reported by Adam Feuerstein in Boston.
Adam Feuerstein writes regularly for TheStreet. In keeping with company editorial policy, he doesn't own or short individual stocks, although he owns stock in TheStreet. He also doesn't invest in hedge funds or other private investment partnerships. Feuerstein appreciates your feedback;
to send him an email.