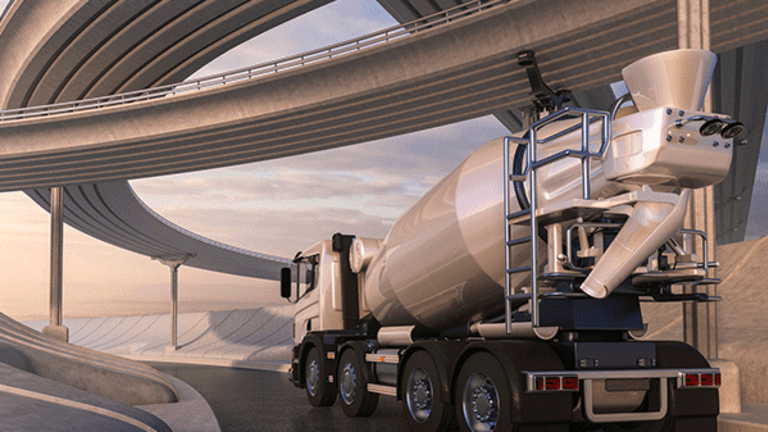 Aecom CEO Burke Sees 'Optimistic Future' for Infrastructure Following Election
Aecom CEO Burke discussed his views on what a Trump administration will mean for his infrastructure company.
One of the staples of President-elect Donald Trump's campaign was the rebuilding of America's infrastructure. Now that Trump will take office in January, his pick for secretary of transportation, Elaine Chao, will have the task of rebuilding roadways, tunnels and bridges.
"We are going to fix our inner cities and rebuild our highways, bridges, tunnels, airports," Trump said in his speech after the election. "We're going to rebuild our infrastructure, which will become, by the way, second to none."
Since Trump's win several sectors in the market have enjoyed strong gains, such as the banking sector. It's up on the President-elect's promise to deregulate the industry. Infrastructure companies are also getting a boost.
Aecom (ACM) - Get AECOM Report stock is up 40% following the election. The company focuses on designing, building, financing and operating infrastructure assets for governments, businesses and organizations. Aecom saw the completion of the One World Trade Center project in New York.
Company CEO Mike Burke appeared on Tuesday's "Bloomberg Markets: Americas" to discuss his company's success and its future under Trump.
"The election has changed things for us," Burke said. "It's changed it for three principle reasons. One is we're now seeing broad bipartisan support for infrastructure, two (we have) broad public support, and third we're seeing a whole host of new capital sources being attached to infrastructure."
After visiting Washington, Burke has no doubt that there is bipartisan support for further infrastructure across the aisle. There is broad support at the local level too.
Burke was questioned about whether or not Trump's $1 trillion infrastructure plan will "jump-start" the economy in the way the President-elect is anticipating.
"I think it's going to jump-start the economy for two reasons. First, of all the friction we have on the economy today due to our poor infrastructure is incredible," Burke responded. "Every single year we have $120 billion burden on the economy due to traffic congestion, that's one, so that's a burden on the economy today that will alleviate."
Second, Burke says Trump's plan will create 6 million new jobs, stimulating the economy as well.
Burke is hopeful that the new infrastructure plan will be dedicated to long-term projects that will have "a long-term, enduring impact on the economy."
With Trump vowing to deregulate banks, BloombergTV's Oliver Renick asked the CEO if there were any projects that Aecom was working on in the past that would have been easier had there not been so many financial barriers.
"There's no question that regulation is an incredible burden on development," he responded. "Not just in the infrastructure space, but in the private sector and we work in both categories. So we've seen across the entire energy sector, we've seen delays on projects due to regulation. We've seen it in the private sector, real estate development, and certainly we're seen it in infrastructure. The delay due to regulation is inhibiting the implementation of the infrastructure plan."
BloombergTV's Scarlet Fu questioned Burke as to how quickly we'll see Trump's infrastructure plan put into action.
"The best projects, the long term impactful projects are going to take many years to come to fruition," Burke explained. "But what we do know is that the incoming administration has suggested they will be in the top three issues they will focus on right out of the box. And so we will expect to see a rapid implementation of infrastructure plans. But it will take a long time build these projects."