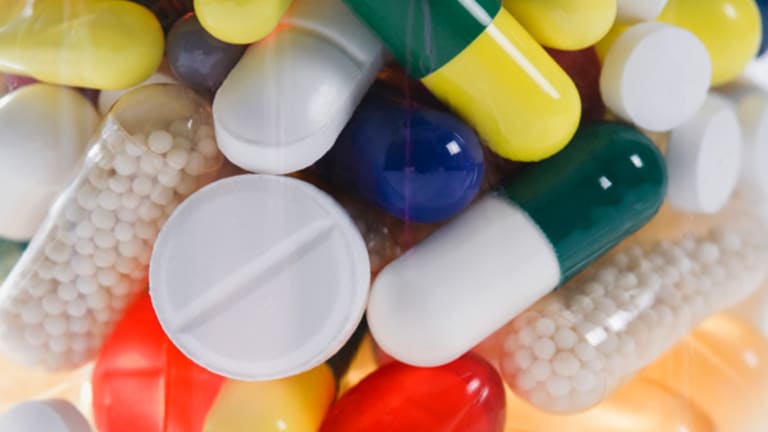 Publish date:
Advaxis: Legit Reasons to Take Another Look at Under-Appreciated Cancer Immunotherapy
The hiring of a key Merck scientist and potential for combination cancer immunotherapy explain the recent rebound in Advaxis' stock price.
The hiring of a key Merck scientist and potential for combination cancer immunotherapy explain the recent rebound in Advaxis' stock price.
PRINCETON, NJ (TheStreet) -- Advaxis (ADXS) - Get Report stopped using The Dream Team Group in November 2013, so tying responsibility for the company's quadrupled stock price over the past two months to the work of the notorious stock-promotions firm -- as Seeking Alpha'sRichard Pearson did last week -- misses the mark.
There are better reasons to explain why Advaxis shares jumped from $3 in November to $13 in the middle of January: 1) Investors were going crazy for any and all cancer immunotherapy stocks; 2) Advaxis' market valuation was genuinely low relative to its peers; 3) A well-regarded Merck (MRK) - Get Report scientist involved with its cancer immunotherapy research joined Advaxis as the new chief medical officer; and 4) Adage Capital, a successful healthcare hedge fund other investors like to emulate, bought a 20% position in Advaxis.
This is not to say Advaxis shares deserved to quadruple in such a short period of time, but even at $13, the company's enterprise value was only around $300 million -- not entirely unreasonable relative to the multi-billion dollar valuations of cancer immunotherapy companies like Juno Therapeutics (JUNO) and Kite Pharma (KITE) . If comparing Advaxis to Juno makes you gag a little, consider Agenus (AGEN) - Get Report -- a wanna-be cancer immunotherapy player -- sports an enterprise value near $300 million.
Advaxis shares rolled over last week, helped along by Pearson's critique, but other cancer immunotherapy stocks have been hit with weakness and profit taking, too. Advaxis shares closed Monday at $8.23.
Cancer immunotherapy comes in different flavors, but all work by helping a patient's immune system identify and kill tumors. Checkpoint inhibitors like Merck's Keytruda and Bristol-Myers Squibb's (BMY) - Get Report Opdivo, for instance, block a protein which cancer cells use to hide from a patient's immune system. Advaxis' technology uses an engineered form of listeria, a common bacteria, to trick the immune system into viewing tumors as bacterial infections requiring elimination. Advaxis is developing three immunotherapy products which pair listeria with different cancer targets -- human papillomavirus (HPV), prostate-specific antigen (PSA) and HER-2.
Aduro Biotech is also developing cancer immunotherapies using listeria-based technology. The privately held company raised $51.4 million earlier this month from an investor group which included OrbiMed, Janus Capital Management and Jennison Associates. Aduro is expected to file for an initial public offering relatively soon at a higher market vauation than Advaxis, which is explanation for the latter's recent stock surge.
A phase II study of Advaxis' ADXS-HPV used alone and in combination with chemotherapy in recurrent cervical cancer patients demonstrated a 6% response rate and overall survival rates comparable to historical rates seen with chemotherapy alone. The results from this study -- fair to call them underwhelming, as I did last March -- were reported in 2012 and 2013 and did little to impress investors. The market also largely ignored Advaxis' cancer immunotherapy collaborations with the MedImmune subsidiary of AstraZeneca and Merck when announced last July and August, respectively.
The decision in October by Dr. David Mauro to leave Merck to become Advaxis' chief medical officer prompted investors to take a second look at the company. Mauro spent six years at Merck, most recently heading a team responsible for putting together a portfolio of clinical trials in which Keytruda is combined with other cancer immunotherapies.
The rationale for combination cancer immunotherapy is simple: Attacking multiple targets simultaneously to weaken a tumor's ability suppress or hide from the immune system might lead to stronger tumor-killing activity and greater patient benefit. "Might" is the operative word because while there's a lot of optimistic buzz about the potential for combination cancer immuntherapies, we haven't seen much clinical data yet.
Mauro worked for Merck when Advaxis first pitched its listeria technology.
"When the Advaxis technology was presented, Merck was not interested initially given that [cancer] vaccine therapy hasn't panned out to be anything interesting," said Mauro, in an interview Friday. "But then Advaxis showed Merck and others that the listeria platform does more than what we've seen historically from the vaccine approach. In particular, there appears to be an effect on the tumor micro-environment with [Advaxis' technology] which is absent from cancer vaccines."
Mauro says Merck spent five or six months "pressure testing" the Advaxis technology before agreeing to collaborate on a clinical trial in which Keytruda would be combined with ADXS-PSA in a phase I/II study enrolling patients with metastatic prostate cancer.
"Merck wanted to investigate a tumor type where checkpoint inhibitors and other immunotherapies haven't shown a lot of efficacy," said Mauro. "Most of the early data with checkpoints in prostate cancer have not borne much fruit, so Merck liked the combination with [ADXS-PSA] because it was an opportunity to take Keytruda into a tumor where it has not worked well in the past."
Patient dosing in the Keytruda-ADXS-PSA study is expected to start within the next week or so and Initial results might be ready at the end of 2015 or early 2016, Mauro said.
Advaxis' collaboration with AstraZeneca is moving forward on roughly the same time frame. The two companies are collaborating on an early study combining ADXS-HPV with MEDI 4736 (an anti-PD-L1) in patients with head and neck cancer. Advaxis also has ongoing partnerships with the Gynecological Oncology Group and Aratana Therapeutics.
I asked Mauro about his decision to leave Merck and join Advaxis.
"I had a rising level of responsibility at Merck to the point where I had a well differentiated team and a wonderful six years. They were very supportive of me. But the opportunity came to move from a 50,000-employee company to a 22-person company and get in on the ground floor where I could make nimble decisions and work with cool science," he explained.
Advaxis has been criticized rightly for spending more time and money in the past on cheap, stock-promotions stunts than advancing the listeria-based cancer immunotherapy technology. Why should anyone believe Advaxis is a different, more investment-worthy company today?
"There's some validity to that," Mauro acknowledged. But he also believes Advaxis has undergone significant and positive changes in the past 18 months.
"We have professionals here now that have been successful in their prior business lives, with good track records. The listeria technology was and still is rock solid but it wasn't optimized. That is what we are tasked with doing."
Adam Feuerstein writes regularly for TheStreet. In keeping with company editorial policy, he doesn't own or short individual stocks, although he owns stock in TheStreet. He also doesn't invest in hedge funds or other private investment partnerships. Feuerstein appreciates your feedback;
to send him an email.