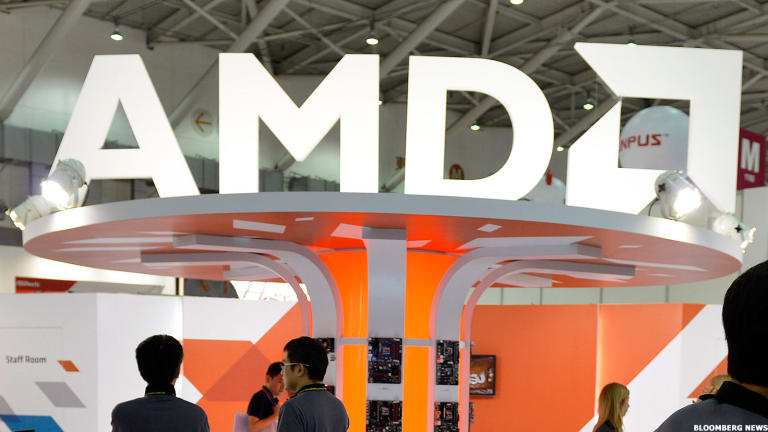 Advanced Micro Gains Momentum Into Upcoming Product Launches
The chipmaker is gaining steam in its bid to compete with rivals Intel and Nvidia, according to an analyst.
Advanced Micro Devices (AMD) - Get Advanced Micro Devices, Inc. Reportstock has skyrocketed nearly 280% so far this year, but Canaccord analyst Matthew Ramsay said the best has yet to come.
"Our buy thesis on AMD shares remains intact despite the recent stock appreciation and volatility, and we continue to gain confidence," he said in a Dec. 13 note to clients. He increased his price target on the stock to $13 from $8.50, as there are "several catalysts" upcoming in the near future for AMD.
AMD shares on Thursday closed up 2.9% at $10.86.
Ramsay projected that the Sunnyvale, Calif., semiconductor company will soon re-emerge as a competitor to Intel (INTC) - Get Intel Corporation Report as its Zen CPU product gains share in the market, on track with the company's projections.
Additionally, AMD's gradual recovery of unit share in lower graphics processing unit market tiers with its Polaris product "should be supplemented" by the upcoming launch of its Vega offerings, he noted. A steadily increasing average selling price in the market should help both AMD and competitor Nvidia (NVDA) - Get NVIDIA Corporation Report , according to Ramsay.
He added that AMD's Polaris and Vega products are "very relevant" in key GPU markets such as artificial intelligence and deep-learning computations, despite Nvidia's domination of the GPU market.
AMD should see growth in its gaming console revenue due to higher average selling prices, and "given AMD's unique position with key partners Microsoft (MSFT) - Get Microsoft Corporation Report and Sony (SNE) - Get Sony Corp. Report with 4K/VR gaming," Ramsay said.
He said, however, that waiting for the company's new products in upcoming years is the "hardest part."
"While AMD shares have skyrocketed, we believe significant top-line growth may take some time as new products launch in 2017 and 2018," he said. "However, we believe only modest growth assumptions across these markets from very low CPU/GPU share levels today drive our estimates materially above consensus for both revenue and gross margin, as much investor skepticism remains."
For the current year, Ramsay projected revenue of $4.24 billion. In 2017, he expected AMD to post revenue of $4.84 billion, up from his previous estimate of $4.83 billion. And in 2018, Ramsay is modeling revenue of $5.29 billion, higher than his prior view of $5.19 billion.
Analysts surveyed by FactSet are looking for revenue of $4.24 billion, $4.55 billion and $4.95 billion for 2016, 2017 and 2018, respectively.
"While we recognize that roadmap execution, competition and financial risks remain, we remain impressed with the new management team under CEO Lisa Su and anticipate a quick recovery to solid profitability given lower expense levels necessitated by the company's recent struggles," Ramsay wrote.
Bank of America also upgraded AMD recently, and TheStreet's Jim Cramer picked AMD as a top takeover candidate for 2017, saying it would be smart for chipmaker Micron Technology (MU) - Get Micron Technology, Inc. Reportto acquire AMD.
A deal between the two semiconductor makers could boost Micron's exposure to fast-growing markets such as gaming, allowing the company to escape the maturing cellphone and tablets markets, Cramer said.