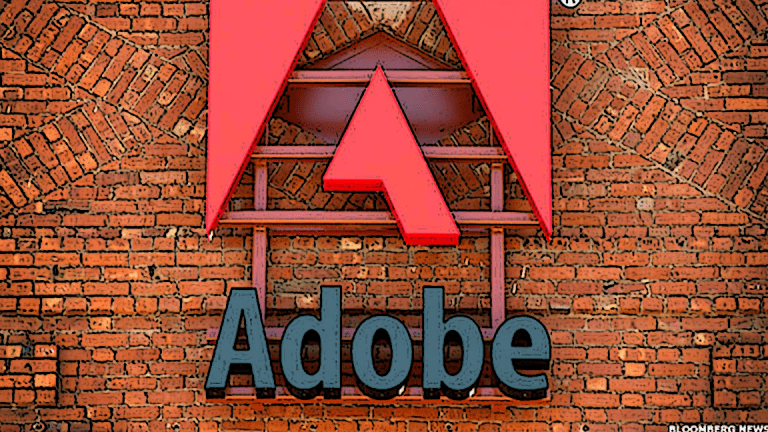 Adobe Shares Are a Bit Too Hot to Handle Right Now
Adobe's results were impressive and its guidance is strong. Nevertheless, its shares are richly valued with little margin of safety.
Adobe's (ADBE) - Get Adobe Inc. Report share price has vacillated over the last 12 months, but ultimately had gone nowhere.
Then, Adobe released its Q2 2019 results on Tuesday and shares took off the next day, ending up more than 5%. Despite its continued strong performance, its shares are pricing in huge expectations already. New shareholders will struggle to make a reasonable return here.
Key Business Drivers
Adobe has two main segments -- Digital Media, which accounts for just under 70% of total revenue, and Digital Experience, which accounts for slightly less than 30%. The remainder is Adobe's Publishing unit, which is small and not a game changer.
Digital Media includes household names such as Photoshop, Illustrator and its Acrobat family of products. The main focus of this segment is to assist individuals and enterprises to create, publish and promote their content. This segment is Adobe's largest, but it's growing slower. In Q2 it was up 22% year-over-year. And its guidance is pointing towards a slight deceleration to approximately 20% year-over-year.
Adobe's other segment is called Digital Experience. This segment is positioned to increase users connectivity, analytics and marketing endeavors. This segment is growing at a faster pace and was up 34% year-over-year and its Q3 guide is pointing towards a similar figure.
One Of The Best Financial Positions In The Space
On Adobe's earnings call, CEO Shantanu Narayen asserted that Adobe's revenue growth, cash flow and operating profit differentiates Adobe among SaaS (software-as-a-Service) companies at scale, and that is certainly the case.
Many of its smaller peers, such as Workday (WDAY) - Get Workday, Inc. (WDAY) Report , struggle to generate strong cash flows once we adjust for management's stock-based compensation. This is not the case with Adobe.
Even by stripping out approximately $200 million allocated for stock-based compensation in Q2, Adobe's free cash flow was still north of $810 million. Having said that, compared with the same period a year ago, its free cash flow was only up 4%.
Next, given that Adobe generates such strong cash flows, its excess cash ultimately lands on its balance sheet. Thus, even though Adobe carries $700 million of net debt, this is a trivial amount, particularly when we see that Adobe is making more free cash flow than this in a single quarter.
Therefore, given the strength of its top line, together with both a flexible balance sheet and solid cash flows, Adobe continues to repurchase its shares. This quarter, Adobe nearly deployed all its free cash flow towards buybacks. In more detail, Adobe bought back $659 million worth of stock at an average price of $264 per share. With the benefit of hindsight, given that the present share price is $291, these repurchases turned out to have been highly accretive to long-term holders of the stock.
Red Hot Valuation 
From an investment perspective, herein lies the problem. As the table above reminds us, Adobe's present valuation is meaningfully more extended than its historical average.
For example, over the past five years, investors were on average unwilling to pay more than 11x Adobe's revenues. But today, investors are being asked to pay more than 14x Adobe's revenue. This sentiment is echoed on its cash flow multiple, which has also increased.
Thus, although Adobe's underlying revenue is growing with a compounded annual growth rate of 25%, investors are asked to pay slightly more 35x its revenues. This implies that a substantial amount of optimism has already been priced into its shares, and that anything but flawless execution will see it dramatically reprice lower. 
The Bottom Line
Adobe delivered an impressive set of results. Its top-line continues to deliver stable growth and its Q3 2019 guidance is sound. On the other hand, given just how stretched its valuational already is, investors are likely setting themselves up for disappointment. Ultimately, it will be difficult for savers to make a safe return here.
Save 57% with our July 4th Sale. Join Jim Cramer's Action Alerts PLUS investment club to become a smarter investor! Click here to sign up!