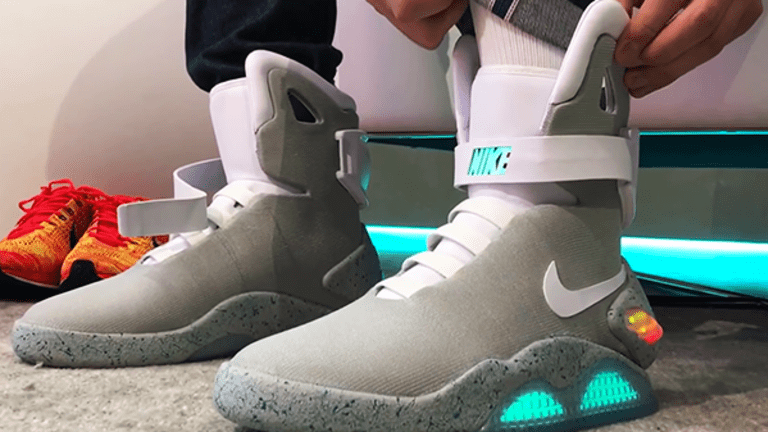 Adidas Is on Fire, and That Should Terrify Nike
Nike loses market share to Adidas, the king of the retro sneaker.
Don't do it, analysts say. Don't buy or sell Nike's stock.
In the wake of Nike Inc.'s (NKE) - Get NIKE, Inc. Class B Report slipping web traffic and diminishing market share, some Wall Street experts have downgraded the athletic retailer's stock, all thanks to Adidas AG (ADS) - Get Alliance Data Systems Corporation Report  bringing its A game in the past few quarters.
A prime contributing factor to the gloomy outlooks are the retro sneaker trend.
Nike has always been true to athletic performance-oriented products, Macquarie analyst Laurent Vasilescu told TheStreet. "And right now, we're not in a performance trend."
Right now, he said, it's all about retro - the forte of Adidas, with fashion-friendly classics like the Stan Smiths, the Originals and the Superstar.
While Nike remains dominant in the footwear industry, Jefferies analysts wrote in a Monday, Aug. 21 note, that data shows its growth and margins "are at risk ahead." Earlier this year, Nike announced mass layoffs as part of its campaign to drive more online sales and protect margins.
Foot Locker (FL) - Get Foot Locker, Inc. Report , which accounts for 5% to 6% of Nike's sales, even called out Nike—namely, the Jordan lineup—for its own poor second quarter performance on an earnings call last week. 
As Nike's web traffic dips, Adidas is seeing an uptick in visits. The latter is also responsible for stealing 44% of Nike's sneaker market share, according to the Jefferies note.
"Adidas' brand heat is accelerating," wrote Oppenheimer analyst Anna Andreeva in note earlier this month. In North America, "solid momentum continues, despite tough compares, at improved profitability."
Researchers at Finlabo agree.
"In the last 3 years Adidas' revenues increased at an average growth rate of 10% and its net operating margin declined from 9% to 8%," they wrote in a report this month.
"For the years 2017-2018, consensus estimates foresee that revenue will grow at a 12% average annual growth and that EPS will register a 114% average annual growth."
But as the retro trend peaks -- which Jefferies indicated took place in March -- it could mean that Nike will be on the upswing again soon.
"It could turn out that retro is short-term gain and long-term pain," Vasilescu said. "We've seen retro trends come in and out, it could be a one-year cycle, or it could be two years. Right now, we're in year two of it."
But at some point, he added, "performance will come back."
"Keep in mind, Nike is still the largest. It's a very well-run company with a 35% return on invested capital, and it has the ability to drive earnings."
Sneaker companies across the board are already investing in new, innovative products, such as in the new Corn & Cotton line from Adidas-owned Reebok.
Nike's shares are down 2.44% at $53.62 early Monday afternoon. That of Adidas are also down—0.79% at $221.90. Neither companies immediately responded to requests for comment.
More of What's Trending on TheStreet: