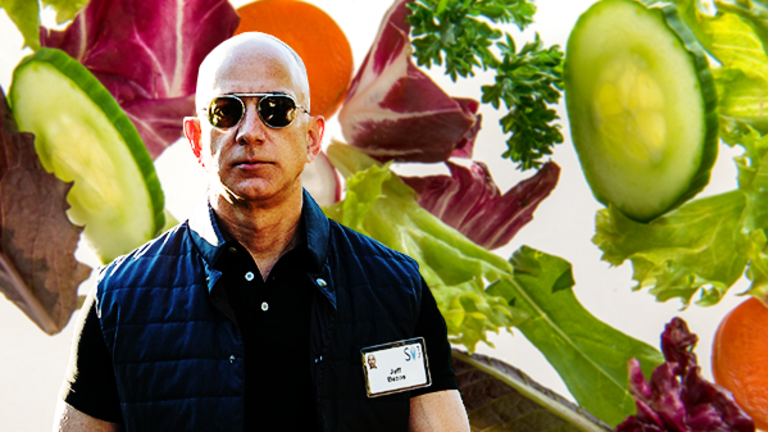 Adding Insult to Injury -- Amazon Lowers the Boom on Big Food Like General Mills
Ouch!
General Mills Inc.'s  (GIS) - Get General Mills, Inc. (GIS) Report  bleak future may soon be bleaker.
Yes, Amazon.com Inc.'s (AMZN) - Get Amazon.com, Inc. Report decision to cut prices at recently acquired lofty grocer Whole Foods Market Inc. (WFM) could hurt fellow competitors in the grocery space, including Kroger Co. (KR) - Get Kroger Co. (KR) Report , Costco Wholesale Corp. (COST) - Get Costco Wholesale Corporation Report , Sprouts Farmers Market Inc. (SFM) - Get Sprouts Farmers Markets, Inc. Report , Target Corp. (TGT) - Get Target Corporation Report and discount king Walmart Stores Inc. (WMT) - Get Walmart Inc. Report .
After, on Thursday, Aug. 24, when Amazon announced it will begin slashing prices on "a selection of best-selling grocery staples" at Whole Foods, grocery stocks tanked. But, what investors have largely ignored, but maybe shouldn't, is the big-brand food companies such as General Mills, Kellogg Co. (K) - Get Kellogg Company (K) Report , B&G Foods Inc. (BGS) - Get B&G Foods, Inc. Report , Conagra Brands Inc. (CAG) - Get Conagra Brands, Inc. Report and others.
On Monday, Whole Foods customers will see lower prices on such items as organic bananas, "responsibly-farmed" salmon and organic large brown eggs, emphasizing the chain's naturally produced foods. Plus, customers will be able to order Whole Foods' private-label brands, including 365 Everyday Value and Whole Paws, on Amazon.com, AmazonFresh, Prime Pantry and Prime Now.
"These announcements feed into the underlying pressures that big food companies already face as they struggle to stabilize their declining businesses," Credit Suisse analyst Robert Moskow said in a research note on Friday, Aug. 25.
General Mills, behind the Yoplait, Betty Crocker and Progresso brands, among others, has had eight consecutive quarters of sales declines.
"Our focus is bringing innovation and news to our brands that is meaningful for our customers and that makes it difficult for private label to follow," General Mills said in an email to TheStreet on Friday. "Because we have No. 1 or No. 2 share positions in categories representing almost 90% of our U.S. retail sales, we think that puts us in a good position to remain relevant on the digital and physical shelf."
Moskow anticipates that the 365 Everyday Value brand will get "top-of-the-page placement" on Prime Pantry, presenting "a challenge to the big brands that didn't really exist before in that part of the site."
"We would expect it to look a lot like private-label options that you would find in a bricks-and-mortar store with maybe 10% to 15% of shelf presence," Moskow wrote. "As a result, we look at this news as another driver of the resurgence of private label and the threat it poses to the big brands."
Sales of private-label products in the U.S. grew from $113 billion in 2013 to $118.1 billion in 2016, while store-brand milk and cheese were two of the primary drivers of those sales, according to Statista research.
Plus, 30.9% of millennials, surveyed by Statista, said they are aware of private-label brands, while 52.8% said they were "somewhat" aware of them and only 4.2% said they "don't think about it." The rest think little of the companies behind the products they purchase.
Over the next five years, one-fifth of the $3.6 trillion retail market in the U.S. is set to shift online, and Amazon is on track to capture two-thirds of that share, according to Stacy Mitchell, co-director of the Institute for Local Self-Reliance and co-author of "Amazon's Stranglehold."
"Food brands typically compete on either price or quality," Evan Tarver, investments analyst at Fit Small Business, told TheStreet Friday. "Amazon has made it clear that it's trying to be both the low-cost leader as well as the food-quality leader. This, coupled with the fact that Whole Foods already has a reputable brand and Amazon is the most convenient retailer in the world, should further hurt big food brands like General Mills and Kellogg."
Amazon's Thursday announcement also addressed plans to enroll Prime members in a Whole Foods' customer rewards program and use the grocer's 470 stores as distribution points, where Amazon orders can be shipped and returned. The announcement came after the e-commerce behemoth got the green light from the Federal Trade Commission to pursue its $13.7 billion acquisition of Whole Foods.
On Sunday, Aug. 20, B&G announced its $162.5 million all-cash purchase of Back to Nature Foods Co. LLC, the maker of SnackWell's and Back to Nature brands, in its latest attempt to regain the shifting consumer. Amid slipping sales, B&G, in 2015, began making a series of acquisitions starting with its $765 million purchase of General Mills' vegetable business, Green Giant. B&G's brands include Baker's Joy, Brer Rabbit and Ortega.
Here's More of What's Trending on TheStreet:
Amazon Is Descending on Ohio With This 855,000 Square Foot Monster