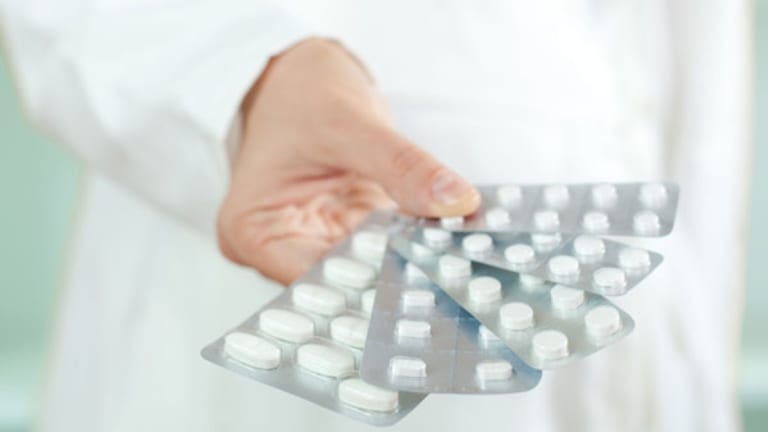 Acura Pharma FDA Panel Preview: Updated
An FDA advisory panel will review Acura's abuse-resistant painkiller Acurox on Thursday.
Updated with comments from FDA's briefing documents posted Tuesday afternoon and new share price information.
PALATINE, Ill. (
) --
Acura Pharmaceuticals
(ACUR)
brings its abuse-resistant painkiller Acurox in front of an advisory committee of the U.S. Food and Drug Administration Thursday.
The FDA panel reviewing Acurox is high stakes for Acura, which is in the business of developing drug delivery technologies that can prevent or deter the abuse of highly addictive drugs. Acurox represents Acura's first stab at a drug approval. If approved, Acurox will be co-marketed by
King Pharmaceuticals
( KG).
Acura shares fell 11.5% to $6.91 Tuesday afternoon after the FDA posted its
Acurox briefing documents to the agency's web site
. Included in the materials was the FDA's review of Acurox, which raised some questions about the Acurox's safety and the utility of the drug's abuse deterrent technology. (More on these issues below.)
On Monday, Acura shares hit a two-year high of $9 intraday before closing at $7.90.
I will be live-blogging the FDA advisory panel for Acurox on Thursday, which begins at 8:30 am EDT, just like I did for
Cell Therapeutics
(CTIC) - Get CTI BioPharma Corp. Report
and its
last month.
Sign up here to get an email reminder for Thursday's live blog.
Meantime, here's a primer on what to expect at Thursday's Acurox FDA advisory panel:
What makes Acurox different from other painkillers?
Acurox is a short-acting drug that consists of the powerful painkiller oxycodone combined with niacin and other ingredients that Acura says deters common methods of prescription drug tampering and abuse.
What about Acurox deters addicts from tampering or abusing the drug?
The addition of niacin to the standard painkiller oxycodone makes Acurox's formulation unique. Niacin is an active ingredient in vitamins and at high doses (
Abbott Labs'
(ABT) - Get Abbott Laboratories Report
Niaspan) it can reduce cholesterol. In Acurox, niacin is there for its side effects -- intense flushing, headaches, itching, sweating/chills -- which are designed to kick in when a person tries to get high by swallowing more than the recommended Acurox pain-killing dose.
If someone tries to dissolve Acurox, ingredients in the tablet turn the oxycodone into a gel, thereby making injection very difficult. Likewise, crushing Acurox releases ingredients that badly irritate the nose, deterring anyone who wants to snort the drug for a high.
What kind of pain-killing label is Acura and King seeking with Acurox?
Acura and King want FDA to approve Acurox as an immediate release (short acting) opioid with a proposed indication for relief of moderate-to-severe pain that is also designed to deter common methods of misuse and abuse.
The "typical" patient for such a drug would be someone who just had root canal or some other type of surgery and needs a painkiller for a short period of time -- a few days or up to one month.
The current treatment market for short-acting opioids is dominated by relatively cheap generic drugs, so Acura and King need to get FDA sign-off on Acurox's abuse deterrence in the drug's label in order to justify premium pricing.
If approved, Acurox would be the first immediate release opioid capable of deterring common methods of abuse. Extended release, or long-acting, opioids that also deter abuse are already on the market for patients who suffer from chronic pain. One such painkiller is Embeda, also sold by King Pharmaceuticals.
Why is FDA convening Thursday's advisory panel meeting?
Acura submitted Acurox to FDA for approval in December 2008. At the end of June 2009, FDA issued a complete response letter, declining to approve Acurox because the agency had outstanding questions about the abuse-deterrent benefits of the drug.
In September, Acura and King met with FDA, where it was decided that Acurox data would be presented to an advisory panel meeting. Oxycodone has a long history as an effective and powerful painkiller, so Thursday's meeting will largely focus on the benefits and risks of Acura's abuse-resistant technology.
Will FDA release briefing documents on Acurox in advance of Thursday's meeting?
Yes, the FDA released its briefing documents around 2 pm EDT Tuesday. They can be found on the FDA's web site
at this link
Okay, so what are the benefits of Acurox?
For starters, opioid abuse is a major problem and a big concern for regulators at FDA. According to Acura, it is estimated that 75 million people in the U.S. suffer from pain and almost 35 million people, or 10% of the U.S. population, have used prescription opioids "non medically" -- i.e. without a proper prescription - at some point in their lifetime.
Vicodin, a short-acting opioid, is one of the most abused prescription painkillers on the market. Acurox, if approved, is designed to address abuse problems seen with currently marketed short-acting painkillers
The Acurox data compiled by Acura and King for FDA review encompass more than a dozen studies demonstrating Acurox's abuse-deterrence potential. In addition, the companies announced in March results from a follow-on study that met all five co-primary endpoints comparing the like/dislike of excess doses of Acurox compared to equivalent doses of oxycodone without niacin.
And what are Acurox's risks?
Niacin has never been used before as a component of an abuse-deterrent painkiller. Some of the studies showed that niacin's aversive effects can be "disarmed" by a high-fat meal or by taking aspirin before Acurox.
Some patients who took Acurox correctly in Acura's clinical studies have also reported experiencing flushing and other ill side effects of niacin. That might be a raise concerns among the FDA's panel members because patients are taking Acurox for pain relief and shouldn't have to deal with more side effects than they're already experiencing.
What does FDA say in its briefing documents?
I'm still reading through all the material myself, but in the conclusion to the FDA's review of Acurox, the agency's medical reviewer raises concerns about niacin-induced flushing, stating, "Study 105 showed that patients treated with Acurox experience vasodilatory adverse events more frequently than would be expected from exposure to oxycodone alone, suggesting that the flushing was due to exposure to niacin. In this study, the Applicant
Acura failed to include oxycodone without niacin, which would have clarified this finding."
The FDA reviewers also point out the issue of niacin's abuse deterrence being defeated by a high-fat meal or aspirin. They also say the aversive effects of niacin may lessen over time as tolerance develops.
So, the FDA hates Acurox? Does this bode poorly for the drug's chances at Thursday's panel?
Not necessarily. Abuse of prescription drugs, especially opioids, is a big problem and the FDA has shown an eagerness to work with companies to develop drug delivery technologies that can deter abuse. The FDA's questions to the experts on Thursday's panel (also posted Tuesday to its web site) suggest that the agency is looking for input and recommendations before making a final decision.
Bottom line: Acura has to convince the panel's experts that Acurox's abuse-deterrent capabilities are real and worthy of approval.
Remember, I'll be live-blogging Thursday's FDA panel so please come back for real-time updates and play-by-play from the meeting you won't get anywhere else. Sign up for an email reminder.
-- Reported by Adam Feuerstein in Boston.
Follow Adam Feuerstein on
.
Adam Feuerstein writes regularly for TheStreet.com. In keeping with TSC's editorial policy, he doesn't own or short individual stocks, although he owns stock in TheStreet.com. He also doesn't invest in hedge funds or other private investment partnerships. Feuerstein appreciates your feedback;
to send him an email.