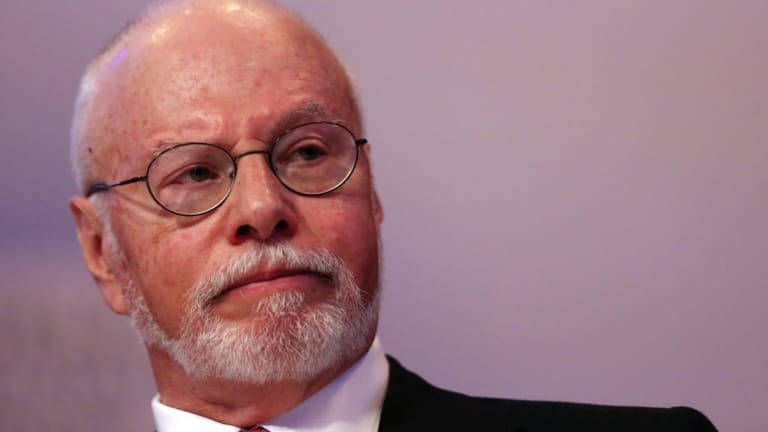 Activist-Pressured Advisory Board Launches Strategic Review
Under the advice of Paul Singer, the provider of technology and consulting services, Advisory Board, is working with Goldman Sachs and Allen & Co. to weigh its options.
Pressured by Paul Singer's Elliott Management, Advisory Board (ABCO) is exploring alternatives that are likely to include transactions with private equity as well as the potential break up of its health care and higher education businesses. 
If a split-up of the Washington, D.C.-based company is in fact entertained, at least some company followers predict the combined business could value Advisory Board as high up as $2.5 billion, if operational improvements are carried out on the health care side. 
Advisory Board said Monday morning that it has retained Goldman Sachs and Allen & Co. for financial advice, alongside Skadden, Arps, Slate, Meagher & Flom LLP as counsel, as it launches a process to weigh options including changes in its operations or strategy, as well as strategic transactions such as a separation or sale of part or all of the company. 
The announcement comes as little surprise after activist fund Elliott in mid-January disclosed an 8.4% stake in the company seeking to "engage in a constructive dialogue" with Advisory's board regarding opportunities.
The hedge fund offered few details about its campaign in the January 13D filing with the Securities and Exchange Commission, However, people familiar with the situation toldThe Deal at the time that Elliott hopes to see the company explore a sale to private equity. 
The company would perform better in the long term as a private enterprise, they argued, amid continued volatility in the health care universe, which includes concerns around the potential modification of the Affordable Care Act under the Trump administration.
Shares of Advisory Board have rallied more than 29%, trading at $46.80 per share Monday afternoon, since finishing at $36.15 on Jan. 11 before Elliott disclosed its stake. 
Advisory Board spokesman Robert Borchert declined to say whether the company has garnered outside interest or offer specific detail on the process, but said Monday by phone that the company's board has consistently spent considerable time looking at its ongoing strategy and strategic plans to drive growth. The board will always consider input from shareholders, he added.
The differences in both the growth and Ebitda margins seen across Advisory Board's two businesses provide rationale for the consideration of a breakup, according to company followers. 
"Its health care segment is struggling a bit and we're not seeing the full benefits of education," Mohan Naidu of Oppenheimer & Co. said Monday. "For me, the split up of health care and higher education would unlock value."
Advisory Board probably wouldn't sell off the health care business and leave its remaining education piece to operate as is, given the latter accounts for only about 20% of the company, Naidu said. Instead, Advisory Board could pursue a split-sale concurrently, or perhaps, a sale of the company in its entirety to private equity, which could ultimately divide the two businesses, if it desired. 
Financial sponsors have continued to show a large appetite for health care IT assets, while the education business shouldn't have any problem drawing interest, given its strong financial performance, Naidu said. While the company hasn't provided significant details about the two units, Royall is currently growing at a double-digit rate with 30%-plus Ebitda margins, the analyst estimated.
Advisory Board added the education business in December 2014 through its $850 million mostly cash purchase of Royall. The company paid a rich multiple that panned out to about 18.5 times trailing Ebitda and 8 times trailing revenue for the target, Naidu said. 
In the meantime, acquisitions on the health care side over the last few have not contributed to growth as expected, Naidu noted. 
Stifel, Nicolaus & Co. analysts Shlomo Rosenbaum and Adam Parrington in a recent report laid out a sum-of-the-parts analysis for Advisory Board, concluding that in a breakup scenario, they could see the entire business being valued within the $39 per share to $55 per share range, assuming no further operational improvement. Assuming 200 bps (basis points) of Ebitda margin improvement in the company's health care business in 2018, they anticipate a $45 per share to $62 per share fair value. 
Similarly, Naidu said he suspects the company's businesses could reach a combined valuation in the high $50-per-share range.
On the extreme high end, assuming Ebitda margin improvement on the health care side, the company's total value could reach as high as about $2.5 billion, based on the company's approximately 40.15 million shares outstanding. 
Besides private equity, Stifel wrote that potential strategic interest in its health care business could include global consultants or integrators such as IBM (IBM) - Get International Business Machines (IBM) Report , Accenture (ACN) - Get Accenture Plc Class A Report or Cap Gemini as well as Indian outsourcers such as Cognizant Technology Solutions (CTSH) - Get Cognizant Technology Solutions Corporation Class A Report and Infosys (INFY) - Get Infosys Limited Sponsored ADR Report .
Other "remotely" possible buyers of the unit could include health care IT giants, the likes of Cerner (CERN) - Get Cerner Corporation Report , Athena health (ATHN) - Get athenahealth, Inc. Report and Vizient, or insurance and other health care-related companies such as UnitedHealth's (UNH) - Get UnitedHealth Group Incorporated Report Optum Health subsidiary, Aetna (AET) and Maximus MMS, according to Stifel. 
It's also possible that Elliott could launch a director-election proxy contest as a means to drive Advisory Board to encourage potential transactions.  
The insurgent fund has launched 117 campaigns, including 14 proxy contests since 1994. Any potential director election campaign Elliott might consider launching for Advisory Board's 2017 annual meeting would need to be initiated by March 9, according to securities filings.
—Ronald Orol contributed to this report.