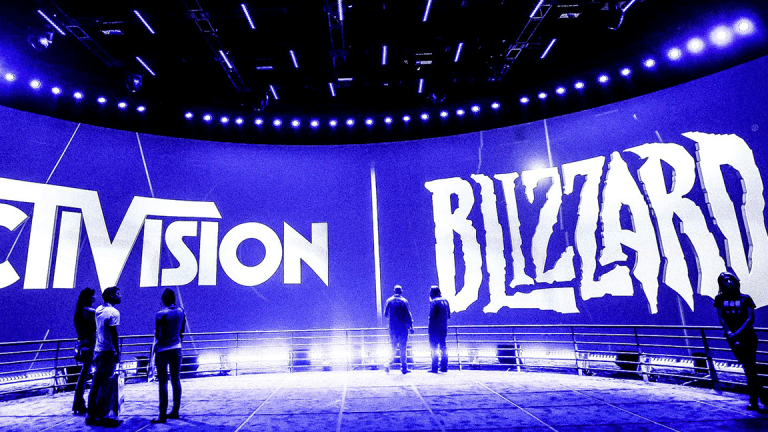 How Activision's Overwatch and Games Like It Have Given New Life to Game Makers
Thanks to content sales, eSports and other opportunities, game developers are growing their addressable market. Investors have noticed.
Even after accounting for the Nasdaq's big rally, game developers have had a pretty good run this year.
Activision Blizzard Inc.'s (ATVI) - Get Activision Blizzard, Inc. Report   is up 84% on the year, while Take-Two Interactive Software Inc.  (TTWO) - Get Take-Two Interactive Software, Inc. Report  is up 124%. And Electronic Arts Inc.  (EA) - Get Electronic Arts Inc. Report  is up 36%, even after a major gamer backlash to Star Wars: Battlefront II and its heavy reliance on micro-transactions drove a major selloff. 
This column has been updated from Oct. 12 with updated info about the 2017 performance of gaming stocks, analyst estimates and recent results for Activision and its plans for the Overwatch League.
Enthusiasm about some big late-2016 and 2017 game launches, such as EA's Battlefield 1 and Activision's Destiny 2, have contributed to this run-up. But the larger factor, from all signs, is how markets have figured out just how much the addressable market for top-tier game developers has been growing, and will likely continue to do so, thanks to a pair of significant trends:
The average console/PC gamer is spending more of his or her leisure time playing games. In the U.S, the average amount of time spent on consoles by users rose 32% from Q2 2014 to Q1 2017 (source: Statista).
The amount of revenue that developers are collecting getting each year from the average gamer is growing as gamers get more hooked on value-added digital services. SuperData Research estimates global digital video game revenue rose 11% annually in August to $7.9 billion, and previously forecast the market would grow 12% to $105 billion in 2017. The growth of the mobile gaming market, where EA, Activision and Take-Two claim a smaller combined share, is one reason for this, but by no means the only one.
Activision's recent numbers serve as a good case study for the impact of both of these trends. The company's "subscription, licensing and other" revenue, which covers things such as game subscription, digital content purchases and product royalties, rose 16% over the first 9 months of 2017 to $3.6 billion, more than offsetting a 9% drop in "product" revenue -- driven by traditional game sales, boosted in 2016 by the launch of Overwatch -- to $1.37 billion.
The non-product growth comes even though Activision's King Digital mobile gaming unit -- responsible for the Candy Crush franchise -- is contending with a declining user base. In spite of King's issues and tough Q4 comparisons, analysts on average see Activision's revenue rising 6% this year to $6.98 billion, and another 6% next year to $7.42 billion. Free cash flow, meanwhile, is expected to total $2 billion this year and $2.1 billion next year.
Those aren't stunning growth rates, but they do show how digital service growth and rising user engagement rates have put to rest fears that the traditional gaming industry would stagnate as mobile gaming continued growing.
Though it hardly needs saying at this point, most console and PC gamers clearly don't see mobile games, which skew heavily towards casual gaming experiences and more often than not are solely monetized via in-app purchases, as a substitute for what consoles and PCs can deliver.
Jim Cramer and the AAP team hold a position in Activision Blizzard for their Action Alerts PLUS Charitable Trust Portfolio. Want to be alerted before Cramer buys or sells ATVI? Learn more now.
And as time passes, these gamers are warming more and more to spending money on in-game content -- for example, the "Points" that are used to acquire content for games in Activision's Call of Duty franchise, or the "Loot Boxes" sold for Overwatch.
There's still also a meaningful market for subscription-based online games. Activision's World of Warcraft, monetized via subscriptions and expansion packs and once written off as a declining cash cow, saw monthly active users (MAUs) rise 10% in 2016.

Activision's strategy for monetizing its game franchises.
And then there's the budding eSports market. Activision, which in early 2016 saw the successful of launch of a Call of Duty eSports league, is now in the process of setting up an Overwatch e-sports league that (in a first) will have franchises based in different cities. Franchises have been set up in 12 cities so far -- 10 in the U.S., along with ones in Shanghai and Seoul.
The Overwatch League will see "pre-season" activity kick off on Dec. 6, ahead of the start of "regular season" games on Jan. 10. It aims to profit from Overwatch's 30 million-plus users by selling ads, event tickets and streaming rights, as well as "skins" for league teams that can be used within Overwatch and paid for through a virtual currency called League Tokens. Revenue is shared with franchise owners who have paid franchise fees of $20 million or more.
If the Overwatch League succeeds, odds are good that Activision will launch more eSports leagues linked to major franchises. Research firm Newzoo estimates the global eSports market will grow 41% this year to $696 million, and be worth $1.5 billion by 2020. EA, for its part, is looking to take advantage by hosting tournaments related to its Madden and FIFA franchises.
Given the size of their 2017 run-ups seen by game developers, much of the growth potential provided to them by digital content and services is now arguably priced in. But it's also worth considering the possibility that markets have been re-valuing game developers on account of the changes seen in their business models. Though they still depend a lot on launching hit games, developers can now also bank on recurring digital revenue streams that are much less prone to volatile swings.
Markets hate uncertainty, and by finding new ways to monetize their biggest franchises, the likes of Activision, EA and Take-Two have cut down on (though by no means eliminated) the amount of uncertainty investors think exists about their future performance. And their shares have been rewarded accordingly.
More of What's Trending on TheStreet: