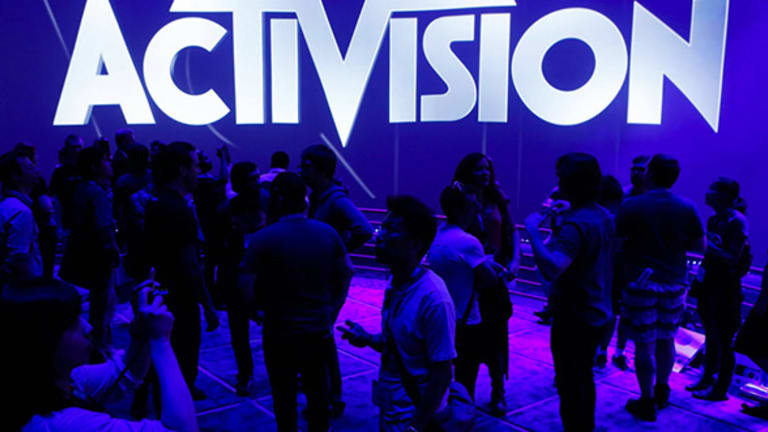 Activision Is a Video Game Stock That Could Soar in 2017
Activision Blizzard shares are down from their 2016 peak, but the company has plenty going for it in the new year.
Activision Blizzard (ATVI) - Get Report shares have fallen in the past two months amid reports of a tough November for the video game business. But this gives investors an opportunity to buy near levels not seen since the spring.
The stock fell slightly in Wednesday trading, closing at $36.41.
The weak November sales numbers come from market-research firm NPD Group, which said American gamers dropped $2 billion on their favorite pastime in November, down 24% from $2.6 billion in November 2015.
Activision's mainstay Call of Duty series appeared to falter. The latest release, Infinite Warfare, held the No. 1 spot in November, but sales were down 50% from last year's release, Black Ops III, according to NPD.
But there's a back story here.
"The [overall video game sales] decline can be fully attributed to the top three selling games, which, combined, sold 43% less than the top three games from last November," said NPD analyst Sam Naji. "Combined spending across all other titles grew 12% in November compared with a year ago."
The top three games from November 2015 were a tough crop to beat. Aside from Black Ops III, they included Star Wars: Battlefront, from Electronic Arts, which got a lift from the release of The Force Awakens last December, and Fallout 4, from privately held Bethesda Game Studios.
What's more, NPD's figures mainly focus on physical stores. On the digital side, things look better, with overall sales up 13% in November from a year earlier, to $6.7 billion, according to SuperData Research. Sales of Infinite Warfare were still down, but not as much, trailing 27% behind Black Ops' numbers.
And this isn't the first Call of Duty release to underperform its predecessor. 2013's Ghosts, for example, sold 27.7 million units, according to Statista, compared to 29.7 million for 2012's Black Ops II.
The bottom line? The video game business is doing just fine, and Activision, which was founded back in 1979 as a maker of games for the Atari console, remains a solid pick in the space.
Today, the company spends a high 14.5% of its revenue on research, which has led to a bevy of titles with $1 billion plus in lifetime sales. Apart from Call of Duty, they include names even non-gamers know, such as Skylanders, Destiny and World of Warcraft.
And these series continue to attract near cult-like followings.
Sales of the newest World of Warcraft expansion, Legion, for example, sold 3.3 million copies on day one, according to Activision's third-quarter earnings report, putting it among the fastest-selling PC games ever. And the company's new Overwatch game, released in May, became its fastest ever to reach 20 million users.
Aside from bulking up its main catalog, Activision continues to branch into newer areas, like mobile gaming, a market that generated $41 billion of sales this year, up 18% from 2016, according to SuperData Research. In February, the company closed its $5.9-billion acquisition of U.K.-based King Digital, grabbing control of one of the most popular mobile games, Candy Crush Saga, in the process.
Meanwhile, Activision trades at 19.3 times forecast 2017 earnings, a discount to EA and Take-Two Interactive, at 25 and 29.3 respectively. The median 12-month price target from analysts covering the stock is $48, a potential 34.5% upside from today's level.
Finally, unlike EA and Take-Two, Activision pays a dividend. The stock's yield isn't much to get excited about, at 0.7%, but it does have a solid history of dividend growth: since the video game giant initiated its annual payout in 2010, it's raised it by 73%.
---
As we've just explained, Activision is a great company, but with just a 0.7% dividend yield, it's still not much of an income investment, even with its strong payout growth. That's where our simple system comes in. One trader used it to turn $50,000 into a $5-million fortune, and now he's guaranteeing you at least $67,548 per year in reliable income if you follow his step-by-step process. Go right here to follow his lead and see how easy it is to start collecting thousands of dollars in "Free Money" every month.
The author is an independent contributor who at the time of publication owned none of the stocks mentioned.