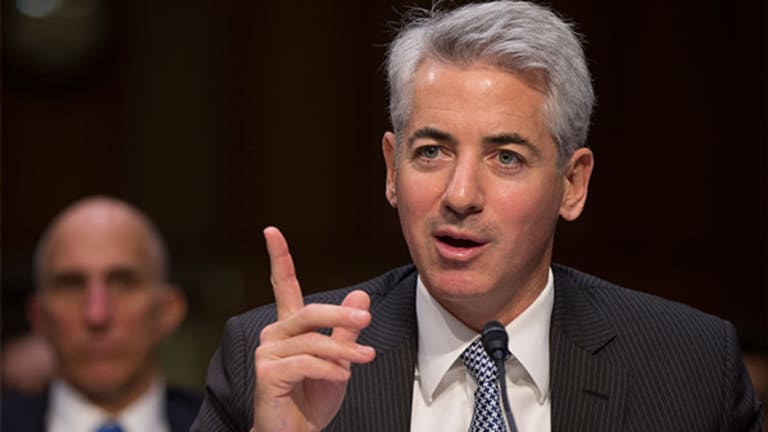 Publish date:
Ackman Drops Some Valeant Shares, Papa Blames Media for Plummeting Share Prices
Bill Ackman decreased his stake in Valeant from 9% to 7.8% and Joseph Papa blamed "media noise" for Valeant's troubles at BMO Conference.
Bill Ackman decreased his stake in Valeant from 9% to 7.8% and Joseph Papa blamed "media noise" for Valeant's troubles at BMO Conference.
Activist investor Bill Ackman has decreased his stake in Valeant Pharmaceuticals (VRX) from 9% to 7.8% just a day after several executives left the company.
According to a 13D filed by Ackman and his firm Pershing Square Holdings, the investment in the Laval, Quebec-based pharmaceutical company incurred a "tax loss" in 2016 for investors.
This news comes just a day after three high level Valeant executives quit. The company's former CFO, Rob Rosiello, who stepped down in August as CFO but stayed with the Valeant, announced he is quitting. Similarly, executive vice presidents and company group chair-people Anne Whitaker and Ari Kellen announced they will step down.
On Wednesday at BMO Capital Markets' inaugural healthcare investing conference, Valeant CEO Joseph Papa tried to quell investor concern, which has sent Valeant's share price falling.
Papa blamed the media noise for Valeant's months-long share free fall.
He also noted that the company has started divesting non-core assets, which was previously announced.
As the meeting went on, Valeant investors pulled out the stock sharply. Shares fell 4%, hitting $14.15 per share Wednesday afternoon and continuing to fall.
Valeant's share price has taken quite a hit in 2016. The share price is down 84% from its 52-week high of $119.87, which it hit last December.
The drugmaker has been under the microscope for its alleged accounting problems and steep price hikes on drugs the company acquired during years of acquisitions fueled by debt.
Meanwhile, problems with its relationship with mail-order pharmacy Phildor Rx Services and its customer R&O Pharmacy, as well as its legal but questionable accounting gamesmanship, caused Valeant's valuation to plunge.
Valeant in March pinned the blame on its former CFO and former controller, Howard Schiller, for its misstatements of earnings. Papa took the helm at Valeant following Schiller's decision to leave the company.
But Valeant's troubles haven't stopped.
On Nov. 17, the U.S. Department of Justice announced charges against former Valeant and Philidor executives for engaging in "a multi-million dollar fraud and kickback scheme." Gary Tanner, a former executive at Valeant, and Andrew Davenport, the former CEO of Philidor were charged.
Valeant's market cap was $4.84 billion Wednesday.