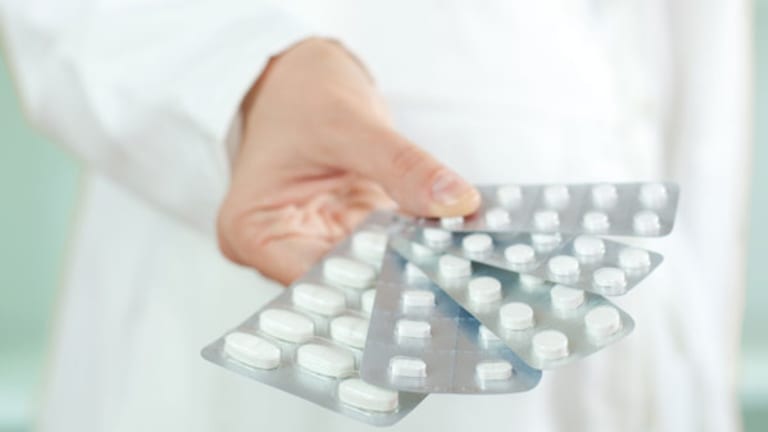 Achillion Pharma Worthy of New Look
The winnowing of competing hepatitis C drugs has made Achillion's pipeline more compelling.
NEW YORK (
) --The midsummer implosion of
Bristol-Myers Squibb's
(BMS) - Get Bemis Company, Inc. Report
BMS-094 (formerly INX-189) and subsequent FDA clinical hold for
Idenix Pharmaceuticals'
(IDIX)
IDX-184 and IDX-19368 has winnowed the field of late-stage hepatitis C drug candidates. Given these shifting dynamics, the outlook for
Achillion Pharmaceuticals'
(ACHN) - Get Achison, Inc. Class A Report
hepatitis C drug pipeline has improved and the stock is a solid long idea for investors seeking exposure to the hepatitis C market.
I haven't always been an Achillion fan. After attending the European Association for the Study of the Liver (EASL) meeting this spring, I gave Achillion a C-minus on my hepatitis C scorecard, largely due to indifference. I
:
Achillion has two NS5A inhibitors, ACH-3102 and ACH-2928, which look okay in early studies, but I'm not sure what makes these drug candidates stand out. I feel similarly unexcited about ACH-1625, a protease inhibitor, which looked decent in a confusing study that combined it with interferon and ribavirin. I'm just not convinced these are valuable assets, so I'm going to wait on the sidelines.
I wasn't the only one confused by Achillion's Phase IIa study of ACH-1625, which is now known as sovaprevir. On the same day as my EASL review, the company issued a press release clarifying the results. Let's take another look.
Sovaprevir (ACH-1625)
Achillion's explanation for the uninspiring efficacy results in the EASL poster makes sense: Data included semi-compliant patients who were not consistently taking drug. In fact, viral loads for all 22 patients that
completed treatment
-- 12 weeks of sovaprevir combined with the immune boosters interferon and ribavirin, followed by 12 weeks of interferon and ribavirin alone -- reached undetectable levels. That's far more intriguing than the initially reported end-of-treatment response rates, which dipped as low as 69%.
At a recent R&D day, management provided updated data from the same Phase IIa study: 78% (200 mg once-daily), 77% (400 mg), and 85% (800 mg) sovaprevir-treated patients achieved a sustained virologic response -- a reliable indicator of cure -- at 12 weeks (SVR12). Although that's somewhat less effective than other protease inhibitors in development, such as Abbott's ritonavir-boosted ABT-450 (88% SVR12) or Johnson & Johnson's TMC-435 (82% SVR12), it's good enough to make sovaprevir an attractive asset for combination therapy regimens.
At the R&D day, Achillion also discussed sovaprevir's side effects in detail. At the highest dose tested (800 mg once-daily), one patient had significantly elevated liver enzymes and three patients (16%) had increased bilirubin levels. The combination of both elevated liver enzymes and bilirubin levels in patients raises concerns about Hy's Law, a reliable prognostic indicator for severe liver damage. This is the safety signal that worried me about sovaprevir at last spring's EASL meeting.
Achillion said the patient with elevated liver enzymes and bilirubin levels had significant liver damage at baseline due to "binge" drinking and use of cannabis and ibuprofen -- all mitigating factors that could contribute to liver toxicity. This meaningfully lessens my anxiety about sovaprevir, as does the fact that the highest 800 mg dose will not be used in future studies. Nonetheless, investors should remain vigilant for possible signals of hepatic toxicity as additional patients are treated.
Sovaprevir may actually have some safety advantages, at least over marketed protease inhibitors. Unlike
Vertex Pharmaceuticals'
(VRTX) - Get Vertex Pharmaceuticals Incorporated Report
first-generation compounds Incivek or
Merck's
(MRK) - Get Merck & Co., Inc. Report
Victrelis, the drug does not cause any significant rash. That's a definite plus, especially since future hepatitis C development efforts seem likely to rely on combinations of multiple direct acting antivirals.
ACH-3102
Achillion is also developing ACH-3102, an NS5A inhibitor in the same class as Bristol-Myers' daclatasvir (formerly BMS-052) and
Abbott's
(ABT) - Get Abbott Laboratories Report
ABT-267. Although clinical data for the drug remain limited, ACH-3102 has reasonable efficacy and an intriguing resistance profile, retaining potency against mutations to which daclatasvir seems sensitive. For those not obsessing over hepatitis C, ACH-3102's induces a 3.52 log to 3.93 log reduction in viral load after a single dose, which compares favorably to ABT-267. The combination of solid efficacy and a robust resistance profile could prove a distinguishing characteristic.
Within the next few months, Achillion will initiate a dose-ranging Phase IIa study of sovaprevir plus ACH-3102 and ribavirin in treatment-naive patients with genotype 1 disease, the most common variant found in the U.S. The company also plans to initiate studies of ACH-3012 plus ribavirin and ACH-3012 plus sovaprevir next year. These studies set up 2013 as a catalyst-rich period for Achillion.
As investor attention shifts from Hurricane Sandy to next month's American Association for the Study of Liver Diseases (AASLD) conference, hepatitis C will likely yet again receive widespread scrutiny. Achillion won't present any major new data at the conference, but the company could benefit from investor excitement about other multi-drug combination regimens that exclude a nucleoside polymerase inhibitor, such as Abbott Laboratories' AVIATOR study.
Scheduled as a late breaker presentation at AASLD, AVIATOR combined three direct acting antivirals (along with ribavirin) -- a protease inhibitor, NS5A inhibitor, and non-nucleoside polymerase inhibitor -- and showed SVR12 rates in the 93% to 99% range, depending on the patient subgroup. Presentation of these data will further raise the profile of "non-nuc" treatment alternatives, which could benefit Achillion.
(For the record, I'm not crazy about owning Abbott given the company's complex hepatitis C regimen, recent non-hepatits C R&D stumbles, and the uncertainty from the impending therapeutics business spinoff.)
I would be remiss to not mention the abrupt mid-June departure of Achillion's Chief Medical Officer Elizabeth Olek, which I consider a minor corporate red flag. The company's SEC Form 8-K filing strongly indicates Olek was fired, but the reasons for her dismissal remain unclear. That alone isn't a reason not to own the stock, but it's something about which I would like more information.
Despite my cautious optimism, let me be clear: Achillion seems like a reasonable long investment over the intermediate-term, but I still expect the long-term commercial opportunity in hepatitis C to be a major disappointment. So dip your toe in Achillion, but size the position wisely. There are still sharks in the water.
Sadeghi has no position in Achillion or other stocks mentioned in this column.
Nathan Sadeghi-Nejad has 15 years experience as a professional health-care investor, most recently as a sector head for Highside Capital. He has worked on the sell side (with independent research boutiques Sturza's Medical Research and Avalon Research) and the buyside (at Kilkenny Capital prior to Highside). Sadeghi-Nejad is a graduate of Columbia University and lives in New York. You can follow him on Twitter @natesadeghi.