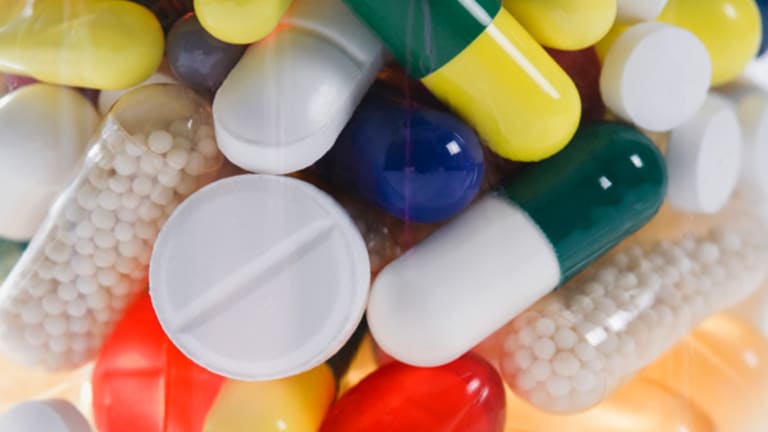 Achillion Pharma Takeout Less Likely Following Subpar Hep C Drug Results
These Achillion results aren't great because the speed at which drugs kill the hepatitis C virus matters. Slower-acting drugs leave patients vulnerable to viral rebound or relapse.
BOSTON (TheStreet) -- Sorry to play the Scrooge in front of Christmas, but the data released Monday on Achillion Pharmaceuticals' (ACHN) - Get Achison, Inc. Class A Report hepatitis C "nuc" ACH-3422 falls short of spectacular. Tamp down your hopes and dreams if you were expecting Achillion to be the next hepatitis C buyout candidate.
Achillion shares are up 18% to $16.84.
The efficacy bar for ACH-3422 was a 4-log reduction in viral load after seven days of dosing in genotype 1 hepatitis C patients. Achillion fell short, achieving a 3.4-log reduction at seven days with the highest, 700 mg dose of '3422.
Achillion decided to extend treatment for another week. After 14 days, the 700 mg dose of ACH-3422 demonstrated a 4.8-log reduction in viral load. Three of the six patients treated had hepatitis C virus that was undetectable in their system at the end of the 14 days.
These Achillion results aren't great because the speed at which drugs kill the hepatitis C virus matters. Slower-acting drugs leave patients vulnerable to viral rebound or relapse. Gilead Sciences' (GILD) - Get Gilead Sciences, Inc. Report Sovaldi -- the only approved hepatitis C "nuc" on the market -- and Merck's (MRK) - Get Merck & Co., Inc. Report MK-3682, the still-experimental nuc acquired through the purchase of Idenix Pharmaceuticals -- both achieved larger viral load reductions faster than Achillion's ACH-3422.
It's also noteworthy -- and concerning -- that Achillion need to dose up to 700 mg of ACH-3422 in order to achieve a 4-log reduction in viral load. The company hoped to see better results with a 400 mg dose of the drug.
Achillion argues faster is not necessarily better if a slower-acting nuc, combined with other powerful drugs, can still achieve rapid and sustained cures. To prove its point, the company also released results Monday from a "proxy" study of ACH-3102, a second-generation NS5A inhibitor, combined with Gilead's Sovaldi.
In this study, 100% of genotype 1 hepatitis C patients were cured following six weeks of therapy with a combination of ACH-3102 and Sovaldi. Impressive for sure, particularly since the currently approved treatment course for hepatitis C runs 12 weeks and achieves cure rates between 94% and 99%.
The next step for Achillion will be to develop a proprietary combination of ACH-3102 and ACH-3422. The company hopes it can swap out the Sovaldi nuc for its wholly owned nuc (ACH-3422) and still maintain the strong results seen in the "proxy" study.
Investors don't want Achillion to have the opportunity to develop this new combination therapy on its own. They'd like to see a larger hepatitis C player without a nuc in its arsenal -- Bristol-Myers Squibb (BMY) - Get Bristol-Myers Squibb Company Report or Abbvie (ABBV) - Get AbbVie, Inc. Report -- acquire Achillion for a sweet premium.
An Achillion takeout is certainly still possible, but today's ACH-3422 data makes it less likely, in my opinion. Sovaldi looks to be a more potent nuc than ACH-3422 which raises concerns that the "proxy" study results won't be duplicated -- at least not enough to demonstrate significant superiority over currently approved treatments.
And the value of any future hepatitis C therapy was significantly eroded Monday now that pricing for hepatitis C drugs has been reined in by the exclusive pharmacy access deal negotiated between Express Scripts (ESRX) and Abbvie. I suspect Big Pharma hepatitis C players are re-evaluating their appetite for risk, which makes paying a premium for Achillion more difficult to accept.
If there's a longer-term winner today, it's Merck. After posting disappointing results from a three-drug cocktail of drugs in November, Merck is moving ahead with newer combination therapies focused around the potent nuc MK-3682 acquired from Idenix.
Achillion demonstrated Monday that a nuc-NS5A inhibitor combination could achieve 100% hepatitis C cure with six weeks of treatment. I think Merck and not Achillion is in a better position today to get quick cure into pivotal studies and approved.
Merry Christmas. 
Adam Feuerstein writes regularly for TheStreet. In keeping with company editorial policy, he doesn't own or short individual stocks, although he owns stock in TheStreet. He also doesn't invest in hedge funds or other private investment partnerships. Feuerstein appreciates your feedback;
to send him an email.