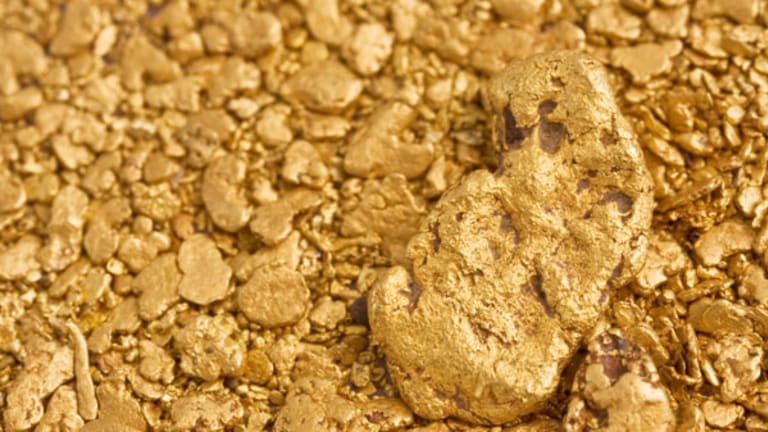 Achilles Heel for High Gold Prices
Global gold demand trends point to a divergence between investment and jewelry demand that could drive gold prices off their current highs.
NEW YORK (
) -- Global gold demand and
are on the rise, but not all countries are buying.
The World Gold Council recently published its Gold Demand Trend report for the second quarter
, which said global gold demand increased 36% compared to a year earlier led by exploding gold ETF investment demand.
But investment demand, on average, accounts for just 25% of total gold demand, while jewelry and industrial demand accounts for 60% and 15%, respectively. During times of severe crisis, investment demand has outpaced jewelry demand but only by a very small margin. Jon Nadler, senior analyst at Kitco.com, believes the "long-term trends imply reversion to the mean," which means jewelry consumption could once again become the dominant demand driver.
In order for gold prices to make a substantial rally past $1,300 an ounce, both strong investment and jewelry demand are needed, but the two have trouble increasing together. In the past quarter as gold rose 10%, identifiable investment demand from bullion and gold ETFs rose 118% while jewelry demand fell 5%. Investors need high gold prices, but consumers need lower.
Peer pressure buying is a common theme in the gold market. When prices rise double digits, gold becomes a sexy investment and traders rush in to buy the metal for fear of missing the boat. The jewelry market, on the other hand, is extremely price sensitive and tends to wait for lower prices to buy.
To detail this paradoxical trend, I have compiled a breakdown of jewelry and investment demand throughout Asia, the Middle East, Europe and North America from the World Gold Council's recent report to highlight the strong and weak demand pockets.
The one area missing in this presentation is industrial and dental demand figures. The WGC obtains its data from GFMS, a precious metals research consultancy, which only allows certain content to be republished, so the details about the industrial sector are limited.
Typically industrial demand is not a big mover for gold prices. The sector did grow 14% in the second quarter because of a 25% jump in the electronics segment, fueled by iPad and gadget sales, whose brains are all powered by gold.
For broad strokes, both the U.S. and Germany posted 33% gains in gold industrial demand while China, Taiwan, and South Korea rose 30%. Decorative gold demand was down less than 1% while dental demand slipped 6%.
But for an investor looking to capitalize on demand trends it's important to focus on investment and jewelry.
Out of all the regions, Asia was the most impressive buying a total of 322.36 tons of gold in the second quarter. Greater China gold demand increased 29% from a year earlier to 120 tons, which includes all of China including Taiwan, Hong Kong and Malaysia.
The most jaw-dropping increase came from Thailand where investment demand popped more than 1000% as the country went from hoarding gold to buying it. Hong Kong helped support prices as well as jewelry buying there surged 34% to 4.9 tons.
Japan was a weak link with the country's gold demand plummeting 554% as investors sold gold for cash to profit off of record high prices. Jewelry demand eked out a 15% increase as local dealers, with traditionally high profit margins, absorbed higher prices without passing the cost onto the consumer.
India was a big disappointment with jewelry demand down 2% to 123 tons. India is the largest gold jewelry consumer in the world but as gold prices hit their record intra-day high of $1,264 an ounce, India opted for scrap or recycled gold instead.
How To Trade India's Gold Buying Season
Jon Nadler, senior analyst at Kitco.com, warns that high gold prices could shut Indian consumers out of the gold market. Nadler says that gold dealers in India tell him "customer orders are clustered at or $1,180 and below, and that preference among locals seems to be at or around those levels."
To combat high gold prices consumers are often forced to buy silver as a cheaper substitute. Philip Klapwijk, executive chairman of GFMS Research Group, says "silver jewelry is doing very well in these markets ... because it's a far more cost effective alternative to gold." Silver prices rose 6% in the second-quarter.
Asian central banks hold a total of 3,058.1 tons of gold with China storing the most at 1,054 tons. India, however, which has recently been buying gold from the International Monetary Fund, has the most percentage allocation of gold in its reserve at 7.5%, which is still considerably lower than the 20% it held in 1994.
Central bank buying has been a key support for gold prices over the last year as central banks from emerging market countries have transitioned into net buyers. "There has been a fundamental shift in the behavior of central banks over the past few quarters," says Natalie Dempster, head of investment for the World Gold Council.
One of the biggest buyers has been China. Over the past five years, the country quietly increased its gold holdings from 600 tons to 1,054 tons. China currently holds only 1.6% of its reserves in gold. Dempster says that if the continent were to reallocate its holdings to 3%, it would need to buy 1,000 tons of gold.
China's State Administration of Foreign Exchange
recently said that the country will not add more gold to its reserves, citing dwindling supply and lack of liquidity, but the government is expanding the gold investment market in the country as well as pushing citizens to buy gold jewelry.
Central banks in general regard reserve allocation as an ongoing government policy. Although the governments consider fundamentals like dollar weakness and the sustainability of gold as money, they don't trade gold; they buy it as an investment. They will buy gold when they feel gold reserves are too low when compared to its other holdings.
Middle East total gold demand was down 7% in the second quarter of 2010 from the same period a year ago. Turkey recorded the biggest decline of 40% while Saudi Arabia posted a modest increase of 5%.
The region grew primarily in jewelry demand as consumers bought 61.1 tons of gold while investment demand only reached 3.9 tons.
The World Gold Council said that a price sensitive expat Indian population crimped jewelry demand which left local dealers scrambling for sales. Gold merchants in Turkey, as local prices popped 28%, decreased the amount of gold in pieces to make it more affordable for consumers.
Investment demand rose a modest 3% as investors tentatively bought gold at high prices. Turkey proved to be the exception as demand in the price sensitive country nose-dived 64% to 6.3 tons.
The Middle East has more than 514.60 tons of gold in central bank reserves. Saudi Arabia has 322.9 tons of gold while Egypt has the most percentage of its reserves in gold at 8.1%.
European gold investment demand popped in the second quarter of 2010 as the sovereign debt crisis spread panic throughout the continent and investors rushed to gold as a safe haven.
German and Switzerland's investment demand soared 59% and 19%, respectively, as traders piled into gold exchange-traded-funds, exchange-traded-commodities and exchange-traded-notes , a variety of physically backed gold investment vehicles, as well as gold bars and coins.
The data, however, represents where the trade took place not necessarily where the buyer lives. An investor in Iowa, for example, could be buying an ETC in Switzerland, but the figure would be added to Switzerland's demand statistic. Switzerland has become the most popular place in the world to buy, store and trade gold.
"I believe the physical gold funds, especially the Swiss physical gold funds, are destined to become the dominant gold investment vehicles on our planet before this uptrend in gold is over," says Henry Smyth, the director of Grandville Copper gold fund.
Bullion purchases in Europe accounted for 35% of global demand for gold bars and coins. The European Central Bank's recent announcement to banks that it will make more euros available for cheaper and for longer periods of time through the end of 2010, should help keep investment demand strong as well as the news that eurozone banks might have more exposure to sovereign debt than previously thought. As paper money loses value, gold becomes more attractive to own as an alternative currency.
The problem is what happens when the panic buying stops?
Michael Crook, vice president and strategist at
Barclays Wealth
, has been advising clients to short the popular gold ETF
SPDR Gold Shares
(GLD) - Get SPDR Gold Shares Report
arguing that the rampant demand for ETFs has far exceeded what is "normal."
"At some point it will be evident that the crisis we should be worried about is not a credit crisis it's not a financial crisis any longer," says Crook. "It is a crisis of high unemployment, low zero inflation and very low growth ... all of those things are bad for gold."
Crook thinks when the crisis premium exits the market, gold prices will sink to $800. He recommends buying puts on the GLD dated January 2012.
Gold demand in Europe is really dependent on investors, as jewelry consumption stays weak. Italian demand plunged 23% to 5.2 tons and the U.K. reported a 7% decline as high gold prices scared consumers. Russian demand was the only bright spot rising 17% to 16.3 tons from 13.9 tons.
European central banks have more than 11,000 tons of gold in their reserves which is about $440 billion based on a $1,250 an ounce gold price. Germany holds 3,406.8 tons of gold while Portugal has 82.2% of its reserves in gold. Central banks aren't allowed to sell gold for cash to help its countries out of debt but it could put the gold up as collateral to secure a loan.
Gold demand in the U.S. rose 6% in the second-quarter 2010 from a year earlier. Gold jewelry demand slowed to 26.1 tons from 27.5, while investment demand rose to 30.3 tons.
Gold investing, like in Europe, is becoming a very sexy trend for U.S. investors.
The most recent 13-F filing for the GLD, revealed that
Eton Park Capital
bought 6.5 million shares in the second quarter while
Paulson & Co.
, the hedge fund founded by
, left its position unchanged at 31.5 million shares.
Goldman Sachs
(GS) - Get Goldman Sachs Group, Inc. Report
also bought 102,195 shares of the smallest gold ETF,
ETFS Physical Gold Shares
(SGOL) - Get Aberdeen Standard Physical Gold Shares ETF Report
making it the second largest holder behind
JPMorgan
(JPM) - Get JPMorgan Chase & Co. Report
.
Schroder Investments
initiated a position in the cheapest gold ETF,
iShares Comex Gold Trust
(IAU) - Get iShares Gold Trust Report
, with 1.74 million shares.
North America has a total of 8,144.9 tons of gold in its central banks with the Federal Reserve holding 8,133.5 tons or 72.8% of its total reserves.
Will Brazil Support Higher Gold Prices?
Despite the fact that world gold demand rose 36% in the second quarter, there are substantial pockets of weakness. Global investment demand will need to dramatically outpace jewelry demand for gold prices to sustain their bull run.
--
Written by Alix Steel in
New York.
>To contact the writer of this article, click here:
Alix Steel
.
>To follow the writer on Twitter, go to
.
>To submit a news tip, send an email to:
.
Disclosure: TheStreet's editorial policy prohibits staff editors and reporters from holding positions in any individual stocks.