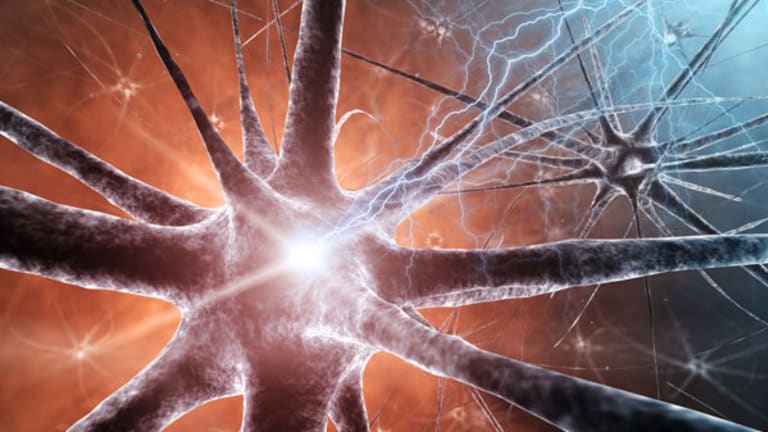 NEW YORK (
) -- The most common way to trade biotech run-ups is to find a stock with an upcoming FDA drug approval. Having an exact date provides run-up traders with a tight timeline to exit a trade before FDA makes it decision public. It's also possible to use the biotech run-up strategy to trade in stocks with pending clinical trial results.
The key to trading around a clinical trial is to only choose stocks where management has given a narrow timelines for the release of data. This does limit run-up trading opportunities because many companies prefer to be rather vague about predicting the completion of clinical trials. Trying to execute a profitable run-up trade in a stock with a clinical trial expected to report top-line results in the "second half of the year" or even the "fourth quarter" is just too risky.
Fear not, you can find run-up trading opportunities in clinical trial stocks if you look hard enough. Two upcoming examples:
Acadia Pharmaceuticals
(ACAD) - Get ACADIA Pharmaceuticals Inc. Report
and
Sarepta Therapeutics
(SRPT) - Get Sarepta Therapeutics, Inc. Report
.
On Sept. 5, Acadia announced the completion of patient enrollment in a phase III study of pimavanserin as a treatment for Parkinson's disease psychosis. Included in Acadia's press release on that day was a gift to all acolytes of the BioRunUp trading strategy:
"Top-line results from this trial are expected to be announced by the end of November 2012."
Thank you!
Acadia's pimavanserin phase III study is very much a binary event for the company and will have a dramatic impact on the stock price. Acadia shares could easily double to $5 or more on positive results; likewise, the stock could fall below $1 per share if pimavanserin fails.
Acadia closed Tuesday at $2.21.
The stock has already made a 50%-plus move since early June but I believe it will continue to run higher as we get closer to November and the anticipated release of the pimavanserin data. That's where run-up traders like myself will try to make money, but remember, we never hold through catalysts so the time to exit the trade is early or mid-November.
A lot has been written about Sarepta and the excitement over its experimental muscular dystrophy drug eteplirsen. The next big event for the stock is the presentation of updated data from a phase II study, scheduled for the World Muscle Society meeting on Oct. 13.
Sarepta shares have ripped from $4 to $16 this summer before retracing to $13 so far in September. I expect the hype and attention to pick up again as the data presentation nears. Run-up traders have an opportunity to capitalize on this hype by buying Sarepta shares as we get closer to the eteplirsen data release. Remember to sell before the data are released.
Catalyst Pharmaceutical Partners
(CPRX) - Get Catalyst Pharmaceuticals, Inc. Report
is a good demonstration of a successful BioRunUp trade executed around a clinical trial. On July 12, Catalyst updated investors about a phase II clinical trial involving an experimental therapy for cocaine addiction. The company guided to the release of trial results "around the end of September."
Catalyst shares were at 78 cents on July 12. One month later, the stock doubled in value. Catalyst closed Tuesday at $1.99. All in, that's a run up of 155% fueled mostly on anticipation of results from the company's phase II study.
Disclosure: No positions in any stocks mentioned.
Subscribe to Messier's biotech stock-trading service BioRunUp.com
Mark Messier is the founder of
. Messier is a DOJ-certified Criminal Intelligence Analyst and former IT professional, specializing in law enforcement applications. In April 2010, Messier founded the subscription-based stock-trading web site
to share his biotech trading ideas with the online investor community.