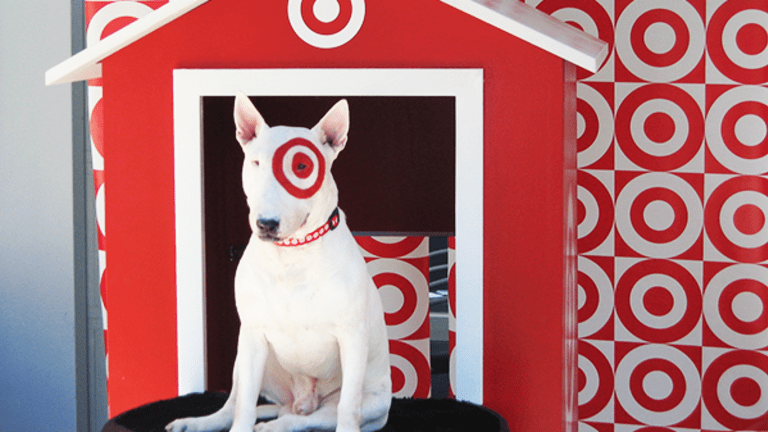 $100 Billion Could Fall from the Sky as Retailers Die, and Target Wants Its Piece
Store closures could help Target.
Although it's struggling today, Target (TGT) - Get Target Corporation Report could see its business lifted in the future as department stores and others in the mall succumb to death by Amazon (AMZN) - Get Amazon.com Inc. Report . 
"We see a $45 to $60 billion opportunity [from retail store closures in the future]," Target chairman and CEO Brian Cornell told reporters on a conference call Wednesday. "Some would call my estimate conservative, we could see well over a $100 billion opportunity." Calling it a "unique" time in retail, Cornell explained Target is setting the groundwork today to take advantage of store closures by rivals J.C. Penney (JCP) - Get J. C. Penney Company, Inc. Report , Macy's (M) - Get Macy's, Inc. Report and Sears Holdings Corp. (SHLD) . For example, Target is preparing to launch 12 new private label clothing brands over the next two years, while also getting into new categories such as mattresses -- long a staple of second floors of department stores. 
The efforts have begun to pay early dividends. Cornell said Target saw a lift in sales in the first quarter, notably in apparel, at stores where a nearby major retailer had recently closed up shop.
Cornell's comments on a potential windfall for some in retail from store closures by weaker players echo those made by Home Depot (HD) - Get Home Depot Inc. (The) Report on Tuesday. 
"Our analysis suggests that the product overlap between our two companies [Sears and Home Depot] is about $5 billion," Home Depot CFO Carol Tome told TheStreet in an interview. "I would add that we are always preparing ourselves to get more than our fair share of sales that might become available."
Judging by how things have shaken out so far in retail land, Target, Home Depot and even Best Buy (BBY) - Get Best Buy Co. Inc. Report should be licking their chops. 
So far in May, announced store closings are nearly twice that of this time last year, while announced openings are up 20%, according to new data from global think tank Fun Global Retail & Technology. Overall, closings have been announced for 3,296 stores this year, up a disturbing 97% year-over-year. Most of the shuttered stores have come from the department and specialty store categories.
In February, J.C. Penney (JCP) - Get J. C. Penney Company, Inc. Reportannounced a plan to shut down 138 underperforming stores. The store closures, which are poised to be completed by July 31, represent 13% to 14% of J.C. Penney's current store base and less than 5% of annual sales.
Fellow department stores Macy's and Sears have continued to close stores in droves amid the shift to online shopping.
In total, more retailers have filed for Chapter 11 protection in 2017 alone than in the entire 2016 year, and about 20 more, by TheStreet's count, have announced major store closures.
Click here for the latest business headlines.
More of TheStreet's top stories:
We Quickly Learned Why Ford's New Truck Named After a Killer Dinosaur Is a Beast
Cisco Could Be Looking to Acquisitions to Help Solve Its Biggest Challenge
Amazon Should Be Terrified by This New Service Walmart Is Quietly Testing in China
There's Something Bad Happening at Staples That Should Remind Everyone How Bleak Retail Is Right Now
Editor's Pick: Originally published May 17.