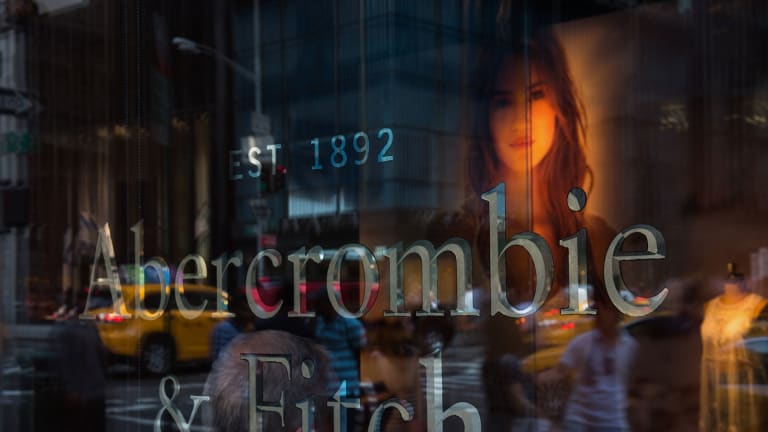 Is Abercrombie & Fitch Back Just in Time for Black Friday?
Abercrombie & Fitch enters the holiday season with more momentum than Wall Street expected. TheStreet talks with CEO Fran Horowitz about what the fourth quarter may bring.
Abercrombie & Fitch (ANF) - Get Abercrombie & Fitch Co. Class A Report execs got an early holiday present. 
Shares of the apparel retailer skyrocketed more than 35% over the last five trading days after delivering a quarter that got many on Wall Street wondering if there is a real turnaround unfolding. Third quarter same-store sales at the California lifestyle-themed Hollister brand rose 8%. As for the namesake Abercrombie & Fitch brand, same-store sales fell 2%. But, the result marked the second straight sequential improvement on the back of better styles.  
TheStreet talked with Abercrombie & Fitch CEO Fran Horowitz about the upcoming holiday season and the outlook for the retailer. The interview has been edited for length and clarity.
TheStreet: How do you explain the market's response to your third quarter earnings? Low expectations? Investors betting on a longer term recovery?
Horowitz: We have been talking about our playbook for a while, keeping the customer at the center of what we do. Each and every earnings call we continue to talk about what our strategy is and we deliver on it in that quarter and the following quarter. 
TheStreet: Can you declare the Abercrombie & Fitch brand as back?
Horowitz: What I would say is that we are making progress. It is really nice to see that some of the early indicators in the Hollister turnaround journey are manifesting themselves in the Abercrombie journey. Two examples of this. First, our U.S. business is stabilizing. There are signs of that, and we are excited about it. Our conversion is also positive. That is usually the result of product, brand voice and experience coming together. The team has spent an inordinate amount of time on assortment architecture and it appears to be paying off.
Most excitedly, recently we have begun to see our brand sentiment scores changing and turning positive again. 
READ MORE: 10 Things Not To Buy on Black Friday
TheStreet: Wall Street is so down on retail. But, I look at both of your divisions starting to turn the corner and Coach (COH) having turned the corner after a long restructuring. Are investors forgetting that the right brands can be turned around?
Horowitz: There is a lot of negativity out there. But, I do believe that brands are very important to the consumer. The Abercrombie brand specifically is 125 years old. It's our anniversary this year. There is still a lot of heritage and wonderful experiences associated with the brand. More specifically, what the brand stands for today is adventure and experience. We have been able to hone in on our consumer, which is that 21-24 year old, during a time in their life where they are sensing a feeling of adventure and experience. They are coming out of college, getting a new job, meeting new friends and our latest marketing campaign really underscores these things. 
TheStreet: How do you spend your Black Friday and Cyber Monday?
Horowitz: I spend all of Black Friday in the stores, walking and observing the customers. It's a 24-hour store day for me. Cyber Monday we have a lot of excitement at our headquarters. We have a war room where we watch to see what's happening and make sure we are ready to compete. 
TheStreet: Retailers such as Target (TGT) - Get Target Corporation Reporthave sounded a little more cautious on how the holiday season will play out, really emphasizing how promotional things will be. Do you share this degree of caution?
Horowitz: Our outlook for the fourth quarter is that we expect to have positive comparable store sales in the low-single digit range. That's above what we expected to happen coming into the third quarter based on the experience we saw and the traction we are getting with the consumer. Our outlook also reflects what we think is a realistic outlook on the promotional environment and the challenges out there in the fourth quarter. We do expect the promotional environment to be about the same as it was in the third quarter. 
Over the past few years, we have seen as the fourth quarter progresses those peaks during the promotional time period keep getting bigger. Our outlook also reflects the reality of that continuing to happen. 
TheStreet: Gap's (GPS) - Get Gap, Inc. Report Old Navy had another good quarter, as did your Hollister brand. With the stock market up a lot, does it surprise you that discount brands are still doing well? Where is the trade up by the consumer?
Horowitz: From our perspective with Hollister, I think it's more about the experience. I think we are getting the product, voice and experience right and that's what people are responding to. 
TheStreet: What's hot trend wise this holiday season?
Horowitz: There is a big influence out there with the '90s trend. That is really helping to drive our denim business. We just had a record quarter in our denim business for Hollister again. What's happening there is the change in the rise of the denim. We went from a very long period of low rise denim to now a high rise denim, which is a very '90s trend. 
Another thing that is happening is graphic t-shirts, a symbol of the '90s, is back. We are seeing that across brands and genders. 
Is Your Wallet Ready for Black Friday?
10 Things Not To Buy on Black Friday
TheStreet's "Black Friday and Holiday Shopping Survival Guide" series aims to to help you, the consumer and the investor, navigate the holiday season, Black Friday, Cyber Monday and everything in between. Through a number stories, videos, graphics and other multimedia elements TheStreet takes a look at the biggest challenges of the season, the winners and losers from the shifting retail environment and much more.Read More about navigating the holiday season.
Editors' pick: Originally published Nov. 20.