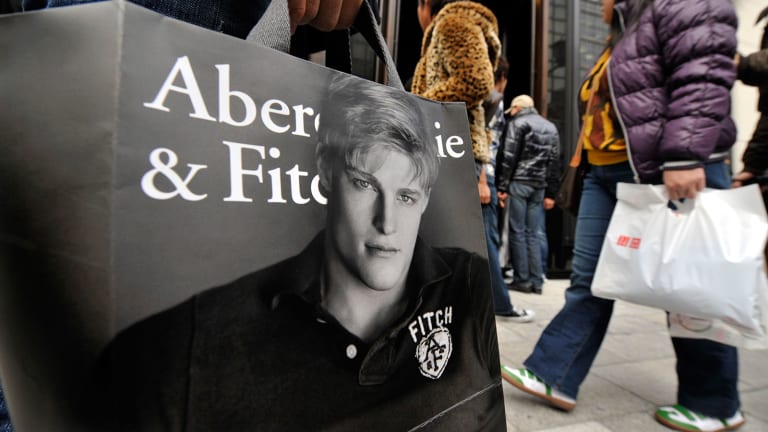 Abercrombie & Fitch Did Enough to Please Wall Street, for Now
The company still reported a loss.
It wasn't sexy, but it was just enough for Wall Street. 
For the quarter ending April 29, Abercrombie & Fitch (ANF) reported a net loss of 91 cents a share, worse than the 59 cent a share loss in the same quarter last year. Excluding one-time items, Abercrombie's loss came in at 72 cents a share compared to Wall Street forecasts for a 70 cents a share loss. 
Net sales declined 4% year-over-year to $661.1 million, with comparable sales down 3%. Same-store sales fell 3%, beating estimates for a 3.4% drop. Abercrombie's flagship net sales decreased 11% to $286.4 million, while sales at the Hollister brand increased 3% to $374.7 million.
Buoyed by the revenue beat, Abercrombie shares rose 1.24% to $13.04 in premarket trading Thursday.
For fiscal 2017, Abercrombie said it expects continuing "challenging" comparable sales next quarter followed by improvement in the second half of the year and a 3% decline in operating expenses, to $2.025 billion, with the bulk of the reduction taking place in the second half.
Abercrombie confirmed earlier this month that it's in talks to sell itself. Shares spiked 5.7% on Wednesday to $12.89 million after The Wall Street Journalreported that mall peer American Eagle Outfitters (AEO) was teaming up with private equity firm Cerberus Capital Management to buy Abercrombie. Also in the running, the WSJ said, are other private equity firms and retailer Express (EXPR) .
The company expects to open seven full-priced stores and two outlets, and close 60 stores through natural lease expiration, in the fiscal year. "The presence of the stores still acts as an important gateway to the brand," CEO Fran Horowitz said on a call with analysts. She touted the company's omnichannel growth and social media presence: a "close partnership" with Snap's (SNAP) Snapchat and Facebook's (FB) Instagram "resulted in "high levels of brand engagement." Mobile is "probably the lowest conversion medium," CFO Joanne Crevoiserat said on the call, but Abercrombie is "seeing very, very strong double-digit increases in conversion as we invest in improvements in our capabilities on mobile."
The storied American brand has focused on teenagers in recent years, but Horowitz added that it's trying to expand its customer base to people in their 20s, especially ages 21-24.