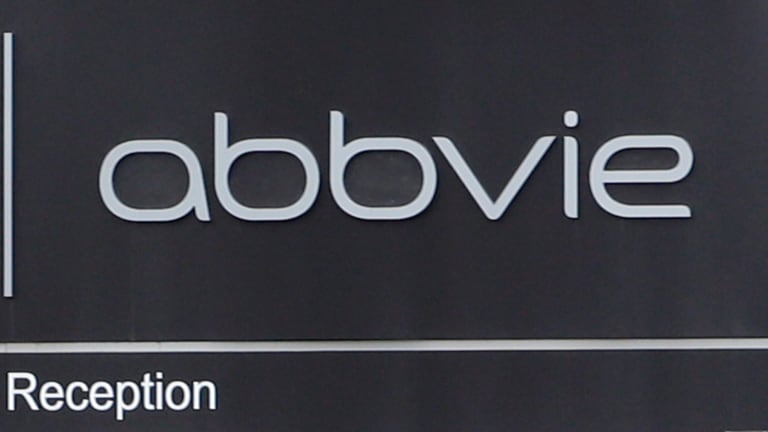 Abbvie Shares Fall on Mixed Earnings Report
The biotech saw shares fall 2.3% after reporting in-line earnings and worse-than-expected revenue.
Abbvie (ABBV) - Get Free Report shares fell 2.7% Friday morning after reporting mixed fourth-quarter numbers, following a trend on Wall Street of hepatitis C drugs missing analyst expectations. 
Abbvie's shares currently trade at $59.58. Even with the drop its shares have seen a 7% boost this year. 
The company reported earnings per share of $1.20, in line with analyst expectations. Meanwhile, the company raked in revenue of $6.8 billion for the fourth quarter compared to estimates of $6.92 billion. 
Leading Abbvie's earnings was its autoimmune drug Humira, which saw sales clock in at $4.3 billion for the quarter. 
One important thing to note, analysts said, is the large pile of cash Abbvie has overseas. 
"At end of the quarter [Abbvie] had about $8 billion in cash, vast majority is overseas," analyst Mark Schoenbaum wrote in a note. "In the event of border tax adjustment, Abbvie has the ability to manufacture Humira in the U.S. (original plant is in Massachusetts), and also has facilities in Puerto Rico."
Abbvie provided an outlook for the year during its earnings call, saying earnings should come in between $5.44 and $5.54 per share. The consensus estimate ahead of the conference call was $5.48. 
So how should investors buy or sell the stock on the news? 
"Management has consistently delivered on guidance and we believe the shares are underappreciated in this context," Jefferies analyst Jeffrey Holford wrote in a note Friday. He has a buy rating on the stock with a price target of $90 per share.
Schoenbaum, similarly, has a buy rating on the stock with a $71 per share price target.