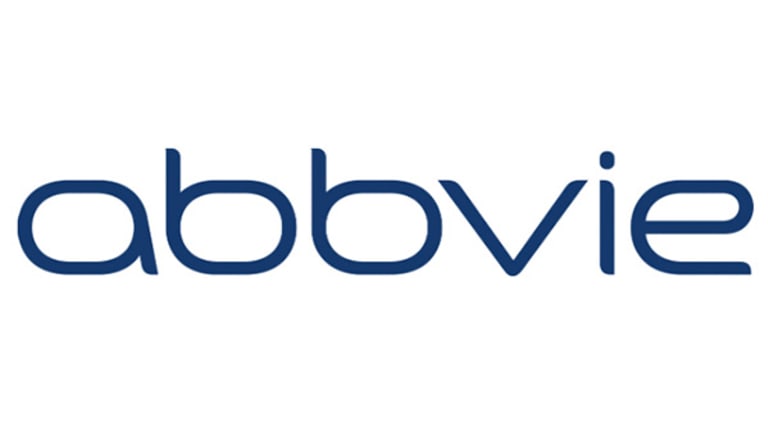 Abbvie Plans to Defend Humira, Sees Upside in Oncology and Hep C Treatments
The company reported better-than-expected earnings and revenue Friday.
Shares of Abbvie (ABBV) - Get Report saw a pop Friday morning after the drug discovery company announced better-than-expected second quarter results, highlighting the impact of arthritis drug Humira on its earnings.
The company's shares hit a high of $66.37 Friday morning, and traded at $65.89 midday, up almost 2% from its open.
Abbvie posted EPS of $1.26, up 6 cents from The Street estimates. Revenues also surpassed consensus estimates, coming in at $6.45 billion, as compared to projected $6.2 billion.
Global Humira sales increased by 17.4%, while in the U.S. sales of the drug increased by about 20%.
In October the company launched a plan to take on biosimilars to the drug, which is used to treat psoriatic arthritis, spondylitis and Crohn's disease. The company's CEO Richard Gonzalez pledged to take on competitors developing biosimilars, like Samsung's Bioepis, in court.
This is likely because Abbvie relies heavily on the drug for revenues, and viable biosimilars would shake its hold on the market for the injectible drug.
"We're now in the very active phase of litigation on Humira biosimilars - can't do play by play or something like that," said Gonzalez during the company's Friday conference call.
Another drug of interest could be Abbvie's hepatitis C drug, which is currently in clinical trials.
The drug is expected to take up some of Bristol-Myers Squibb's (BMY) - Get Report market share of treatment for the disease, which Bristol highlighted during its July 28 earnings call.
Interestingly, though, the two companies have set up a partnership on another disease indication - oncology. The two announced that they would collaborate on Abbvie's Rova-T and Bristol's Opdivo, both of which could be used to treat small cell lung cancer in combination with one another. This partnership was announced on July 25.
Abbvie also provided insight into its M&A strategy during the call.
Abbvie announced that it will acquire Stemcentrx Inc. from Fidelity Investments, PayPal (PYPL) - Get Report , Founders Fund LLC, Sequoia Capital LLP and Elon Musk for $5.8 billion in a cash and stock deal on April 28.
The company noted during its earnings call that this acquisition will allow it to build out its solid tumor drug offerings. Abbvie also worked to build out its hematologic oncology division through its 2014 acquisition of Pharmacyclics Inc.
"When we made the decision that the core future growth franchise would be oncology, to try to build leadership positions," Gonzalez said during the company's call, referring to its Pharmacyclics acquisition. "Specifically, we started with hematological oncology based on our assets."
He added that the company expects to bring forward innovative therapies in 60% of the hematologic oncology market.
Abbvie was actively looking for targets within the solid tumor space as well when it came to the decision to acquire Stemcentrx. According to Gonzalez, the company likely won't look to acquire another completely new platform, but could add assets to either its hematologic cancer division or its solid tumor division.
"Having said that, if we found unique opportunities in the acute leukemia side, a drug that we thought was particularly attractive, we would pursue that kind of an asset," Gonzalez said druing the call. "From a platform standpoint we feel very good about what we have."
Abbvie has a market cap of $110.7 billion.