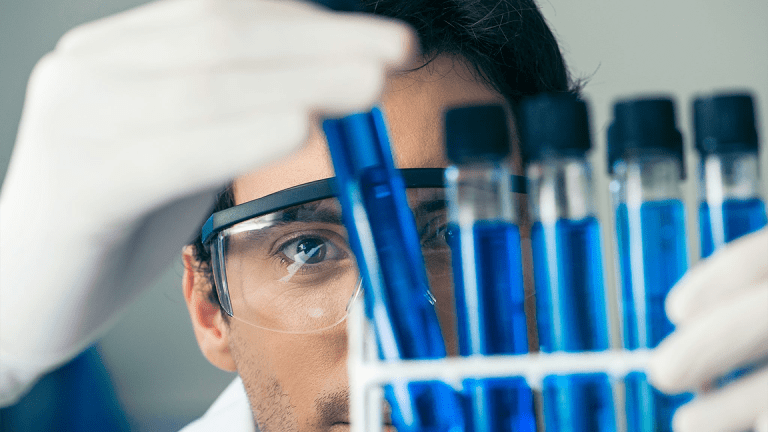 AbbVie Once Again Settles to Protect Humira Franchise From Biosimilars
The company will not need to worry about Biogen and Samsung Bioepis launching a biosimilar to challenge the reign of its blockbuster arthritis drug until 2023 after the three companies settled patent actions.
It appears that AbbVie Inc. (ABBV) - Get AbbVie Inc. Report has kept blockbuster arthritis drug Humira safe from an attack by companies with biosimilar via a settlement with Biogen Inc. (BIIB) - Get Biogen Inc. Report and Samsung Bioepis Co. Ltd.
The agreement will keep the biosimilar sidelined in the U.S. until June 30, 2023. But the biosimilar, Imraldi, can enter the EU in October.
Samsung agreed to pay Humira royalties after the biosimilar is launched, but AbbVie is making no payments under the settlement. Financial terms tied to the settlement were not released. All three companies agreed to dismiss all pending legal actions.
Humira, which first gained approval from the Food and Drug Administration in December 2002, is the world's best-selling prescription drug. It is authorized to treat rheumatoid, psoriatic and polyarticular juvenile idiopathic arthritis. It also can be used to treat chronic plaque psoriasis, Crohn's disease, ulcerative colitis and ankylosing spondylitis. The anti-inflammatory medication is administered via an injectable pen. It is a biologic, which means it is derived from living cells versus simple chemicals and has a more complicated structure.
Keeping Humira from facing competition in the marketplace is a very big deal for AbbVie, which was spun off of Abbott Laboratories (ABT) - Get Abbott Laboratories Report in 2013. Last year the drug produced $18.4 billion in revenue, a little more than 65% of all of the company's revenue. According to Securities and Exchange Commission filings, the company expects Humira's revenue to grow to $21 billion by 2020.
Abbott is a holding in Jim Cramer'sAction Alerts PLUS Charitable Trust Portfolio. Want to be alerted before Cramer and the AAP team buy or sell ABT?Learn more now.
AbbVie general counsel Laura Schumacher in a statement about the settlement said: "We continue to believe biosimilars will play an important role in our healthcare system, but we also believe it is important to protect our investment in innovation. This agreement accomplishes both objectives."
Schumacher and other lawyers at AbbVie have earned their fees as the company has accumulated more than 100 patents for Humira to protect the company's investment in the med as well as its share in the market. The complexity of the drug has contributed to the number of patents the company has collected.
The settlement with Biogen and Samsung is the second secured by AbbVie. Last year the company hammered out an agreement with Amgen Inc. (AMGN) - Get Amgen Inc. Report to keep its biosimilar Amjevita out of the U.S. until January 2023. In a federal suit brought by AbbVie against Amgen before the settlement, AbbVie alleged the company had violated 61 different Humira patents.
Those settlements run counter to the prevailing winds coming from the FDA, which is trying to create a favorable environment for the development and approval of biosimilars as a way to create more market competition and drive drug prices lower.
Humira has competitors such as Amgen's Enbrel, but those two drugs own about 70% of the market.
While Humira is certainly a successful drug, that doesn't mean it's popular for its price. The drug has grown steadily in cost, from $19,000 in 2012 to more than $38,000 today, according to research firm SSR Health LLC. How much patients end up paying is a function of their insurance as well as the interplay between AbbVie and pharmacy benefit managers.
A handful of pharma companies have vowed to limit their price increases to 10% a year, and AbbVie was among them. In January the company raised the price of Humira 9.7%.