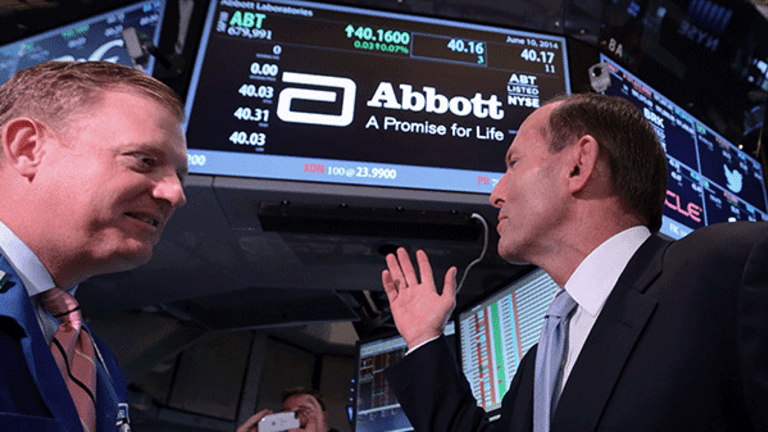 Abbott Shares Dip on Mixed Fourth-Quarter Earnings
Abbott Labs' shares fell nearly 1% in premarket trading after the company reported mixed earnings results.
Abbott Laboratories (ABT) - Get Free Report shares fell Wednesday morning after the company posted mixed fourth-quarter earnings. Abbott's shares fell 2% to $39.51 apiece Wednesday after the company held its quarterly earnings call. Abbott has a market cap of $69.58 billion. 
In addition to discussing earnings, CEO Miles White addressed how the Trump administration could impact Abbott. "In general I'm optimistic," White said. He's waiting to see if there's a tax reform package that would allow repatriation of cash abroad. As Abbott is a multinational company, a tax plan that allows for repatriation with low tax rates would be a boon to the company. 
The other things White said he is watching are policies that impact the strength of currencies. This too will impact the company's operations abroad. 
Adjusted earnings per share for the fourth quarter came in at 65 cents; consensus estimates predicted 64 cents per share. Meanwhile, Abbott's revenue for the quarter was $5.33 billion, up 2.8% year over year. This is compared to expected revenue of $5.63 billion, missing expectations by $300 million. 
During the fourth quarter, on Jan. 4 to be exact, Abbott completed its long-awaited acquisition of St. Jude Medical (STJ) for $33 billion in cash, stock and debt. 
"2016 was a very important year for Abbott," White said in a prepared statement. 
As for future plans for M&A? White said during Wednesday's call that it's not likely. "We've got four very strong sectors that are very well positioned in their respective product markets and respective geographic markets," White said. "Right now we're focusing on integrating St. Jude and organic growth of the pipeline."
Internal growth with the be the main focus for the time being, he said. "When you go through a phase that you make several transactions, you get very focused on transactions," White said. "We're still an operating company though."
Abbott also issued full-year guidance for 2017, predicting that earnings would land somewhere between 92 cents and $1.02 per share. The company's adjusted diluted earnings per share for 2017 will fall between $2.40 and $2.50 per share. 
Abbott is mired in a lawsuit with former acquisition target Alere (ALR) - Get Free Report,which it attempted to acquire in February 2015 for $7.9 billion. In December, Abbott went public with a lawsuit against Alere, claiming that the Waltham, Mass.-based target suffered multiple material adverse events, which Abbott said warrants termination of the acquisition contract.