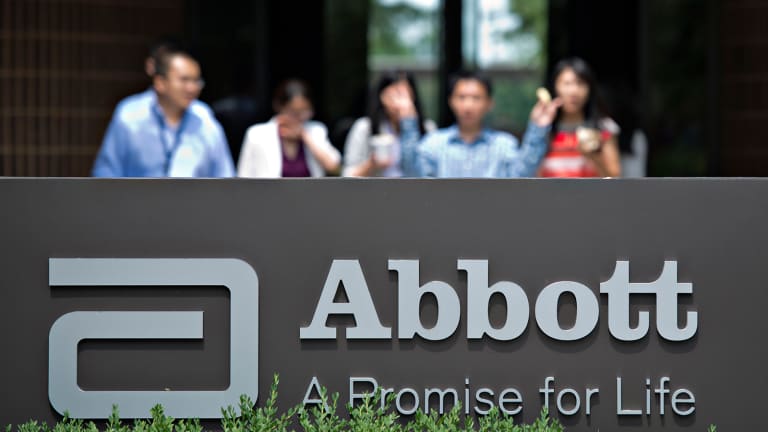 Abbott's Acquisitions in Question as Issues Arise About Alere, St. Jude
The provider of point-of-care testing has filed a suit in Delaware Chancery Court against Abbott in an effort to complete their pending deal. Meanwhile, St. Jude, gets a griping short-seller.
The drama surrounding Abbott Laboratories' (ABT) pending $7.9 billion deal for Alere Inc. (ALR) heated up on Friday, as the latter announced it was suing the acquirer in an effort to push the deal through. 
Alere disclosed in an Aug. 26 statement that it has filed a complaint against Abbott in Delaware Chancery Court, calling for the latter to fulfill its obligations under the terms their merger agreement—that is, actively work to obtain all required antitrust approvals to complete the transaction.
"Alere will take all actions necessary to protect the interests of Alere shareholders," the Friday statement said. 
A redacted version of the complain is expected to be made public next week, Alere said.
Chicago-based Abbott on Feb. 1 announced a $7.9 billion cash and debt deal to purchase Alere, a provider of point-of-care testing that had spent the past several months streamlining operations following a management shake-up. Less than three months later, the Waltham, Mass.-based target disclosed on April 28 that it had rejected Abbott's attempt to withdraw its merger offer for a breakup fee of between $30 million and $50 million.
Abbott, at the same time, is working to close its even more sizable takeout of cardiac device company St. Jude Medical Inc. (STJ) , a deal announced less than three months after agreeing to buy Alere.
While White reiterated in July that the $30.7 billion acquisition was "tracking well," the deal faces its own obstacles. On Thursday, short-seller Muddy Waters Capital placed an attack on St. Jude as it asserted that its implanted heart devices were susceptible to cyber attacks. The firm's director of research, Carson Block, alleged that "there is a strong possibility that close to half of STJ's revenue is about to disappear for approximately two years".
Abbott had hoped to end its Alere acquisition amid concerns about the target's delayed filing of its 2015 Form 10-K as well as a U.S. Department of Justice probe of Alere announced on March 11 that was centered around whether it broke foreign bribery laws.
Miles D. White, CEO and chairman of Abbott, complained to investors on a quarterly call in late July that the company had yet to receive all of the requested financial information from the target. 
The fact that Alere is incorporated in Delaware suggests that Abbott won't be able to get out of the deal, as the state's merger agreement laws are notoriously tough and often don't allow companies to break merger agreements once they are made.
Delaware's Court of Chancery, which presides over these types of cases, shows little inclination to interpret the laws in a way that allows parties getting cold feet to walk. In two cases the court has heard on this general question, involving Iowa Beef Processors Inc. and Tyson Foods Inc. in 2001 and Huntsman Corp. and Hexion Inc. in 2008, it has ruled out such a possibility. The court's ruling in June that allowed Energy Transfer Equity LP to walk away from its deal with Williams Cos. is considered a highly unusual exception.
Shares of Alere retreated about 3% Friday, to a close of $39.55. Abbott shares remained relatively flat, closing up just 15 cents to $42.98. St. Jude shares stumbled 2.6% to $75.81 a piece in afternoon trading Friday but regained their loses by market close.
EDITORS' NOTE: This article was originally published by The Deal, a sister publication of TheStreet that offers sophisticated insight and analysis on all types of deals, from inception to integration. Click here for a free trial.