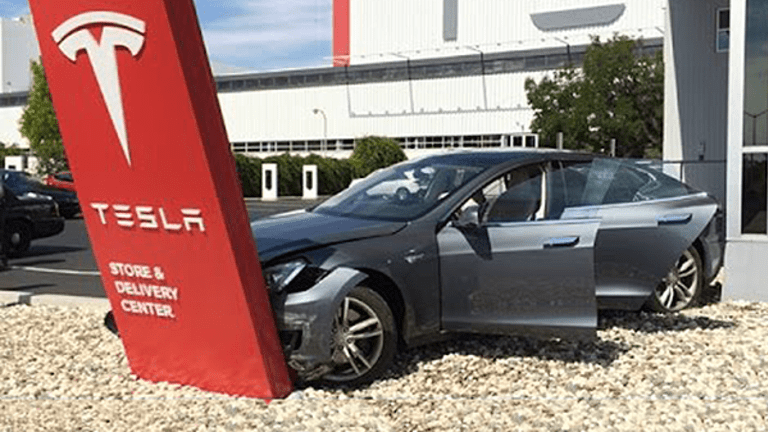 A Tech Stock Correction Has Been Long Overdue -- Don't Expect an Imminent Crash, However
Here's why tech stocks may not completely fall apart.
It's time for some reflection in light of Friday's tech rout.
Warren Buffett famously urged investors to be greedy when others are fearful, and fearful when others are greedy. Provided one stays mindful of how present-day conditions could make applying Buffett's maxim questionable, his advice is pretty sound. However, it can be easier to implement in theory than in practice.
That's partly because human psychology leads many investors to assume a big rally means that conditions for investing are good, and that a big sell-off means the opposite. It's also partly because when stocks are making a big move, much of what one's reading about both in terms of individual companies and macroeconomic conditions seems to justify the move being made.
That has definitely been the case for the big tech stock rally seen since an early-2016 swoon that now feels like a distant memory. News flow generally has been very positive for the large-cap tech names at the heart of the rally, and for the industries they operate in.
Alpahabet/Google (GOOGL) - Get Free Report and Facebook (FB) - Get Free Reportcontinue to take market share in an online ad industry that itself is steadily taking business from traditional media channels. Apple (AAPL) - Get Free Report saw a better-than-feared iPhone 7 launch, and all signs point to a strong iPhone 8 debut (at least as long as supply isn't an issue) soon. Amazon.com  (AMZN) - Get Free Report is still outgrowing a U.S. e-commerce industry that's still expanding around 15%, while seeing its cloud services unit turn into a juggernaut with an 11-figure revenue run rate.
The semiconductor industry is in the midst of a boom cycle marked by soaring memory chip prices, strong automotive demand thanks to the rise of smart cars and (thanks to consolidation) diminished competition. And so on and so on.
Under such circumstances, it's easy to grasp why a healthy bullishness has become infused with a bit of irrational exuberance. And why, after rallying week after week like clockwork, some investors and analysts began to feel as if certain tech high-flyers could do no wrong.
That helps explain why Alphabet, Facebook, Amazon and Microsoft  (MSFT) - Get Free Report are each up over 30% from June 2016, and why Apple, Netflix (NFLX) - Get Free Report, Tesla Motors (TSLA) - Get Free Reportand the Philadelphia Semiconductor Index (SOXX) - Get Free Reportare each up over 50% (if not 60%). Or why Nvidia (NVDA) - Get Free Report went into Friday's session trading for 52 times this fiscal year's consensus earnings estimate -- I think this estimate is a little conservative, but even a valuation of, say, 45 times forward earnings would be fairly rich.
It also explains why Amazon went into Friday worth more than twice as much as the world's largest retailer Walmart (WMT) - Get Free Report , and why Tesla is still worth more than Ford (F) - Get Free Report or General Motors (GM) - Get Free Report , each of which sell several times as many cars as Tesla is simply hoping to produce by 2020. And why -- as discussed in a Thursday column -- some recent bull-case analyst price targets show at least some resemblance to ones issued during the Dot-com bubble.
A heated environment like that pretty much made a sell-off inevitable. A critical mass of investors uneasy about rising stock multiples decides to take profits, and that leads momentum traders and some of those who were "chasing" high-flyers to follow suit. Investor greed, having led to overreach, gives way to a measure of fear.
Such conditions could easily yield additional profit-taking in the coming weeks, given how much tech stocks have rallied and how complacent many investors have become that these stocks will do nothing besides go up. But for now, there also isn't any reason to think that a sell-off will turn into a crash.
Remember, business conditions for most of the tech names that have posted giant stock price gains since early 2016 remain very good. It's possible that certain companies will hit rough patches -- for example, NAND flash memory price gains might reverse next year due to capacity hikes, and Tesla faces a lot of pressure to execute on its massive Model 3 sedan production ramp -- but on the whole, it's hard to complain about where things stand.
In addition, compared with the Dot-com bubble, tech investors have been quick to punish companies over weak results, competitive pressures and/or concerns about long-term threats. One only has to look at how Snap Inc. (SNAP) - Get Free Reportshares were hammered in May after its lackluster first quarter, and sold off again last week due to analyst notes pointing to weakening app download rates and ad momentum.
Or how analytics software firm Cloudera (CLDR) - Get Free Report  saw its stock clocked by 15% on Friday in spite of beating April quarter sales estimates and issuing respectable sales guidance, due to a billings miss. Or how enterprise IT names such as IBM (IBM) - Get Free Report and Hewlett Packard Enterprise (HPE) - Get Free Report have had lagging stock prices, in part due to worries about the impact of cloud adoption on their top lines.
And while stock multiples for many tech high-flyers have gotten stretched, a lot of them are still far removed from nosebleed territory. Apple trades for 14 times fiscal 2018 GAAP consensus earnings estimates, and that's before accounting for over $160 billion in net cash (most of it admittedly offshore). Facebook trades for 25 times the 2018 GAAP earnings consensus, which doesn't sound as bad when one remembers the company is investing very aggressively and that Facebook Messenger and WhatsApp remain sparsely monetized.
It's also worth remembering that corporate tax reform and an offshore tax holiday from the Trump administration could -- depending on how the winds blow in Washington -- act as profit catalysts. But even if they don't, it's not exactly panic time for tech stocks. Greed may have quite understandably run its course for a little while. And if the sell-off caused in its wake produces enough fear, it could create some buying opportunities.
Alphabet, Facebook and Apple areholdings in Jim Cramer'sAction Alerts PLUS Charitable Trust Portfolio. Want to be alerted before Cramer buys or sellsGOOGL, FB or AAPL?Learn more now.
Visit here for must-know investment insight.