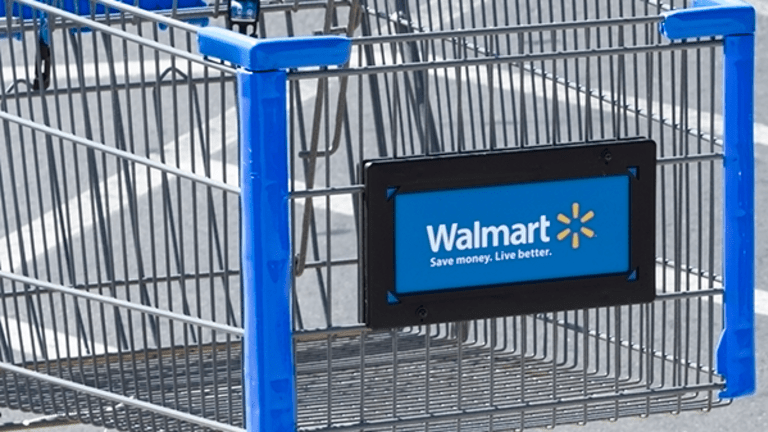 Walmart Is Defying the Retail Apocalypse -- Here's How
Walmart continues to outperform its closest rival.
Being viewed as the lowest priced for food continues to work wonders for Walmart (WMT) in its battle against rival Target (TGT) .
The world's largest retailer said Thursday that same-store sales at its U.S. stores rose 1.4% in the first quarter, spurred by a 1.5% increase in customer traffic. Getting people to visit physical stores is challenging for retailers right now as they are buying more of their stuff online. But, Walmart's year plus effort to slash prices in food -- which obviously needs to get bought weekly -- has it in a rare position of seeing people head to stores for food and other merchandise. Traffic to Walmart's stores has increased for 10 straight quarters. 
Sales of food at U.S. stores increased by a low-single digit percentage in the first quarter, Walmart said, also helped by initiatives to keep items in-stock. 
Conceding that it continues to have a "perception" problem, where consumers don't see it as the lowest priced in food and other household essentials, Target notched another challenging quarter of sales. Target's first quarter same-store sales fell 1.3% as both traffic and the average amount spent by shoppers each fell. Sales of groceries declined as Target only began late in the quarter to market its new lower priced food and other weekly needs.
Click here for the latest business headlines.
Related stories on TheStreet:
What Wall Street Was Saying About Facebook When It Went Public Five Years Ago
Amazon Should Be Terrified by What Walmart Is Quietly Testing in China
If Apple, Facebook and Netflix Keep Diving, the Ugly Trump Stock Market Correction Could Be a Thing
Editor's Pick: Originally published May 18.